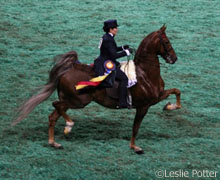 When I was a horseless (and equitationally challenged) teenager aspiring to be a world champion saddle seat equitation rider, I dreamed of someday making it to Louisville. The word itself seemed magical.
Since 1902 the
American Saddlebred
World's Championship Horse Show has been held at the Kentucky State Fair in Louisville, but it is most frequently referred to by its host city's name. And though my breed loyalty has always been with the
Morgans
, as a saddle seat rider there was always something particularly compelling about the most prestigious Saddlebred show in the world.
Last year I went to Louisville for the first time, though I only managed to watch part of a daytime session of the horse show in between visits to the funnel cake stand and FFA exhibits, among other state fair goodness. But the Louisville experience is really about stake night. The last Saturday evening of the show is the main event for Saddlebreds, when the breed's World Grand Champions are crowned with much pomp and circumstance. This year, I resolved to make it to stake night, and made plans to go with some of the other boarders from my barn.
Now, of course, you can't attend such an event without finding the right outfit. Though there's certainly no dress code, most of Saturday evening's spectators opt to dress to the nines. It makes for quite a sight as you make your way through the fairgrounds to the show arena. Average fairgoers in shorts and t-shirts walk past girls in prom dresses headed to the show. Once you enter Freedom Hall, where the show itself is held, it's like being transported back to some golden age of saddle horses. After the final class ends, spectators head off to posh parties to relax and relive the highlights of the week before heading home the next morning.
If your experience attending horse shows is similar to mine, this sort of frou-frou stuff seems absurd and out-of-place. Horse shows usually involve some dirt, a lot of chaos and nary a prom dress nor hors d'oeuvre in sight. But look back to the mid-twentieth century, and major horse shows were part of high society. Until a few years ago that the National Horse Show was held at Madison Square Garden in the heart of Manhattan with an audience that included many non-equestrian New Yorkers. In the south, the Saturday night horse shows are still big events, drawing spectators from all around, although many of them are struggling these days. Today, the Hampton Classic is still a holdout from the days where the rich and famous gathered to see and be seen.
In a way, I don't feel the need to mourn the horse show as a society event. After all, our sport already has enough of a reputation of being elitist. And though back in the day it may have been more common for the upper crust to own horses to be shown exclusively by a trainer, these days the show world is geared more toward the amateur and young riders who want to actively participate in the sport. Personally, I think that's progress.
On the other hand, there's something novel and fun about dressing up to attend a horse show and spending an evening with like-minded friends. Though my own equestrian pursuits will likely remain much less glamorous, I think I'll still be able to enjoy Louisville.
Back to The Near Side.