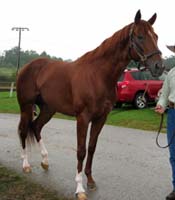 Trolley Boy, the Secretariat lookalike
I had a star-studded weekend that began at the Secretariat Festival in Bourbon County, Ky., on Saturday. While walking around the Bourbon County Fairgrounds, I happened to pass by a large chestnut horse that had an uncanny resemblance to Secretariat. As it turns out, 6-year-old Trolley Boy won the festival's Secretariat look-a-like contest last year and will be one of several horses playing the part of the racing legend in the Secretariat movie that's currently being filmed by Disney. I spent a few moments chatting with his wranglers, one of whom is Lisa Brown, the woman in charge of horse continuity–making sure
Trolley Boy and the other Secretariat stand-ins are mirror images of Big Red.
This leads me to my next brush with fame. I showed up at Keeneland Racecourse in my 1970s attire a little before 8 a.m. on Monday morning with the hope of making it big on the silver screen. The day started in the paddock area. The paid extras (some of whom were in scenes with Diane Lane and John Malkovich!) stood inside the paddock or right along the fence. However, I and a couple hundred other promo extras were relegated to the back. As the film crew captured the horses and jockeys walking through the paddock on their way to the track, we cheered on the actors playing Secretariat and his jockey, Ron Turcotte. Sometimes we just pantomimed, but for the most part we all screamed and whooped at the top of our lungs while jumping up and down, clapping or throwing exhilarated punches in the air.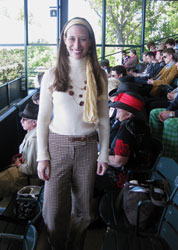 The next scene was filmed on the track. As the horses raced down the homestretch, we cheered as loud as we could. (Sometimes we had to pretend the horses were running.) This time I was able to hold a sign that said "Red" in big, bold letters.
Finally, we were moved to the stands to continue our boisterous cheering. It was a long day but an experience I'll never forget. I was hoping I might be discovered, but I had no such luck. However, I met some nice people, and maybe I'll actually be able to see myself in the movie!
Back to The Near Side