One equestrian experience that I've missed out on is entering a costume class. In fact, I don't think I've ever dressed my horse in costume at all, unless posing him in a Santa hat for Christmas pictures counts.
This year I had a a great idea about dressing as a vampire and making a bat costume for Snoopy. His jet-black coat means he's halfway there already, right? It would really just be a matter of creating wings and convincing him to accept wearing them. Alas, like so many great ideas, it went nowhere.
A couple of weekends ago, I went out to a local fun show where a few boarders from my barn were competing. Given the show's proximity to Halloween on the calendar, the costume class is always a big draw. This year was no exception. Here are some of my favorites.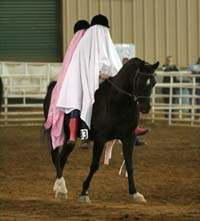 Ghosts of horse shows past! This is a spin on the old standby Halloween costume. You can't really tell in this photo, but they did actually have eye holes cut out of their sheets.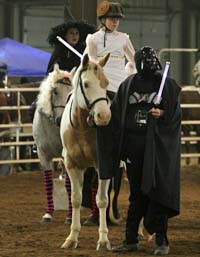 Princess Leia and Darth Vader had glowing light sabers, which fortunately didn't seem to bother any of the equines in the class. I thought it was a nice group effort, especially given the horse's show name: Luke Skywalker. Cute.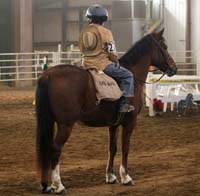 Pony Express! I like this one. It's straightforward, well-executed, and equestrian in theme. Plus, this pony looks like the kind of fellow who would happily deliver your letter across the country for you.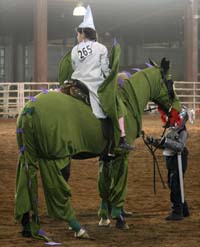 This one was my favorite, and another excellent group costune. You've got the princess, the knight, and of course, the ferocious dragon. Note the attention to detail: The flames at the dragon's mouth, the tail dragging along behind, and those wings actually flapped when he walked (with some help from the princess.)
But what was the judge's final choice?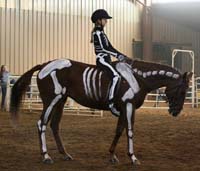 The skeleton pair. Now, normally I would be appalled to see a horse whose ribs were visible from so far away, but I think this time it's okay. And props to the rider. I can't imagine riding such a bony horse bareback!
Back to The Near Side