Last weekend my barn held a "mock" fox hunt. What exactly is a mock fox hunt? Well, no actual foxes or hounds were involved, but instead it was a big fun group ride and a chance to get out of the arena to hack and jump, plus a scavenger hunt and costume contest, all followed by a potluck at the barn.
This is the first opportunity I've had to take my young horse Chance on a big group outing, so I was eager to see how he would do. Trainer Megan assured me we were ready for it, and that our building blocks were in place, so I felt reassured that we wouldn't be overfaced on the ride. It was also motivation to give my tack a good cleaning, polish my boots and do a little extra grooming for the occasion.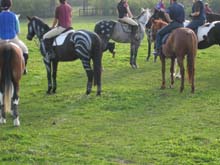 While eventers are normally a colorful bunch, quite a few horse and rider pairs kicked it up a notch for the costume contest. We had jungle queens with zebra painted mounts plus creative use of glitter, coat spray paint and more. I figured Chance's coat was loud enough on its own, so we stuck with our usual "connect the dots" theme.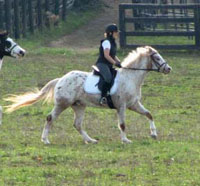 We had gorgeous fall weather that day, just perfect for riding. The event started out with a hunter pairs pace in our big cross country field. There were jumps big or small for every level, or you could bypass the obstacles altogether. Since Chance hasn't learned to jump, we took the flat route. I was so proud of how well-behaved he was! You would never have guessed he was the youngest horse in the group. Many of the horses were quite fresh, but he stayed calm and obedient the entire time and I had a blast cantering him around the course with our partners, Hope and her black and white Paint, Othello.
As we rode through the fields, the group divided into a "first flight" at the front so experienced horses and riders could enjoy a faster pace, while a slow and steady group brought up the rear. Each field had a variety of jumps, and Megan coached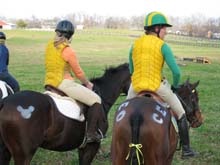 everyone at their own level. It was fun to be riding out together and to see everyone do so well on the cross country jumps, from pony kids to our seasoned competitors doing the big stuff. Chance stood like a rock while everyone was jumping, and I was pleased to see how calm and patient he was—no fussing or fidgeting.
Senior associate editor Holly brought her new mount Dexter on the ride and got some great cross country schooling in with him. Holly's husband, Phil, who is just learning to ride, came along with Zephyr serving as his Steady Eddie steed, and impressed everyone with his tenacity.
For the grand finale, our challenge was to find letters spelling out "foxhunt" that were cleverly attached to tree branches in our back field. Chance again had the opportunity to prove himself and did well riding away from the group and also with other horses and heading through crackling brush and branches. When it was time to call it a day, we rode back to the barn where it was dinnertime for both horses and humans.
I fully enjoyed my afternoon on horseback in great company and was so pleased at how well Chance handled the situation. At the end of the day, we even got a second place ribbon for the hunter pace—our first ribbon together. While Chance isn't impressed by a scrap of red satin, I think he enjoyed the juicy apple in his feed bucket. I was certainly impressed with my horse!
Back to The Near Side