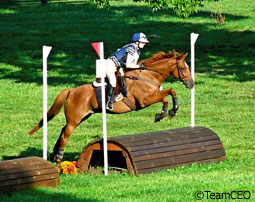 Remember the sun? And green grass?
Photo: TeamCEO
As February drags along, we are faced with yet another icy, snowy day here in Kentucky. Apparently there is snow on the ground in 47 of 50 states right now, with 49 (and possibly 50) of 50 expected by Saturday.
Looking out the window, at least I see the sun, which I swore was all I needed a few days ago! But it's still well below freezing (11 degrees this morning), which means no galloping (or even walking) through the fields for a while. I've planned out my spring eventing schedule, and even sent in my first entry form for the year just yesterday. Hopefully it will warm up soon so I can actually start getting ready for these shows.
To pass the time, I like to think about what I would buy horse-wise if I won the lottery. Here's my top 10 list; you may notice it revolves around having a truck & trailer to get to faraway shows and balmy winter training grounds, as well as fun new trail-riding locales.
A two-horse slant-load trailer with a tack room (doesn't need to be too fancy).
Something to pull it with; maybe a Ford F-250 (with running boards, a quad cab and chrome grill!).
A "schoolmaster" eventer that can get me to at least Preliminary.
Some fancy new saddles … I don't really have a brand preference, other than "comfortable!"
New show clothes. Mine got rained on last year, and from my velvet helmet to dye-stained breeches, they've never been the same.
A lifetime USEA membership (costs over $1,000).
A month of winter training in Ocala, Fla., or Aiken, S.C.
An indoor arena (doesn't even have to be heated) for icy spells like we're having now.
A miniature horse and cart so I can learn how to drive.
Airfare, hotel and tickets to see the equestrian events at the Olympics in London in 2012 … and time to sightsee as well, since I've never been there.
That would only require a tiny lottery win … right? We want to know what's on your list–click "submit a comment" below.
Back to The Near Side