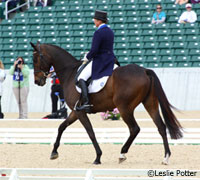 Karen O'Connor and Mandiba are in the lead after the first day of Rolex competition. Photo: Leslie Potter
Horse Illustrated Senior Associate editor Holly Werner shares each day's results and scenery from the Rolex Kentucky Three-Day Event in Lexington, Ky.
The first day of Rolex began very quietly with nearly empty stands, as usual. A particularly chilly April morning clocked in at only 47 degrees as the sun came up. The first dressage rider of the morning was Phillip Dutton on one of his four Rolex mounts, Kheops Du Quesnay. The least experienced of the four, the plain bay performed a steady test, but as is often the case with the first to go, was scored conservatively with a 55.3.
"If you had told me last night we would be getting a 55, I would have been thrilled—he was very nervous last night," Dutton laughed afterward.
The highest score before the lunch break was achieved by Becky Holder and Courageous Comet (which should come as no surprise, since the pair finished second overall at Rolex in 2008).
Holder was happy with her performance, saying her motto was "one day at a time." She was also the winner of a Rolex watch drawing at Wednesday night's competitor party—a drawing which she wasn't originally going to enter due to running late for the party, but her husband insisted she fill out a ticket. Her groom also helped out by running back to the barn to grab the slip. "I'm wearing the watch all weekend for good luck!" Holder said. "If I win another one [by winning the Rolex event], my groom says I have to give it to him," she added with a smile. "He said he knew I was going to win the drawing, and he was right!"
Their 45.2 withstood until Karen O'Connor and her 2008 Olympic mount Mandiba competed later in the afternoon, completing a lovely test with consistent 7's throughout (and 8's on each flying change) for an overall score of 43.7.
"He's had a very good season this winter in dressage," O'Connor said afterward. "I feel very confident going down the centerline on him now."
The third highest score of the day (only the top three scored sub-50) was Phillip Dutton's second ride, The Foreman, in the last test of the day. Their 47.2 was the result of a test full of 7's and 8's. As a side note, it is very enjoyable as a spectator to watch the real-time scores from each of the three judges on the big screen. Each movement's scores are posted shortly after it is performed, which helps determine where each pair is really shining or struggling.
"He's one of the best horses I've ever had," Dutton said of The Foreman. "After having a splint bone removed, the structures around it got inflamed. We tried to bring him back once, but he needed more time." Clearly the time off did him good, as "Chip" is back on his game in the three-day eventing world.
The trade fair was pretty subdued, allowing for leisurely shopping among early Rolex attendees. I made a couple of laps just to case out the stores, but didn't buy anything. Lots of booths offered candy to lure in passers-by, but the Arenus booth hooked me up with a nice lip balm and a Steadfast (joint supplement) stress ball. I'm looking forward to seeing what other free samples I can land as throughout the weekend!
Friday promises to be packed with good rides, and the judges' generosity ought to be flowing by the time the last few riders, including Rolex Grand Slam shot Oliver Townend on Ashdale Cruise Master and Phillip Dutton's fourth horse, Waterfront, step into the ring.
More Rolex Coverage:
Record Numbers Starting in the 2010 Rolex Kentucky Three-Day Event
2010 Rolex Preview
Back to The Near Side