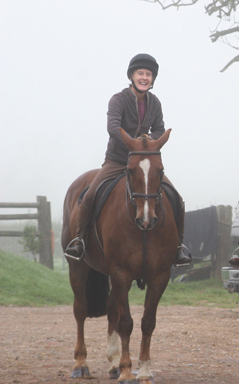 I just got back from my yearly jaunt over the pond to attend the Burghley Three-Day Event in Stamford, Lincs. I used to live and work in England so it's always fun to visit friends and relatives—and to shop at one of the biggest horse trials in the world.
I always pack my helmet, boots and half chaps in the hope that I'll get to ride. Luckily most of my friends are horsey and there's usually a horse that needs to be hacked out.
On this trip it was Pants, a 15hh Welsh Section D cob that my friend recently bought for her husband Stuart. Stuart is a die-hard hunting man. He goes out twice a week in the winter with the Atherstone Hunt in Leicestershire on his cob, Louie. But Louis is almost 20, and Stuart is thinking of retiring him. Enter Pants.
Jane bought Pants as an unbroken 5-year-old about 12 weeks ago and sent him to her friend Julie to back and bring on. Three months later and the sturdy cob is twice as well behaved as any of my mature horses!
It's been my experience that English horse folk back their horses later, but do much more with them in the following months.
Before he was backed, Pants spent several weeks being ponied off a more experienced horse around the lanes near Julia's yard. Cars, trucks, bikes and flapping laundry doesn't frighten Pants; he just marches right by them without spooking.
Then Julia worked with him a bit in her arena and he was backed without a fuss. Six weeks later he competed with Julia in a flat class at a big show in a neighboring county.
I have to admit that I was a little apprehensive when I was told that I was going to ride Pants. I usually ride Louis. Pants was pretty green. Was he ready to be ridden on the lanes and on the grassy bridleways that surround Julia's yard? Was I up to riding such a baby? Would I end up in a ditch?
As Julia led him to me, fully tacked up, she said, "He's a bit funny when you try to mount him, but once you're in the saddle, he'll be fine." And he was. What a good boy.
When you're getting a horse fit for hunting, you do a lot of trotting on the roads, so off we went. Despite being short and stout, Pants was very comfortable to ride. He was also very well behaved. He followed Louis and Stuart up and down hills, across fields and through gates. His manners were impeccable.
He even led a frightened Louis by a traveler and her caravan parked by the side of the road. He was a bit wary of the traveler's cob tethered on the grass verge, but eventually walked by the mare.
It's always great to ride on the lanes and bridleways I used to ride on as a child. And it's even nicer when I'm riding such a lovely horse. Pants is a credit to Julia and her wonderful no-nonsense horse training skills. I wish I could have packed him up in my suitcase and brought him home. I can't wait to ride him on my next visit.
Back to The Near Side