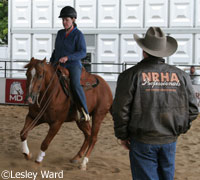 Nicky spins and I try not to get dizzy and fall off while trainer Casey Deary gives pointers. Photo: Lesley Ward
I've tried various forms of English riding throughout my life, but I have to admit, my riding resume is woefully devoid of any substantial western experience. So when I heard that the National Reining Horse Association (NRHA) was giving visitors the chance to ride a reiner at the World Equestrian Games, I signed right up.
I'll admit I was a little skeptical. They did ask for information about my previous riding experience when I signed up, but without really knowing my background, would they actually let me try reining, or would it be a pony ride on some old plug who last saw the inside of a show pen 20 years ago?
This was no pony ride. I was in a group with three other riders, and we had a full hour-long lesson with NRHA trainer and U.S. reining team alternate Casey Deary. I was assigned to a sorrel gelding named Nicky who was no old plug. I think it's safe to say that Nicky is a push-button horse, but when you push those buttons, hang on!
After a brief introduction, we got right into the good stuff, starting with a spin. The horses are trained to spin on a subtle cue: bring the outside leg away from the horse's side and rein towards the outside. That was it! To stop, all I had to do was drop my hand down to his neck and he would stop on a dime. And yes, it did make me dizzy.
Next we practiced doing circles at a lope, and then changing speeds. If you've watched reining, you've seen the horses make a quick transition from a gallop around the circle down to a collected lope. Again, Nicky proved to be a pro and responded when I asked for more, then came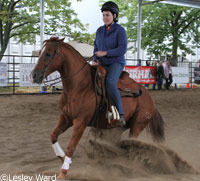 Maybe I do have an inner cowgirl after all! Photo: Lesley Ward
right back to a lope when I brought my hand back toward me. The pen we rode in was pretty small, so we didn't pick up too much speed, but it felt pretty fast from where I was sitting.
Finally, we arrived at the grand finale: the sliding stop. These horses are so well-trained that the cues to lope and then stop are on a hair trigger. The key is to remember to sit back so that when the horse stops, you don't get thrown onto his neck. Nicky liked to launch into the run, then he'd accelerate until I sat back and said the word, "whoa." It didn't take much! We were able to try it several times, and I even got a little bit of distance and kicked up some dirt on a few of my stops!
It was a really cool experience and I think the NRHA achieved its goal of creating more reining fans with the Ride a Reiner program. Thanks to Casey Deary and, of course, Nicky, for showing this newbie how it's done. If you're coming to WEG, make sure you check out the John Deere/NRHA Reining Arena near the trade fair.
Back to The Near Side