Last weekend, Snoopy and I went to our final show of the season. It was also our first real show of the season. We did a schooling show back in March, but then a whole lot of nothing all summer until this sole rated show. It's our 2010 show season condensed into a single weekend. I decided to go to this show because it's close to home, offers the classes I like to compete in, and it has a Halloween stall decorating contest. I didn't win, but you can't say I didn't try!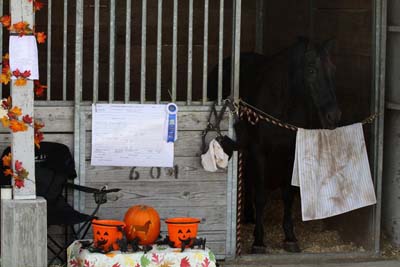 The pumpkin buckets were filled with chocolate for the humans and peppermints for the equines, but even bribing the judges didn't work!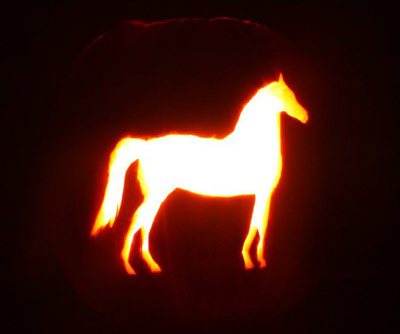 I'd like to say I did this free hand, but there was a stencil involved.
The show has classes for Arabians, Morgans, Morabs and a few open classes with no breed restrictions. There weren't very many Morgans there at all, which left me in classes with just one other horse, a cute four-year-old mare at her first indoor show, just getting some show-ring miles put on her. Her greenie mistakes left the door open for Snoopy and me to take home a stack of blue ribbons in spite of performing like a horse and rider at the end of a long summer of laid-back hacking around the farm and very little actual schooling.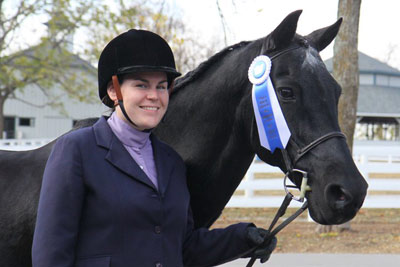 A blue ribbon is a blue ribbon. No one needs to know how many were in the class, right?
With such a small show, it was easy to forget that it was actually a recognized show. Exiting the ring after my first class, I got a reminder when I was greeted by a man with a clipboard.
"Hi, I'm with the USEF, and your horse has randomly been selected for drug testing."
I'd never been through that process before, so while we waited for my bladder shy horse to relieve himself, I asked a lot of questions.
Do they have to wait all day for the horses to pee, or do they give up after a certain amount of time? He said they'll usually give it up to a few hours, but if they don't really have any reason to be suspicious, they might just give it an hour. All horses selected for testing have blood drawn as well (Snoopy really didn't like that part.)
Do people ever get angry about being tested? Yes, some people think they're being targeted. Other times people will just pack up and leave when they find out there are USEF drug testers on the grounds. On the other hand, he said that some people actually request to have their horses tested. Go figure.
I asked about the success rate for getting urine samples. He said it varies depending on the type of show. At Saddlebred shows, for example, they'll usually get a sample from about half of the horses. At eventing competitions it's closer to 75%. He didn't have an explanation for that, but I hypothesized that there are a lot of OTTBs competing in eventing, and Thoroughbreds are whistle trained since they have to be tested when they race. As an aside, how do you whistle train a horse?
As expected, Snoopy held it until we'd left him unattended, but I'll find out the results of the blood test in a few weeks. My horse has had nothing but grass, hay, his standard joint supplement and a steady stream of carrots, but there's always that tiny, irrational fear that he found some strange weed in his pasture that will test as some kind of prohibited substance. I think we'll be okay, though. It was an interesting experience, and I feel like we've now become active participants in the war on doping.
Now that our 2010 showing adventure is over, it's back to lazy trail riding and planning next year's stall decorations.
Back to The Near Side