One of my favorite things about working at Horse Illustrated is having the opportunity to visit different farms and meet horses and horse people that I would probably never meet otherwise. If you've received your July issue, you know that we featured horses of South America (and if not, you'll be getting it soon!) In preparing that article and the related HorseChannel video, we had the opportunity to meet some wonderful ambassadors, human and equine, from the Paso Fino world.
On the day of the video shoot, Liz and I met Don Vizi and Catherine King from the Paso Fino Horse Association, Kay Chiappetta, one of the owners of
Quinta Chiappetta Paso Finos
, and Ricky Mendoza, the farm's trainer. Kay is an expert on the breed as an owner, breeder and judge, so she was able to explain what we were seeing as Ricky worked the horses.
If you've never seen a Paso Fino in person, or maybe even if you have, they will definitely catch your eye. They have a sort of Baroque look, with long, thick manes and forelocks and gracefully arching necks held high. Once they start moving, you see what makes them one of a kind.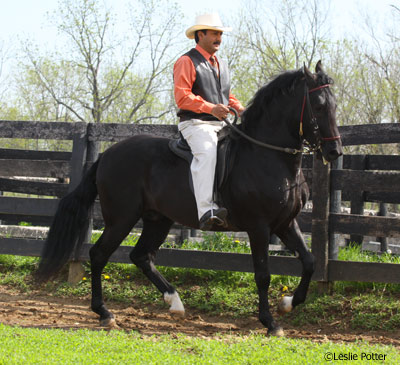 Trainer Ricky Mendoza and performance stallion Campion QC
The first horse Ricky brought out was a young mare named Milagra. She's what's called a Fino horse because she performs the Classic Fino. This gait requires a great deal of collection as the legs move very quickly, but with little forward motion. I have to admit that I can't really tell the difference between most gaited horses' gaits just by watching, but when Milagra appeared, there was no mistaking her gait. And yet, the rapid movement of her legs was in contrast to Ricky, who was perfectly still in the saddle.
The second horse was Campion QC, a big black colt who competes in the performance division. Performance Pasos exhibit the breed's standard gaits, the Paso Corto and Paso Largo. While not as collected as the Fino, these gaits are still marked by quick footfalls and a smooth ride.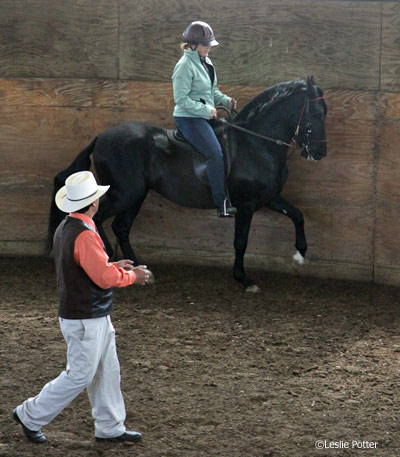 Liz gets pointers from Ricky
After the demonstration, Kay offered to let us take a test ride on Campion. Who could say no to that? Liz rode first, and when it was my turn I wondered if Campion would have any gas left in the tank. My concerns were unfounded. It turns out he's just like the Energizer bunny.
My gaited horse experience is limited mostly to riding five-gaited Saddlebreds. It's a similar experience in that the horses tend to be energetic and the ride is smooth, but that's where the similarities end. Because gaited Saddlebreds also trot and the bonus gaits have to be developed through training, it can take some work to keep them in their gait. The Paso Fino's gaits are all natural, and Campion seemed willing to Corto all day.
Once I got the hang of Campion's buttons, riding him felt intuitive, almost like driving a car. It only took a little bit of leg to cue him to go. Slightly more leg pressure resulted in a bit more speed. But no matter how fast he went, the ride was always smooth as silk. With Ricky's instruction, I learned how to transition through the gaits and how to make the tight turns that the agile Pasos are noted for.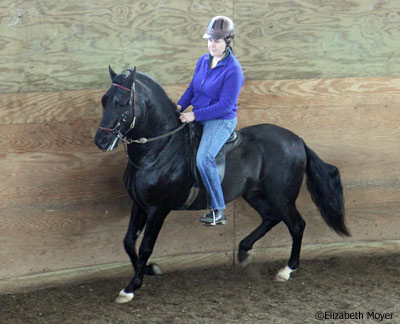 Campion was very patient with me while I learned how to correctly ride the Paso Corto.
We had an amazing time at Quinta Chiappetta. If you ever have the chance to take a test ride on a Paso Fino, I highly recommend it. It's unlike any other equestrian experience.
Click here to watch the video of the Paso Fino's gaits.
Back to The Near Side