I took up running a few years ago because I felt like I needed to improve my fitness out of the saddle. Riding has its benefits, but it doesn't quite qualify as cardio. I picked running because once you have the shoes, running is free, and that's a nice contrast to the expense of equestrian sports. I know lots of other riders who incorporate running into their lives in one way or another, so I imagine there's a lot of crossover between the two sports.
I wouldn't have guessed there was a lot of crossover in the fashion of the two sports, though, until I saw these: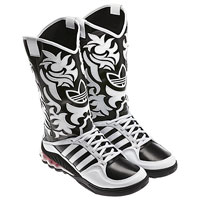 Adidas Jeremy Scott MEGA Soft Cell Boots
A cowboy boot crossed with an athletic shoe to create, well, what, exactly? I guess if you just really like western fashion, maybe these would appeal to you. Maybe you need some calf protection while playing sports. Maybe you wear these to the rodeo, and you want to be able to run away really fast after you get bucked off the bull.
One could argue that these would be idea for ride and tie competitors, but the shoe is not designed as a trail runner, but in fact a basketball sneaker, meaning that it's designed for running around on a polished court. So, maybe they're ideal for games of donkey basketball?
I wonder if they come in Shaq's size.
At $300, you have to be pretty serious about whatever these shoes are for to actually purchase them. Think they'll catch on?
Back to The Near Side