This week, I packed up my bags, gave Snoopy a farewell carrot, and—after doing my civic duty by casting my vote in exchange for a sticker—hopped on a plane to Italy. I'm writing this blog post from the city of Verona, home of a 114-year-old horse fair called Fieracavalli.
The goings-on of Fieracavalli are almost overwhelming. There are literally hundreds of breeds represented here, including quite a few that I'd never even heard of. There are clinics and demos, of course, and an extensive section of American riding competitions (better known to us as western events.) There is even a stop on the FEI Rolex World Cup Show Jumping here at the fair.
But I'll have plenty of time to talk about all that as the week progresses. Let's start with the staple of any good expo: the shopping.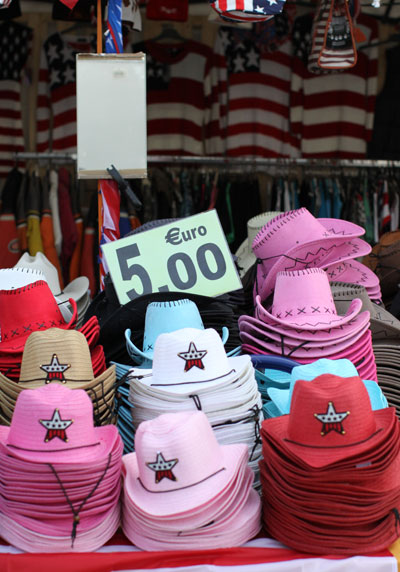 The western component of the fair is huge, occupying two buildings at much of the outdoor space. There's plenty of high-quality western tack, boots, clothing and related accessories. But if you just want a souvenir of your trip, five Euros for a cowboy hat seems reasonable.
Notice the American flags in the background. They're all over the place in the trade fair. If it weren't for the currency and language discrepancy, you could almost fool yourself into thinking you were visiting any American rodeo or western event.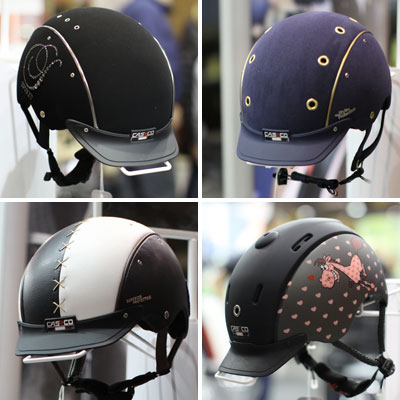 I liked the variety of helmets displayed at the Casco booth. Now that helmet use is more widespread, and even required in more and more places, the styles are becoming more diverse. Some of them even have a little bling. Traditionalists might cringe, but I like the variety.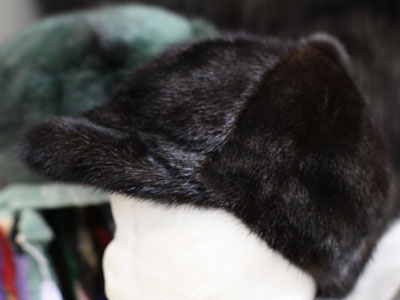 And then there's this. It might protect your head from a cold wind, but that's about it.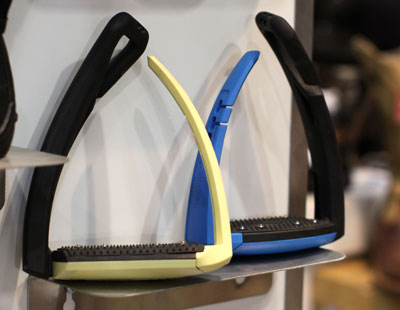 Staying in the theme of safety, what do you think about these stirrups? The side that connects to the leathers is rigid, of course, but the other side is flexible. It seems like a better option than some of the more traditional safety stirrups, but the look is quite a departure. I kind of like them, although I think I'd switch back to old-school irons before heading into a hunter class or dressage test.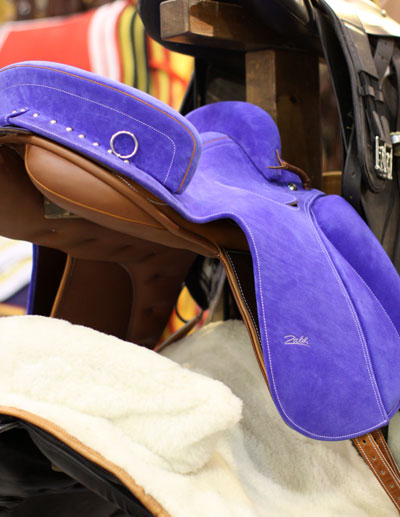 I'm not sure what kind of saddle this is, but that's not a saddle cover. The actual saddle is blue and suede (or suede-like.) I think it would go nicely with those new safety stirrups.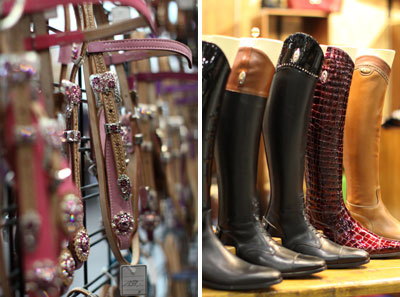 A lot of our fashion trends, equestrian and non-equestrian alike, start in Europe. I'm not sure if those red boots in the photo on the right will catch on in the U.S. In fact, I'm not sure they've caught on here. I saw them in the booth, but have yet to see them on anyone's feet. Meanwhile, we do export our own fashion to Europe, at least for the admirers of western styles. Yes, colorful, blingy headstalls are readily available here at Fieracavalli.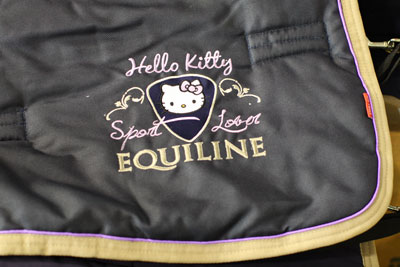 I suppose you can probably get a Hello Kitty embroidered horse blanket somewhere in the States, but I've never seen one.
I haven't bought anything yet, but I did make sure to leave extra room in my luggage just in case I find something I can't live without.
Tomorrow I'll post some more photos from the show, including some of the breeds represented here. Stay tuned!
Back to The Near Side