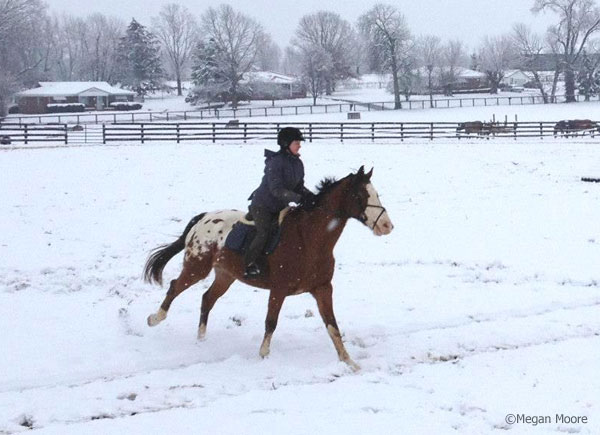 In central Kentucky, it's pretty rare to have a good coating of snow on the ground. If we get one, it's usually gone within a day or two. Mostly winter is a cold, muddy, miserable mess.
We had our first good snowfall of the year last week, when about 3 inches fell right after Christmas. My trainer mentioned that they were going for a ride on all the barefoot horses, and since Jester just had his shoes pulled for the winter, I decided to join in.
It turned out to be even more fun than I had imagined—everything was beautifully coated in snow, and the horses were surprisingly sure-footed over the surface, which was nice and fluffy but not icy. We rode in one of the fields and even trotted and cantered around. What a blast after being confined to the ring for the last couple of months!
We ended with a little trail ride through the woods, which were extremely scenic and peaceful. My horse, Jester, was so happy to be getting out and going somewhere that he had much more energy than usual; thankfully he was still well-behaved.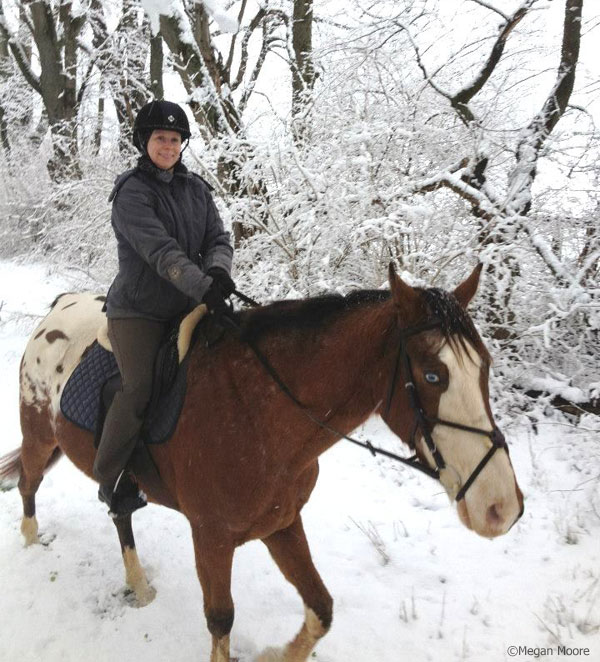 Riding in the snow made me wish that we got a lot more of it around here, although the people that live in the Great White North might see it differently. I think if there was snow on the ground all the time, I'd ride a lot more in the winter (with a barefoot horse) since I like getting out of the ring and wandering the hills and trails all the time in the summer. Of course, you need to be prepared for the cold, but since I wear about a thousand layers I usually look like a marshmallow and don't feel a thing. My horse is equally fluffy with his thick Appy winter coat and doesn't seem to mind the winter.
In Kentucky there are hardly any indoor arenas, so we usually have to ride outside if we want to ride at all. So tell me, riders from the Rockies all the way to Maine—do you like riding in the snow? Or is there TOO much of it where you live, forcing you to wait for spring to ride outdoors?
Back to The Near Side