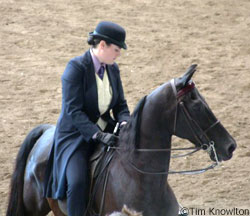 Maybe one day I'll return to the saddle seat show ring–and if I do, I promise to wear a helmet–but it probably won't be in this saddle.
The other day, a local horse rescue announced on their facebook page that they were looking for a cutback saddle to borrow to use on a horse that they currently have at their facility. I happen to have a cutback saddle sitting in my house, neglected and unused, so I offered to loan it to them. Then I thought, "Maybe I should just donate it. I don't really need it anymore."
But there was this terrible little nagging voice in the back of my mind that balked at that idea. What if I need that saddle? I can't just cast it away. It's the only cutback saddle I've got!
That saddle last saw the back of a horse two summers ago when I was considering taking Snoopy to a little county fair show that offered a saddle seat class for Morgans, but no hunt seat class. I brought it out to the farm along with my double bridle and took Snoopy for a spin around one of the fields with it, just to see if we still remembered how to do the saddle seat thing. We didn't end up going to the show due to weather, and the saddle hasn't been used since.
Prior to that one joy ride, I don't think I've really used it at all in the last four years after I'd decided Snoopy was better suited to hunter pleasure than saddle seat. But I've kept it just in case. Just in case someone offers me a catch ride to show in a saddle seat class at one of the many Saddlebred shows around here. Or maybe someone will have a nice, saddle seat type Morgan that they don't have time for, and they'll offer to let me ride him. Maybe I'll suddenly find some extra money lying around and decide to lease a horse that happens to go best in saddle seat tack.
This is all ridiculous, of course. I have, at least for the time being, decided I'm doing the hunter/jumper thing, and even if I did stumble upon some great offer to ride a saddle seat horse, what are the chances that offer wouldn't come with a loaner saddle? And it's not like I love my old cutback saddle. I bought it used (very used) about seven years ago, because it showed up at my local consignment tack shop and was about as close as any saddle ever is to my price range.
I am not a packrat. I'm no neat freak, either, but I do hate unnecessary clutter and am a fan of getting rid of stuff that's no longer in use. But tack seems to be the exception to this. Every oddly sized bit, bargain-basement bridle and random "what is this for, anyway?" curio that I've picked up at consignment tack shops over the years stays with me.
Maybe I'm an optimist. I like to think that my future is so full of different horses that I might find a use for each and every item of horse equipment that has ever come into my possession. If I have a trunk full of gear, I'll be ready for whatever equine blessing comes my way.
I haven't decided yet if I'm going to offer to make this saddle loan a permanent donation. If it can help the staff at the rescue prepare horses for adoptive homes, then it's certainly doing more good in the world than it currently is taking up space in my house.
Back to The Near Side