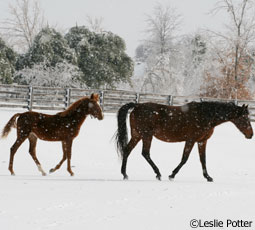 If it looks like this outside, you can bet we're sitting inside the Horse Illustrated offices compiling a list of tips to beat the heat at the barn. Photo: Leslie Potter
The year 2013 is still in its early days, but here at Horse Illustrated HQ, we're already planning our editorial calendar for 2014. You're right, it is crazy, but that's the way the magazine biz goes. You've probably noticed that the date on the front of your magazine rarely matches the date on the calendar. If you're a subscriber, you might have received your April issue in February. If you shop on the newsstand, you'll find the April issue there now, even though we're not quite halfway through March.
And that's just the timeframe in which the shiny finished product reaches readers' hands. We have to write and edit all of the articles, select photos, and get the whole thing put together well before that, which means working way ahead of reality. There was snow on the ground when I took my dog for her morning constitutional today, but here in the office we're working on the June issue. This time of year that disconnect is kind of nice. I like looking forward to horse show season and summer trail riding. However, those blanketing and winter health care articles that we put together in August and September cast a shadow over the end of summer, reminding us that the warm days won't last.
We're a little less constrained here on the website. We do plan out some of our major features and come up with an editorial calendar for the year in advance, but not so far in advance. Plus, we have the freedom to change or add things at the last minute or report on breaking stories that would be old news by the time they reached readers in the magazine. We can even feature hot-weather riding articles when it is actually summer or holiday season articles in December rather than having to do everything months in advance of reality.
But back to the original topic, which was editorial planning for 2014. This is the time of year when we solicit reader feedback before mapping out our topics for next year. If you've ever had a great idea for an article, or you wonder why we haven't covered a certain topic, now is the time to tell us about it. And if you have ideas for the website, such as videos or interactive features that just don't work on paper, share those, too. Click "Submit a Comment" below, visit us on Facebook, tell us on Twitter, or use our contact form and tell us what you want to see in Horse Illustrated and on HorseChannel.com. You can even send us your ideas using old-fashioned pen, paper and postal stamps, if that's your thing.
Obviously, we can't guarantee we'll use every idea we receive, but your feedback is the only way we know what our readers love—and hate—to see in the magazine. Send us your thoughts and we'll do our best to keep you informed and entertained in 2014. And by 2014, I mean the year that begins in November of 2013.
Back to The Near Side