Last weekend, I ran a race at Keeneland Race Course here in Lexington. No, I did not have to go up against Thoroughbreds, but rather 4,000 other human runners and 13.1 miles of rolling hills in the Run the Bluegrass Half-Marathon.
I've
mentioned before
that running the back roads around Lexington is an interesting experience thanks to the equine scenery. Run the Bluegrass takes full advantage of that by setting the course on roads that wind through some of the area's signature horse farms.
It's not all Thoroughbreds, though. Somewhere around mile three or four there was a lone Gypsy Horse standing by the fence, enjoying the odd parade of humans on the road in front of him. He stood and amiably posed for photos with one person after another as they sacrificed a minute on their finish time to capture an image.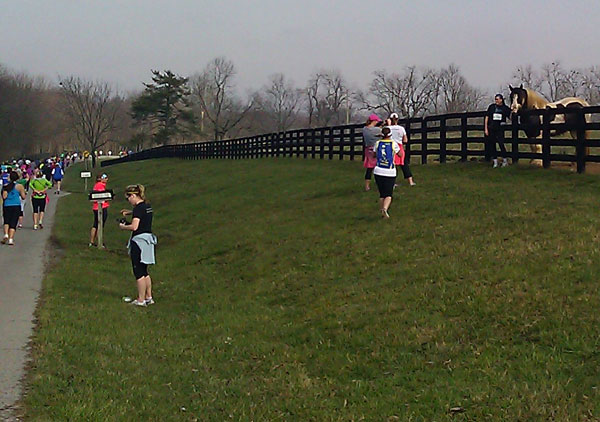 Greeting the adoring public is all in a day's work for this friendly fellow.
Just before the eight-mile marker, I was feeling pretty tired and wondered why I'd signed up for this looney race, when a mare and foal came cantering majestically down the hillside. It was nice to have a distraction to keep me from falling too far into that mid-run negativity. Admittedly, I used it as an excuse to stop and take a few seconds of video.
I did wonder at first if the train of colorfully dressed humans on a normally quiet back road along with the blaring Aerosmith soundtrack was scaring the poor mare into a frenzy. However, since she kept running up to the fence rather than staying away I think this was probably the normal behavior of a mare and foal who'd just been turned out. As I moved along down the course, someone at the stable was bringing out another mare and foal to the same paddock, so I guess they weren't too concerned about the commotion's effect on the horses.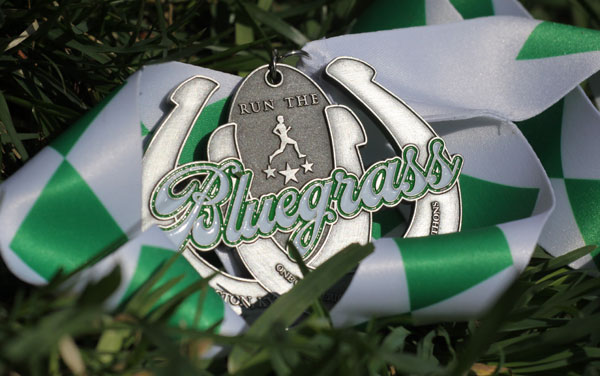 An equestrian-themed finishers' medal? I'll run 13 miles for that.
The start and finish line of the race were both on Keeneland's property, and while I don't think anyone left with a garland of roses, the race does recognize its equine ties by celebrating a famous race horse with the finishers' medals. Last year, the theme was blue and white to commemorate the colors worn by Secretariat. This year they picked green and white for Genuine Risk, the 1980 Kentucky Derby winner and only the second filly in history to win that race. In fact, Genuine Risk showed up on race day, along with her jockey.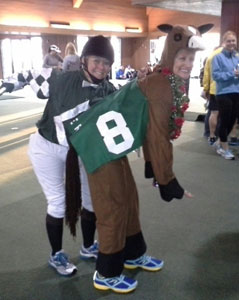 It was a warm day and those hills were rough. Props to these ladies for taking the whole thing on in a horse costume and a non-ventilated riding helmet.
I'm not a natural athlete, so running a distance like that over hills is pretty tough, but well worth it for the feeling of accomplishment at the end, and definitely for the scenery. If you're ever inclined to take on a half-marathon, I'd definitely recommend this one (horse costume optional.)
Back to The Near Side