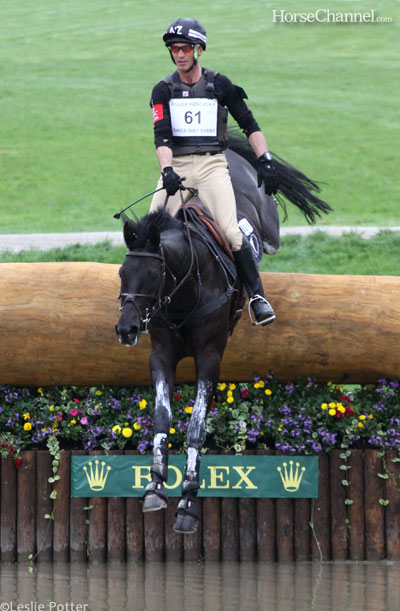 It's no secret that cross-country day is THE day to go to Rolex. Whether or not you're an eventing fan, it's worth the trip just to stand near those cross-country jumps and try to wrap your head around how a 1,300-pound animal could possibly propel himself over them. Then when you actually watch them do it, well, it'll make you rethink what you knew about equine abilities.
As promised, here are some of the photos from this year that didn't make it into our regular Rolex coverage. The exception is the photo of Rolex champ Andrew Nicholson and Quimbo above. That photo was in the article here on HorseChannel, but I like it enough to post it twice.
| | |
| --- | --- |
| Becky Holder of the U.S. is always one of my favorites. She has a phenomenal record with the gray off-the-track Thoroughbred, Courageous Comet. This year she brought her other gray OTTB, Can't Fire Me. | Just before Boyd Martin arrived at this fence, a herd of teenage girls appeared out of nowhere, iPhones drawn and ready to capture the fleeting moment of his presence before them. Or perhaps they were just eager to see Trading Aces' adorable face. We'll go with that. |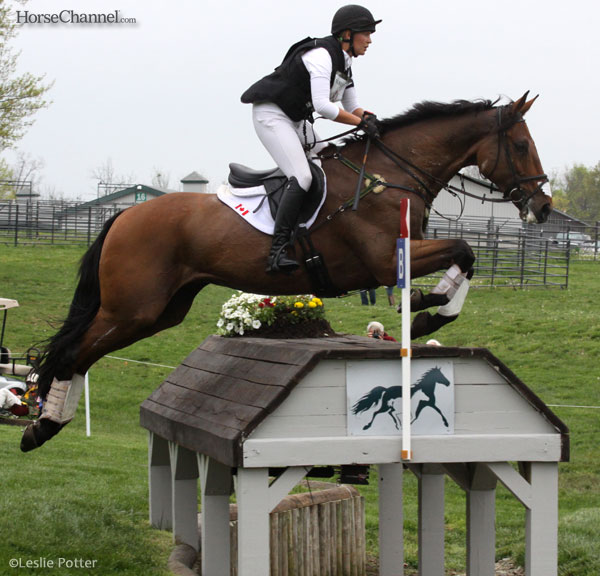 Canada's Shandiss McDonald and the towering Rockfield Grand Juan (18 hands!) had an undeniable presence in the stadium and on the cross-country course. This was a first Rolex for both of them. I hope they're back next year!
Finding a good spot is key to getting worthwhile photos at Rolex. I wasn't sure if this fish jump would look as cool in photos as it did in person, but I'm pretty pleased with how they turned out. My horse would probably refuse to go anywhere near that fish, but Ballylaffin Bracken (left, with Kristin Schmolze) and Henry Jota Hampton (right, with Peter Atkins) weren't concerned.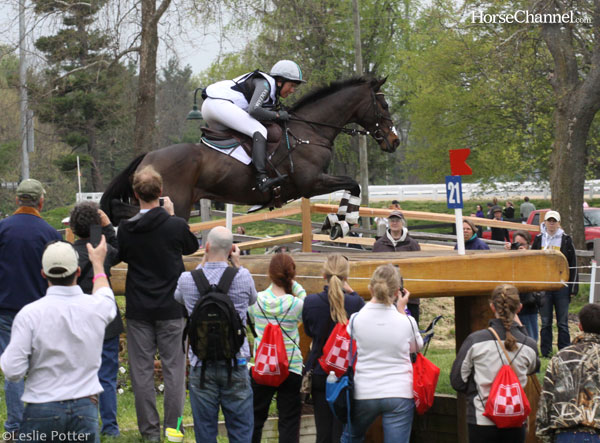 Speaking of getting worthwhile photos, this is a common scene on course. No one seems to just watch cross-country; they document it. And hey, if that enhances your enjoyment of Rolex, then more power to ya (as long as you don't jump out in front of the credentialed photographers' lenses at the last second to get your iPhone shot. Please don't do that.) Personally, if I ever find myself at Rolex as a spectator rather than as a member of the media, I'll probably just leave my camera at home so I can take the whole thing in as it happens. In any case, this well-recorded moment is Meghan O'Donoghue, one of the youngest riders at this year's Rolex, with Pirate, the Thoroughbred she's owned and ridden since he came off the track. They finished 12th this year; expect even more amazing things from them in the future.
The obligatory fall photo. To alleviate any concerns, I can assure you that both horse and rider walked away wet, but no worse for wear. In fact, this year's Rolex went off without any major injuries even though Heather Gillette and Our Questionnaire here were in good company as one of seven teams eliminated in cross-country. She wasn't the first rider to take a dip at the head of the lake that day, either. Better luck next year!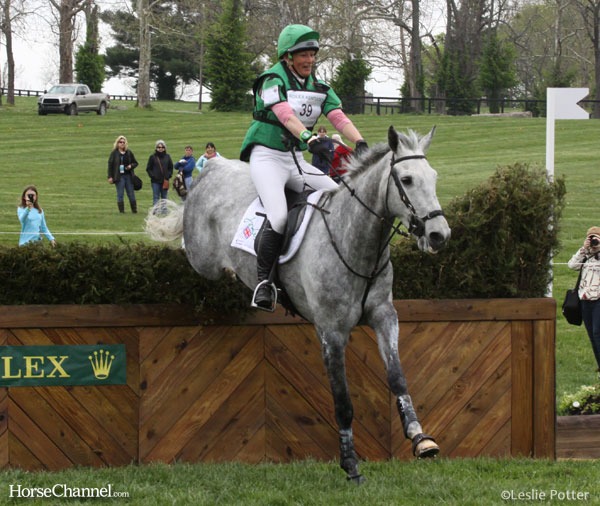 In 2011, Great Britain's Mary King brought two horses to Rolex, then proceeded to win the whole thing AND come in second. Her mare, King's Temptress, earned the top honor, but I was kind of hoping she'd win with this guy, Fernhill Urco. This photo doesn't quite do him justice, but he's truly breathtaking in person. And I think he must be fun to ride, because King is smiling in every photo. Unfortunately, Urco ran out of gas this year and King opted to retire on course just a stone's throw from the end. Oh well. It's not like she's got anything left to prove at Rolex!
| | |
| --- | --- |
| Yes, another image of Andrew Nicholson and Quimbo at the head of the lake. To be fair, this is really just a picture of the fish–another scary fish that my horse would probably avoid like the plague. Quimbo's just here for visual comparison. | And finally, here's British rider James Alliston diving into the head of the lake with Tivoli, one of three horses he rode that day. All three completed cross-country, but Tivoli unfortunately did not pass the final inspection before stadium jumping. Still, props to hard-working Alliston for doing this thing three times. HorseChannel salutes you! |
Back to The Near Side