I recently had the wonderful opportunity to tour the famous
Rolex Kentucky Three-Day Event cross-country course on horseback. I am nowhere
near brave enough to actually jump those jumps, so thankfully that wasn't the
plan.
A handful of members of the media were invited to take the tour aboard trail string horses from the Kentucky Horse Park. We were led by two top U.S. eventers: Olympic individual silver medalist Gina Miles (Beijing 2008) and Olympic team alternate Sinead Halpin (London 2012).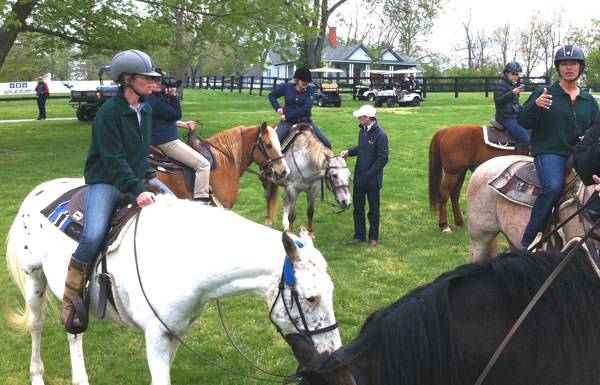 Sinead Halpin (left) and Gina Miles
I haven't sat in a western saddle in a long time, so our ride was a welcome change from my usual regimented schooling routine. Starting out at the most famous Rolex jump complex, the Head of the Lake, Sinead and Gina explained what the riders may be thinking as they galloped down to the dense crowds and had to keep their plan, alternate plan, and many other back-up plans in their mind amongst all the excitement. There are several routes for less-experienced pairs that require more time, but are a bit easier for horse and rider.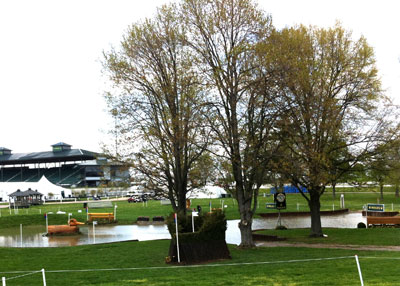 The Head of the Lake
Sinead's horse, Burrito, was a cute Appy and a very quiet mount. My ride, Star, was very fidgety unless I let him drop his head and chow on grass—a big no-no for most horses I ride, but in this case I was told it was OK. The horses were much more alert and high-energy once they were off their regular nose-to-tail trail route through the Horse Park!
Star
Farther along on our ride, we ran into cross-country course designer Derek di Grazia, who was nice enough to take some time to talk to us about the Normandy bank complex. Last year it caught out some very good pairs, including Becky Holder and Courageous Comet, but this he had lowered the rail on top of the bank "by an inch or two," and it ended up making all the difference. Instead of seeing lots of horses getting a bit stuck on it as they peeked over the rail, everyone I saw jumped it smoothly this year.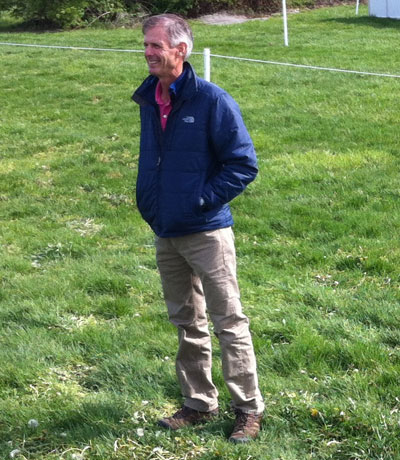 Derek di Grazia
As always it was an absolute treat to "ride the course" and hear from the very best experts in the sport and even the course designer. Until next year!
Back to The Near Side