When people talk about showing horses, they'll often say something like, "I don't do it for the $1.00 ribbon." And it's true. If we only cared about those satiny prizes, we'd just buy ribbons. But for me, ribbons represent memories of different moments in my equestrian life. Some of them are proud victories. Some of them are from small classes in which I only got a ribbon because there were more ribbons than riders. But they're all mementos of time spent with horses, and that's something I cherish.
All this is to say that I keep all my ribbons. All of them. And I'm not ashamed to admit it. But I never know what to do with them, so they've mostly been sitting in a box in a spare closet in my house, waiting for me to get my own barn with my own tack room where I can display them all the time.
Over the past week or so, I saw a few photos on Facebook of Christmas trees adorned with show ribbons. I thought it was a cute idea, but put it in the back of my mind for that future tack room of mine. But then it came time to put up the tree.
I have a fake tree, the prelit kind you find at K-Mart. It's not as pretty as a real tree and it doesn't smell as nice, but as far as economy and maintenance go, it does suit my current lifestyle. But it's a bit sparse. So as I dragged it out last week, I thought maybe I should buy some extra tinsel garlands or something to fill in the gaps. But then I remembered the ribbon trees.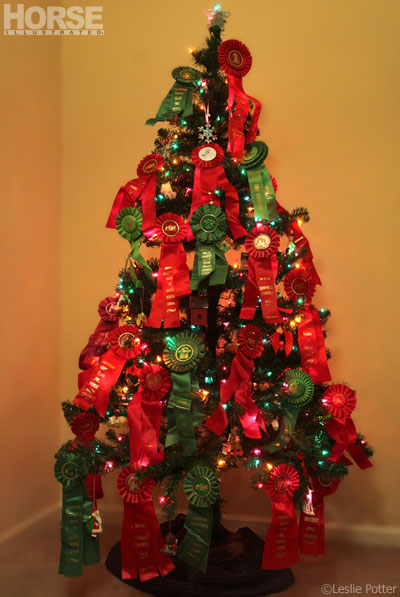 I dug out the box o' ribbons and separated the sixth- and second-place awards. I wasn't sure I'd have enough to cover the tree in red and green, and I was pretty pleased to discover that I did. Life in a box has left them a bit wrinkled, but we'll just say that adds a certain style element to the finished piece.
Going with traditional Christmas colors is the obvious choice, but you could really make it any theme if you have enough material to work with. I got stuck in a fourth-place rut for a few seasons, which means I could make an elegant white decoration. If you've had a lot of success in the show ring, you could do a blue and/or tricolor tree. Or you could go wild and use the full rainbow.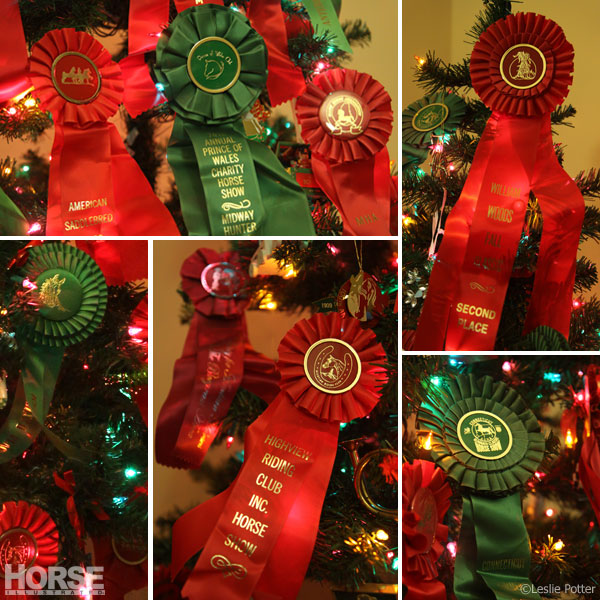 I'm pretty happy with the way it looks, crumpled ribbons notwithstanding, and I think I'll leave it this way for the season.
Back to The Near Side
---
Leslie Potter is Sr. Associate Web Editor of HorseChannel.com. Follow her on Twitter: @LeslieInLex.