Nope, not that kind of App.
.
This week, a new show jumping game was released for iPhone and iPad, titled "
Jumpy Horse Show Jumping
." It's billed as "realistic," which seems like a funny term. How realistic could an iPhonified experience be? But maybe it's fun. You can compete over pre-made courses or create your own. You can pick one of seven breeds, from the traditional Hanoverian or Thoroughbred to some more, um, interesting choices for jumping, including a Shire or zebra.
I'd give you a full review, but I am not an iPhone or iPad user. Maybe someone can pony up the $1.99 and post their own review in the comments.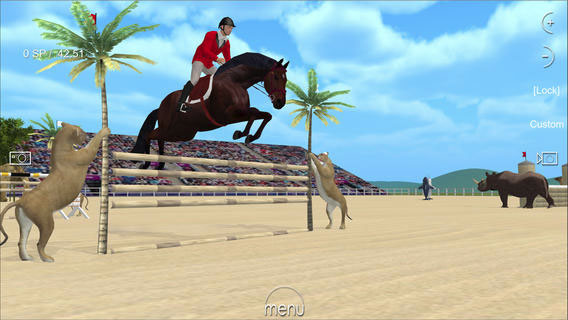 Screenshot from Jumpy Horse Show Jumping
I do have a few Android apps that I use in my equestrian life. I track my rides using CardioTrainer. It records the distance, duration and speed of my ride as long as I remember to start it up and put my phone in my pocket before mounting up. This usually isn't a problem in the winter, but in the summer, I have to remember to bring my armband phone holder or else I'm outta luck (note to equestrian apparel manufacturers: please put real pockets in women's breeches.) It's useful if you're working on conditioning your horse and need to keep track of how much you've done each day. I also use it to track runs and those occasional other workouts I force myself to do.
Another horse app I used is Horse Sounds. It's exactly what the title suggests—an app that plays horse sounds at the touch of a button. It was good for getting ears up for photo shoots. I uninstalled it when it started updating itself multiple times per day, which seemed suspicious. At the very least, it was annoying. I also learned the hard way that it automatically changed my ringtone to a whinnying horse. Usually I keep my phone on vibrate, but apparently I hit the volume button without realizing it, and was later notified of an incoming text message by a screaming horse. Use at your own risk.
Of course, there are other apps that horse people find useful. Weather apps so you know how much you're going to freeze during your ride. Instagram to share photos of your adorable pony with your legions of followers. Calendar apps to remind you of the farrier appointment you scheduled six weeks ago. But there are also a lot of apps designed specifically for horse owners.
Zoetis makes one called EQStable that helps you manage your riding and horsekeeping schedule. The U.S. Hunter/Jumper Association has one for trainers that holds useful info about class rules and specifications, among other things. The FEI has a whole library of apps that allow you to watch competitions right on your tablet, talk you through a dressage test and remind you which medications are prohibited in competition. There are apps to help you through your reining pattern, get info about horse health on the fly and find training exercises to work on with your horse.
Since I spend all day on a computer, I like to use the barn as a place to disconnect. But even I have to admit that there are worthwhile uses for 21st-century spacephones out there. What do you think? Have you found any apps to be useful in your equestrian life? Or have you come across any that are truly entertaining when you're killing time away from the barn? Or do you completely unplug when you're with your horse. Submit a Comment below and let me know.
Back to The Near Side