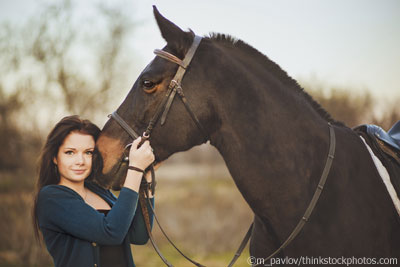 "Cute sweater! Lemme just wipe my nose on it and make sure there's some hay embedded in there…done! Enjoy your date tonight!"

I'm proud to be an equestrian and I certainly never try to hide the fact that I am a horseperson through and through. But I don't necessarily try to flaunt it, either. There's a time and a place for dirty muck boots, and it's not Saturday night at a nice restaurant, you know? But sometimes it doesn't matter if you're waving your equestrian flag intentionally or not. Your fellow horse people know who you are.
Once, while volunteering at an adoption event for the local animal shelter, a fellow volunteer stated plainly, "You're a horse person, aren't you?"
I'm terrible with names and faces. Have you ever had one of those moments where you run into someone at the store and they launch into conversation with you, and you know you should know them but you just don't? I don't want to say this happens to me frequently, but it's not entirely unusual, either. I thought this was one of those cases, and I started scrambling to figure out who this person could be. Did she model for a Horse Illustrated photo shoot? Is she a friend of a fellow boarder at my barn? Did we meet at a horse show? I came up empty.
So then I started wondering what could have given me away. I hadn't been to the barn yet that day, so I didn't think I had hay or shavings in my hair, or that unique eau du barn that horse owners sometimes obliviously carry around with them. Had I been near my mobile tack room car, the answer might have been evident, but I wasn't. I was pretty sure I hadn't even clucked at any of the adoptable dogs.
All of these thoughts flew through my brain in the amount of time it took me to cautiously reply, "…yes…?"
My fellow volunteer detected my curiousness, and pointed at my feet. "Your paddock boots."
Oh, right. In my defense, these were not really barn boots. They were the pair of Mountain Horse boots I preserved for non-barn wear although they were, indeed, designed for equestrian use. And I did sometimes wear them to the barn because let's face it, all of our clothes become barn clothes at least some of the time. But in this case it was the style, not the stench, that gave me away.
Recently I was visiting the dog park and met a fellow equestrian, although she hid it well at first. Her dog looked sort of like a yellow lab, but sort of not, so I asked if she knew what the dog's breed was. She said she suspected part Husky, because—and I quote—"She paces instead of trotting*."
"You must be a horse person," I remarked.
Of course she was. And this led to a nice conversation about our respective equines—her family had raised Thoroughbreds, and like me, she was the owner of a senior horse. That amiable chat never would have happened if horsepeople weren't so darn obvious!
If you've ever been sneakily identified as an equestrian or figured someone else out, tell me about it in the comments below. Maybe we in the equestrian community should develop a secret handshake or something so we can find each other in non-horse environments. Or maybe we don't need one.
*In case you're curious (as I was), her observation about Huskies pacing was anecdotal. Some quick Google research suggests that dogs, in general, trot, but will pace if they're tired after a long day of running, or if they lack fitness, or when they're puppies and aren't fully developed yet. There's a pretty interesting article about dog gaits over on our sister site, DogChannel.com.
Back to The Near Side