Here's some interesting news from the world of equestrian sports. Nike has officially sponsored its first American equestrian athlete. Yes, the very same Nike that sponsors household names like Tiger Woods, Maria Sharapova and LeBron James. So who is this new star?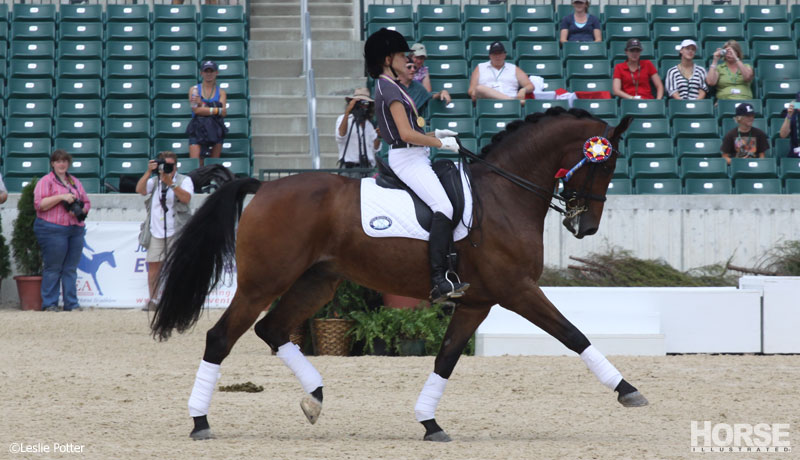 It's dressage rider Ayden Uhlir, 2012 and 2013 North American Junior/Young Rider Championship gold medalist. Uhlir announced the sponsorship yesterday on her blog.
When Nike signs a big name star like LeBron James, they benefit by associating their brand with his image. Fans of James see him on TV wearing Nike shoes and clothes and in Nike's commercials, and Nike benefits from the positive association. At least that's the idea. But how will that sponsorship model translate to dressage?
Alltech, title sponsor of the FEI World Equestrian Games (among other things), hosts a series of educational talks they call News and Brews. A few years ago, I attended a News and Brews on the topic of finding sponsors for your riding career. I was there more out of curiosity (and the promise of free food) than anything else. I'm not super optimistic about having corporate sponsors for my riding career, which currently consists of me hacking around the farm on my 20-something Morgan. There's not much great brand exposure to be gained from that affiliation.
In any case, it was interesting to hear from riders who had pursued sponsorships. The main takeaway for me was that equestrians aren't Michael Jordan, and none of us are about to get a million dollars just for allowing a brand to use our name and likeness. In fact, most equestrian sponsorships aren't about cold hard cash—the deals are often about exchanging endorsement for product. So, for example, if you feed Horse Feed X, you might approach Horse Feed X, Inc., tell them you are a devoted user of their product and put their logo on your saddle pad in exchange for them providing all your grain for free. You don't get a paycheck, but that does substantially reduce your expenses.
At least that's how I understand the usual system in our world. There are exceptions, of course. When Meredith Michaels-Beerbaum appears in a Rolex ad, she's probably getting more than free watches. But those types of sponsorships are reserved for established elite riders at the peak of their careers.
So this all leads me to wonder how a Nike equestrian sponsorship will work out. Dressage is not exactly mainstream and, let's be honest, probably never will be. A dressage rider isn't going to draw a huge fanbase for a product she's associated with. So, maybe Nike is looking at appealing to the equestrian crowd. But why? They don't make equestrian apparel.
Well, not yet. Maybe we're about to see Air Uhlir Dress Boots, Nike Shadbellies in tech fabrics or new compression breeches. I'm joking, mostly, but it's worth noting that before they signed superstar Tiger Woods in 1996, Nike didn't have much golf apparel or equipment in their product line. Now it's a substantial part of what they do. So who knows?
I'd be remiss if I didn't use this opportunity to reiterate my opinion that equestrian apparel should be sportier. Why do we wear long-sleeved, dark coats in the middle of summer to compete? Uhlir looks perfectly put-together in her polo shirt, as did the rest of the NAJYRC riders who wore them in competition. Maybe if a brand like Nike is trying to break into the equestrian biz, there'll be a big lobby to get the USEF to allow sportswear in our sport. Just throwing that out there.
It'll be interesting to see where Nike's endorsement goes, and if it leads to any more mainstream attention on equestrian.
Back to The Near Side