Here at Horse Illustrated HQ, I spend my days at a sort of standing desk that I assembled for myself a few years ago. Remember how all the experts were telling us about how our desk jobs were killing us? Well, I bought into it. And it's fine, for the most part, but when I was standing all day, my legs would get tired and my feet would hurt. So I launched an obsessive search for shoes that would be comfortable to wear for roughly eight hours of standing every day. I didn't care how ugly they were. I just wanted comfortable.
I found these.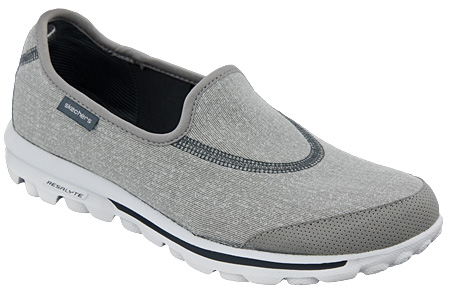 Ugly? Yeah, kinda. Comfortable? Absolutely! I've been a loyal Skechers wearer ever since. I only wish they made riding boots so I'd never have to wear anything else, but that doesn't seem to be in their business plan.
They do not make horse shoes, either, but that didn't stop them from signing on to sponsor California Chrome, this year's Triple Crown hopeful. You may remember that Nike recently made some noise in the horse world when they sponsored young dressage rider Ayden Uhlir. Nike doesn't make equestrian apparel, but they likely saw this as a way to reach an audience of equestrians who might want to buy a technical t-shirt to wear while schooling.
Sponsoring a rider is unusual for a mainstream athletic brand, but sponsoring a horse seems downright weird. Chrome won't be wearing Meb Keflezighi's GORuns when he tackles the Belmont Stakes this weekend, but he and his human entourage will be sporting the company's logo on their race-day attire. Supposedly it'll even be on Chrome's fly sheet.
If Nike's equestrian sponsorship was to reach out to riders, what's Skechers' intended audience here? They were pretty straightforward on this question. Their target is old people. We all know race fans are a graying population. The Thoroughbred industry has been wringing its hands over that phenomenon for some time. But Skechers sees it as an opportunity, apparently. In fact, they're essentially letting go of the younger age groups so coveted by so many companies, and focusing on the senior set.
"Nike is religion for a lot of kids, so it's a tough market to break through," said Skechers Chief Executive Robert Greenberg. "We're going after an older audience."
Makes sense to me. It's not like you stop buying shoes when you get your AARP card.
It hasn't escaped me that I'm a loyal customer of a company that is marketing to people twice my age. Some might say that this is not an endorsement of my fashion sense, but I say I'm advanced. Why wait another 40 years to start dressing like a grandma when I can start doing it now?
Come to think of it, if a shoe company can sponsor a horse, why not a blogger? I'd be happy to have their logo stamped on my daily attire, my horse's fly sheet, and the brand new car that I assume comes with every sponsorship deal. Sure, Chrome is flashy and exciting and potentially on the verge of an historic achievement this weekend, and my potential as a spokesperson may seem lackluster by comparison. But I'm one of the top 10 100 1,000 equestrian bloggers in the Lexington metro area with an audience of at least three (some weeks.) C'mon, Skechers. You support me at my standing desk. Now support me in my daily life.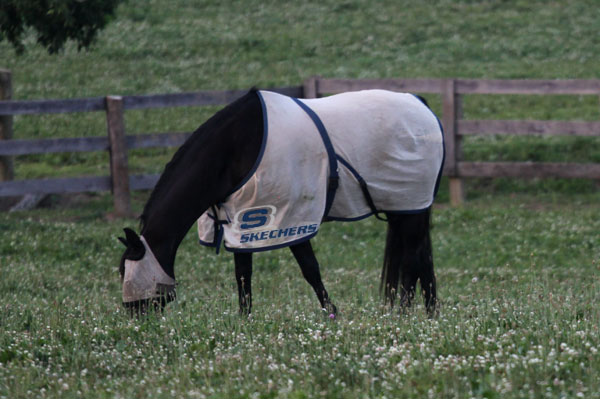 Lookin' good, Snoopy.
What do you think? Will a company's sponsorship of a race horse entice you to buy their products? And is it a bad idea to call a company's product "ugly" and insinuate that it was designed for grandmas in the same blog post in which you ask for their sponsorship? Submit a comment below and share your thoughts.
Back to The Near Side
---
Leslie Potter is Managing Editor of HorseChannel.com. Follow her on Twitter: @LeslieInLex