Why do you ride? This was a seemingly simple question posed to my classmates and me by our instructor during a riding class in college. Most of us answered how I imagine most riders would, with some variation on it being fun, challenging, good exercise or a way to spend time with horses. One student took a more intellectual tack, explaining how she liked being able to work with different horses, figuring out what made each one tick, their idiosyncrasies, their potential and their difficulties. She liked to be able to challenge herself to bring out the best in each horse she rode.
Our instructor told us that we'd all given answers that sounded along the lines of what the standard amateur rider would say, except that last student. She sounded like someone with a professional's mentality. I silently kicked myself for not having given a better answer.
There's nothing wrong with wanting to ride for fun and exercise. We don't all need to be pros. But it was a valid question to ask that particular riding class since most of us were there as equestrian science majors, pursuing a future in the field.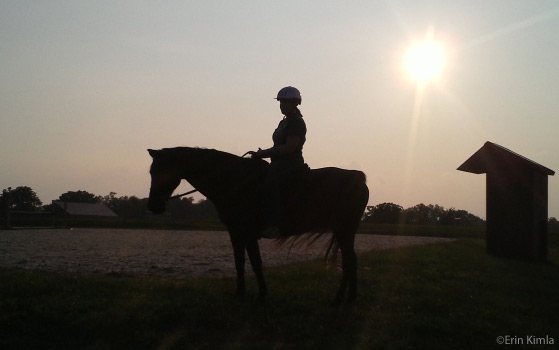 The author and Snoopy, not pursuing any goals. Photo: Erin Kimla.
I thought about this question the other day as I was taking Snoopy on a routine hack around the farm. I'm not 20 years old and actively pursuing a future as a horse trainer. I'm a grizzled old 30-something with a desk job. It's even misleading to say I'm an amateur at this point since my last show was more than a year ago and my next show is a hypothetical situation at the moment. My horse is wonderful and perfect, but he's developed a heart murmur in his old age, and the veterinary specialist prescribed "no forced work" for the rest of his days. That means light riding is fine, but I won't be doing any conditioning work, long trail rides or traveling to horse shows.
So why do I ride these days? Is it fun? Sort of. I mean, it's not the bugs-in-your-teeth cantering down the trail we used to do. It's a nice, relaxing sort of fun, more appropriate for a horse-and-rider pair of our, ahem, maturity level, I suppose.
Is it challenging or good exercise? To be honest, not usually. Sometimes I'll practice posting without stirrups, but the no-forced-work mandate limits the amount of trotting Snoopy can do at one time. I try to work on my posture and do some simple leg-yielding at the walk, but in general, our low-speed hacks aren't very physical or challenging.

Is it a good way to spend time with my horse? Sure. I tend to think of our rides around the farm as quiet bonding time. But at this point Snoopy doesn't need to be ridden. I could spend barn time doing a thorough grooming and letting him graze on the lawn. Or I could hand walk him around the farm. (I could use the extra exercise.) But something still compels me to throw a leg over Snoopy's back a few times a week.
So why do I ride? I don't have a better answer now than I did back in that college riding class. Maybe there isn't a good reason. Maybe I don't have to be seeking a thrill or working towards a goal or trying to pick apart my horse and put him back together as a better equine competitor. I ride because it's better than not riding, and that just has to be good enough.
Why do you ride? Tell me about it in the comments.
Back to The Near Side
---
Follow Leslie on Twitter: @LeslieInLex