There's a car I've seen driving around the area a couple of times that stands out to me because of two decals on the rear window. One is a trotting Saddlebred. The other is a reiner doing a sliding stop. It's not weird to see either of those things around here, but it's strange to see the two of them together. I think the owner of that car and I could be friends.*
A lot of riders choose a discipline and stick to it. It becomes part of their identity, and those car decals become like Greek letters across a t-shirt, telling the world which equestrian sorority you belong to. I'm a barrel racer, they proclaim. I'm not just a rider, I'm a dressage rider. A fox hunter. A western pleasure aficionado.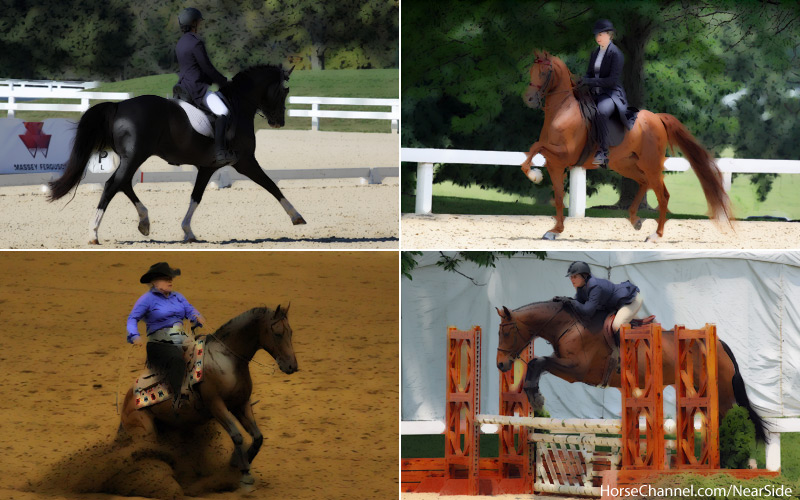 When you first encounter another equestrian and discover that they share your love of horses, undoubtedly one of you will ask the other, "What type of riding do you do?" Answering that question might come with more information than simply what type of tack you put on your horse, for better or worse. We all know the stereotypes. The dressage queen. The hunter princess. The country-proud barrel racer. So when you tell the other person, "Oh, I just trail ride for fun," did you just inadvertently tell the competitive eventer that you don't take your riding as seriously as she does? Or by telling you that she gallops her horse toward big, solid obstacles, did she out herself as a bit crazy?
Our poll question this week here on HorseChannel asks you to identify your primary discipline (take a look on the right-hand sidebar to weigh in.) Oddly, I have trouble answering this question myself, and that's why I think I have a lot in common with the driver of that saddle seat/reiningmobile.
I used to be able to identify myself as a saddle seat rider. It's how I rode, for the most part, from high school through most of my 20s. It's what my horse and I competed in for most of our competitive career together. And I'm well aware that if I told another rider that I was a saddle seat rider, their inclination was probably to back away slowly, assuming I had some fire-breathing horse trapped in a stall somewhere wearing giant padded shoes and a tailset. (I didn't. I had Snoopy, wearing plain shoes and hanging out in a pasture with his buddies in between shows. Sometimes stereotypes are wrong!)
In any case, it's been a few years since I rode that style, and I can't honestly call myself a saddle seat rider anymore. I even donated my cutback saddle to a horse rescue. I could hardly go back if I wanted to.
I usually say that I trail ride, but I hesitate to call myself a trail rider. Fact is, I don't leave the farm, and the "trails" on the property are very limited. I can't even say if I ride English or western, really, as I am currently without a saddle. Does bareback count as a discipline?
I'm trying to condition myself to saying that I ride hunt seat, because I think it's probably the closest to the truth. I take biweekly lessons at a hunter/jumper barn. In Snoopy's last few years of showing, we did the Morgan hunter pleasure division, which is not really the same as the hunters most people are accustomed to, but it's some form of hunt seat. Still, I feel like a fraud putting myself in that category. Whatever the initiation ritual is for the hunt-seat sorority, I haven't been through it yet.
The other thing is, I often talk about my theoretical "next horse." This is the youngster I buy with my theoretical "horse budget" once Snoopy is fully retired, and this horse becomes my next project. Depending upon what day you ask me about this horse, he or she may be an endurance horse, an eventer, a cowboy mounted shooting horse, a reiner, a show jumper, or all of the above. I sort of envy the people who have picked a discipline and stick to it. I bet it's easier to get good at a sport if you stick to it. But they're all so great. How can you possibly pick just one?
But enough about me. I want to know if other riders feel the same. Do you identify with the type of riding you do, and do you find you gravitate toward riders of your same discipline? Do you find that other riders stereotype you based on your chosen sport (and, 'fess up, do you do the same?) Are you a one-sport rider, or do you dabble in lots of riding styles. And what SHOULD my theoretical next horse be? Tell me in the comments.
*Fun fact: William Shatner raised Saddlebreds and competed in reining. He has horses in training around here. So maybe it's him! Probably not.
Back to The Near Side