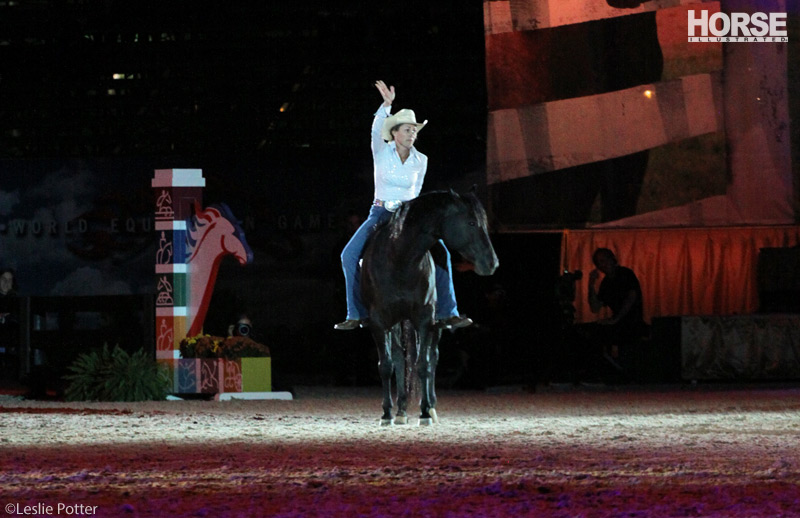 Stacy Westfall and Roxy at the 2010 Alltech FEI World Equestrian Games opening ceremonies. Photo: Leslie Potter
As part of my job here at Horse Illustrated, I do my best to keep up with horse industry news and events. It's a bit of a double-edged sword. I like being able to do that, because let's face it. If I had any other non-horsey office job, I'd probably be tempted to spend half my day reading about equestrian events anyway but would not have any work-related justification for it. But the flip side is that reading about these events all the time makes me want to leave my desk and attend every last one of them..
I sometimes indulge a daydream in which I pack up my horse and hound in a horse trailer with living quarters and hit the road. I could visit all the great equestrian trails of North America, visit legendary farms and horse sites and finally attend every show on
the events calendar.
But, in reality, I don't own a trailer and Snoopy hates road tripping anyway, so I don't think he'd be down with that plan. So I stay here in Kentucky where fortunately, there are plenty of horse happenings, but it's really not the same.
That's my life. Compare it with Stacy Westfall's life. It turns out she and her family shared a similar dream to mine. As one of the world's most popular riders and horsemanship clinicians, Stacy was already doing a lot of traveling, but she and her husband, fellow trainer Jesse, maintained a home base at their farm in Ohio. Not anymore.
The Westfalls and their three sons have left the farm, packed up some horses and a motorhome and are on the road. They'll be doing clinics and working with horses around the country, but outside of that, they also get to go trail riding in this country's great forests and mountains. If I were them, I'd make sure to hit as many horse-friendly beaches as I could find, too. Their kids were homeschooled already, and if you're going to go that route, why not also take the opportunity to let your kids see as much of the world firsthand as possible? It all seems so perfect.
You can read a bit more about this ongoing adventure over on Stacy's blog. If you could uproot everything and live life on the road, where would you go?
Back to The Near Side