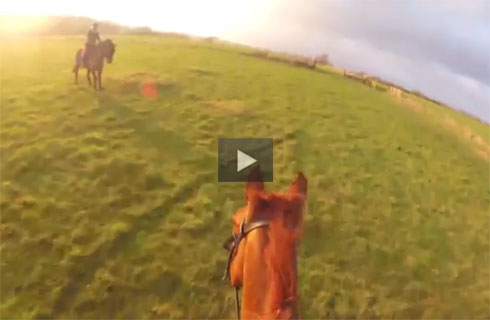 Happy Friday, everyone. Here's what's been happening in the horse world this cold, cold week.
In last week's news roundup, I suggested someone come up for a use for the temporarily famous exclamation "Who said anything about a horse?" Well, this guy came up with one Internet-based use for it, and it's pretty amusing.
Hey, Americans! Come to horse shows! That's the takeaway from this CNN clip of interviews from the National Horse Show. At least that's my takeaway from it.

Police horses are good for PR. Researchers in the UK found that neighborhood mounted patrols improved the public's confidence in the police force. They're an effective crowd-control tool, too. On the other hand, they get punched by hooligans sometimes, like a few weeks ago in Tempe, Arizona and earlier this year after a soccer game in England. Both horses are fine.
That's My Vet! No, it's not a new reality show (although maybe it should be…someone call Animal Planet.) It's what I said when I came across this video from our local Lexington ABC affiliate. Dr. Woodrow Friend explains to viewers how to care for horses in cold weather. You might recognize Dr. Friend from his previous appearances on HorseChannel. I guess you could say we really launched his TV career. Don't forget us when you're a big star, Dr. Friend!

Kevin Silverlaspia is the name of a Thoroughbred ex-racehorse who, apparently, has gone to slaughter. An Ohio NBC station used Kevin as an example of the once competitive horses who end up at the state's Sugarcreek Livestock Auction, a notorious shopping spot for kill buyers. But after tracing his history, instead of calling one of the many equine rescues or Thoroughbred adoption organizations, they say that he's gone on the truck to the slaughterhouse. I get that journalists are supposed to maintain an emotional separation from their subjects, but the end of this story is pretty jarring. I don't know. Read the article and tell me what you think.
Another NCEA equestrian team bites the dust. HorseChannel recently reported on the announced closure of Kansas State's equestrian team and what it might mean for varsity equestrian in the future. Now, the University of Tennessee at Martin has announced they're shutting down their team as well.
"I'm a proper rider now!" That's what cricket commentator Jonathan Agnew announced after taking a fall from a horse and capturing it on helmet cam. Agnew will be covering equestrian for the BBC at the Rio Olympics, so he's getting to know the ups and downs of the sport now.

Charlotte Dujardin is the best. She got her start mucking stalls and riding other people's horses, and truly worked her way up to where she is now—the top of the dressage world with her beloved mount, Valegro (known to his friends as Blueberry.) Dujardin was recognized this week as Sunday Times and Sky Sportswoman of the Year. Much deserved!
And finally, a woman reflects on the time her horse saved her from a raging cow. I kind of chuckled at the headline, but it's a pretty terrifying story. No offense, cows, but I'll stick to horses.
That's it for this week. Enjoy your weekend!
Back to The Near Side
---
Follow Leslie on Twitter: @LeslieInLex