Note: This is day four in my 30-day blogging challenge. What the heck is a 30-day blogging challenge? Read about it here.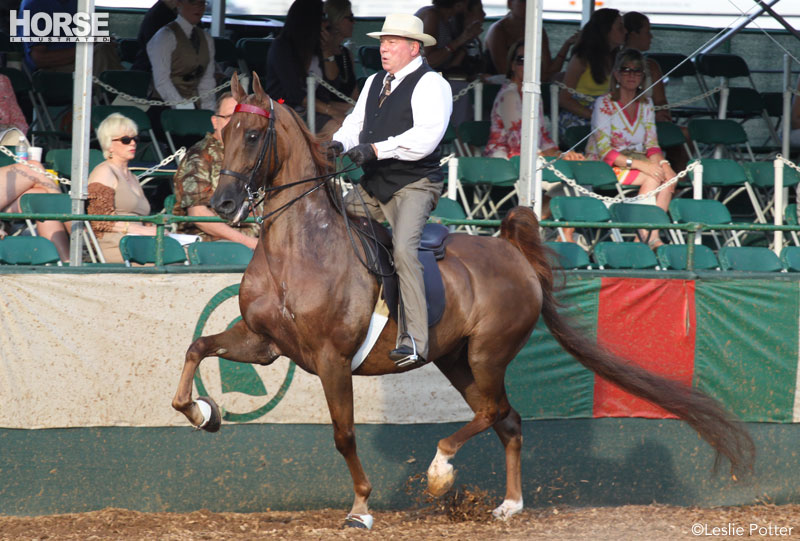 My grandmother grew up on a farm and rode horses when she was young. As far as I know, she never rode once she was an adult with a family to take care of, but she was always supportive of my interest in riding.
I remember her once saying, "I probably couldn't ride a horse now." Then she paused for a moment, and added, "Well, maybe I could, if I could get a rocking chair up on the horse's back."
The importance of remaining physically active throughout your life is well-documented, and riding is more appealing to a lot of people than golf or t'ai chi will ever be. Unfortunately, it comes with a pretty high risk of injury compared with other activities, which undoubtedly causes a lot of senior citizens to look elsewhere for exercise.
A reader recently left a comment on an article here on HorseChannel asking if it was possible to learn to ride when you're in your 70s and have back problems. We posted the question to Facebook to find out what people thought.
Predictably, the responses were overwhelmingly positive. Lots of people chimed in with their own stories of riding after back surgery or hip replacements. Other people talked about starting riding at various points throughout middle age and beyond. Some even said that riding alleviated their back pain. In general, it's pretty encouraging.
Obviously, everyone is different, and there are conditions that will prevent a person from riding, no matter how strong their will or desire to get on the horse. And if you've been sedentary for your entire life, taking up riding at 75 is going to be challenging. But based on my own experience and the ideas contributed by our Facebook community, I think there are a lot of ways to ride in almost any physical condition.
Ride a gaited horse. A lot of people suggested this idea, and I agree. If you have a bad back, riding a smooth-gaited Rocky Mountain Horse is going to be a lot more pleasant than a fancy, lofty Arabian or Thoroughbred. In general, if one of your reasons for riding is to stay active and get exercise, I'd argue that you'd want a trotting horse since posting is pretty good exercise, but for a beginner with a bad back or one who aspires to go for miles on the trail, I definitely get the appeal of the gaited breeds.
Or ride a smooth-moving trotting horse. I've ridden a few different gaited breeds, but one of the smoothest rides I've ever experienced was on a retired western pleasure Quarter Horse. It took her all day to get around the arena once, but for a lot of beginners, I'm sure that's not a bad thing.
Drive a carriage. I have mixed feelings on this one, because I think riding in a cart is more jostling than sitting on a horse. But if you have access to a carriage intended for cross-country driving, it probably has a better suspension system than the show carts I'm used to. Plus, assuming you've got a well-trained horse at the end of the lines, driving nearly eliminates the risk of falling.
Find a therapeutic riding facility. Even if you don't have a documentable disability, some centers have able-bodied lesson programs in addition to equine-facilitated therapy, and they'll be equipped to accommodate most any ailment you show up with.
Work up to it. Whatever age you are, if you're not particularly active, I think your life will be easier if you start doing some other forms of exercise before you start riding. Intense cardio or weightlifting are probably not necessary, but balance exercises would be a good place to start (here are some.)
I won't lie. Getting old and the prospect of being physically unable to ride at some point is a bit terrifying to me. So I take my own advice and try to stay active, even during times when I can't ride for one reason or another. What about you? How are you going to maximize your equestrian longevity? Tell me about it in the comments.
Back to The Near Side
---
Leslie Potter is Sr. Associate Web Editor of HorseChannel.com. Follow her on Twitter: @LeslieInLex.