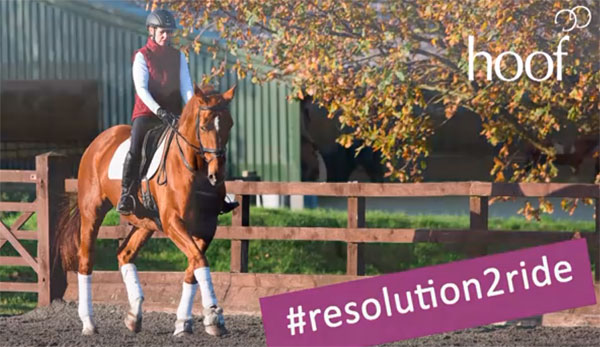 Note: This is day 11 of my 30-day blogging challenge. What the heck is a 30-day blogging challenge? Read about it here.
In a perfect world, all riders would have the opportunity to ride at least one horse every day. We'd have a lesson with an expert trainer once a week at minimum. We'd cross train with a balanced mix of cardio, strength and flexibility workouts.
Yeah, I know.
I think all of us would at least hit the "ride daily" part of that if we could, but what if you don't have a horse of your own? Or your horse is retired and can only be ridden minimally? (*raises hand*) Or you can't quite fit weekly or better lessons into your schedule and/or budget? (*raises hand again*)
The British Horse Society's HoofRide program is here for us with its new Resolution2Ride campaign. This campaign includes a video series with mounted and unmounted exercises to help you improve your riding. And so far, the mounted exercises don't require a horse that can trot or canter for miles, which means mostly-retired-Snoopy can help me with this.
Time spent riding, preferably with occasional feedback from an educated observer, is the best way to become a better rider. But when you can't have that, it's not impossible to improve through other means.
Keep up with the campaign via the usual channels: YouTube, Facebook and Twitter.
Back to The Near Side
---
Leslie Potter is Sr. Associate Web Editor of HorseChannel.com. Follow her on Twitter: @LeslieInLex.