Note: This is day 13 of my 30-day blogging challenge. What the heck is a 30-day blogging challenge? Read about it here.
If you follow
Stacy Westfall's blog
, you may have seen this video she posted this week from a ride in New Mexico. Westfall and her husband, Jesse, went along with tour guide/horse hotel owner Diane Wiltshire to find what remains of an old homestead located on desolate federal land near San Lorenzo Canyon.
While this ride did have a destination, the journey is worthwhile on its own. It's always fun to watch helmet cam footage of various rides, but check out the headstall cam around the four-minute mark. There's also a girth cam, which is fun but really bizarre-looking.
If you live in the American Southwest, this landscape is probably not all that exciting, but the dry riverbed looks exotic and interesting to me. It got me thinking about the most interesting landscape I've ever ridden. That was really what this blog post was going to be about. But I couldn't really think of anything. My trail riding life is boring!
The main exception would be when I rode in Brazil a couple of years ago while researching an article on the Mangalarga Marchador. That was definitely interesting. Extremely steep mountain paths, rows of coffee plants. These are not things we have in Kentucky.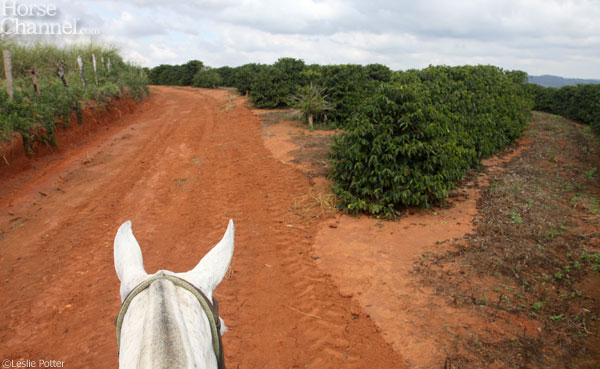 But as far as rides I've taken with my own horse, I don't have much to brag about. We did once go to the beach, which is one of those things that is on every rider's bucket list for good reason. And I used to routinely ride around the edge of a salt marsh, which would probably seem as exotic to a Southwesterner as their deserts seem to me. So there's that.
What's your most interesting trail riding landscape? If you've got a photo, feel free to share it on our Facebook page. I'd love to see them.
Back to The Near Side
---
Leslie Potter is Sr. Associate Web Editor of HorseChannel.com. Follow her on Twitter: @LeslieInLex.