Note: This is day 20 of my 30-day blogging challenge. What the heck is a 30-day blogging challenge? Read about it here.
There was a meme going around Facebook for a while that said something like, "Every school has that weird kid who's obsessed with horses. I was that kid."
I was that kid too. I bet many of you were as well. I don't know about you, but at the time, I was unaware that it made me weird. In hindsight, I probably annoyed my non-horse friends at school by talking about horses a lot, but they remained my friends, so it couldn't have been too offensive.
I didn't even realize that "weird horse kid" was a well-known archetype in American youth culture until I was out of grade school. A college friend once talked about how boys in her high school—high school!—would walk up behind her and whinny or make threats against her horse as they passed by her in the hallway. I was in disbelief that anyone above the age of 12, would delight in tormenting someone else for something as seemingly inoffensive as riding horses. But then other friends nodded knowingly and shared their own experiences of being shunned or made fun of for their equine involvement.
There's a great essay over on rookiemag.com written by a woman who grew up being loosely acquainted with, but not really understanding, a Horse Girl. In it, the author admits to looking down at Horse Girls with derision because of what she now realizes was a lack of understanding and even a hint of jealousy. Go read it—it's not too long and I am pretty sure any former weird horse kid will appreciate it.
I was thinking recently about how if Horse Girl is such a well-known personality, there must be a lot of them within every generation of American youth. But how many of them grow up to be active horsewomen? When I think back to my elementary school days, I can remember a handful of kids who rode, or at least really wanted to ride. I can think of about three other girls (and one boy) in my class who still rode by the time we were in high school. Do any of them still ride? I have no idea.
There's a fair amount of fretting in the horse world about how there aren't enough boys in equestrian sports in this country. People talk about how boys lose interest before they're even out of elementary school because other boys make fun of them. What about girls, though? Sure, some kids just grow out of the horse phase, but how many girls get peer-pressured out of a sport and lifestyle they truly love because their friends gave them the idea that Horse Girls are dorks?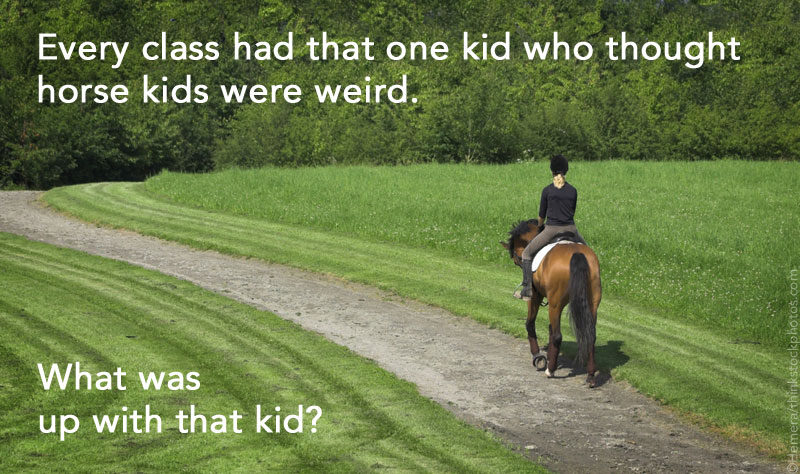 Case in point: the comments section of that Rookie article. The article itself is great, and many of the comments from Horse Girls and sympathetic friends are reassuring, but some of the other replies from its young readers are telling.
"I was a horse girl. Its my shameful secret. My obsession came to an abrupt end when I moved from a small country town in to the city and suddenly realized owning a pony was not cool."
"I always found Horse Girls weird and now I feel a little guilty about that haha."
"I WAS A HORSE GIRL AND REGRET EVERYTHING IN THAT PHASE"
It makes me sad to think that there are girls out there who have been given the impression that there's something wrong with being enthusiastic about horses. The only thing worse than going through life without any true passion is having a passion but hiding it in order to remain in the good graces of some social circle.
Final thought: the Horse Girls who grow up to do 100-mile endurance rides or compete in upper level eventing or train unbroke and unruly horses are undeniably, objectively bad ass. My wish for the current generation of weird horse kids is that they can find a role model in the equestrian world who defies everything their peers are telling them, and aspire to follow in those footsteps. Here's to the Horse Girls.

Back to The Near Side
---
Leslie Potter is Sr. Associate Web Editor of HorseChannel.com. Follow her on Twitter: @LeslieInLex.