A few years ago in the old HI Spy column, we asked people to tell us about their most embarrassing moment related to horses. There were some good responses, many of them involving inopportune and/or awkward falls. They're worth a read. Take a look.
I was thinking about that this morning because a song came on the radio that reminded me of what is probably my most embarrassing moment at the barn. And that in turn reminded me of my runner-up most embarrassing barn moment. Neither one of these incidents directly involved a horse. They both took place at the barn where I taught summer camp and riding lessons many years ago.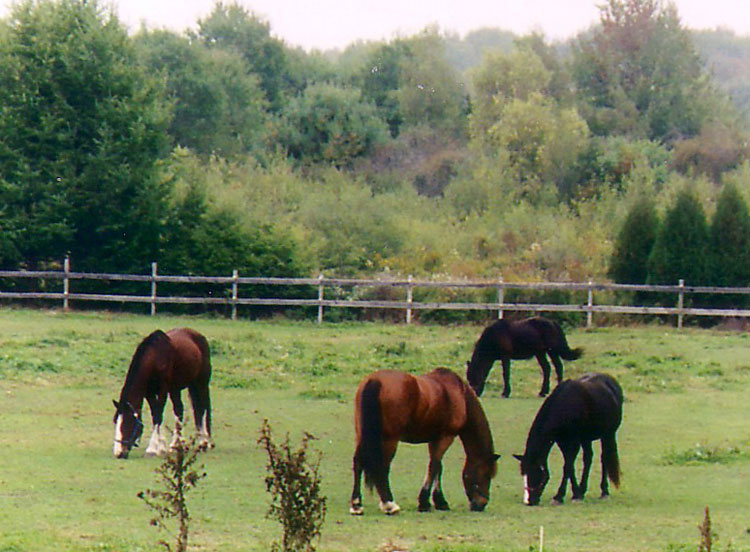 Pictured: Actual camp horses who were not responsible for any embarrassing moments I got myself into. Not pictured: Any actual embarrassing moments, because fortunately, there is no photographic evidence of them.
First, the runner-up. I was standing in the ring, teaching a group of campers, and for some reason thought it would be good to stand on top of a groundpole in the middle of the ring. You already see where this is going. So I stood there, working on my balance (I guess) while imparting my equestrian wisdom to the younger generation when the inevitable happened. The pole rolled, leaving me on my butt in the footing. The other counselor in the ring looked down at me, turned back to the kids and said, "This is an example of why you shouldn't play around with the equipment at the barn."

That doesn't sound all THAT embarrassing, but please remember that this was in front of a group of 7- and 8-year-old kids. This is a demographic that: 1.) finds falling down hilarious, and 2.) doesn't let anyone live anything down. Seriously, I would rather fall on my butt in front of the population of People Magazine's Sexiest Man Alive list than a group of 8-year-olds. At least the former might have some sympathy.
When summer camp season ended, we continued doing after-school riding lessons, but the pace was much less hectic. Most of my daytime working hours were spent in the seasonally quiet barn, by myself, just taking care of the horses. It was lovely, and it sets the scene for my No. 1 most embarrassing moment.

After putting the horses out for the day, I went about my usual routine of picking the stalls and scrubbing water buckets. I had the radio on, and was singing along in my, ahem, unschooled singing voice. I had just finished a rousing chorus of The Smiths' "How Soon is Now" when I turned around to see a dude standing in the doorway at the opposite end of the barn aisle. If you need a refresher, "How Soon is Now" is the song with the line:
I am human and I need to be loved
Just like everybody else does.
So it was just after finishing that horribly self-pitying line, and not just in any awful singing voice but my own terrible Morrissey impression, I discovered that I had an audience. Best of all it was a dad who had come to inquire about lessons for his kids, which meant I had to pretend to be a mature adult that he would want to entrust his children to and not just some weirdo hanging out in a barn doing weepy solo karaoke to 80s alternative music.
Good times.
Can you top that? Sure you can. Tell me about your most embarrassing moment in the comments below. I promise not to make fun of you. After all, you are human and you need to be loved…just like everybody else does.
Back to The Near Side
---
Leslie Potter is Sr. Associate Web Editor of HorseChannel.com. Follow her on Twitter: @LeslieInLex.