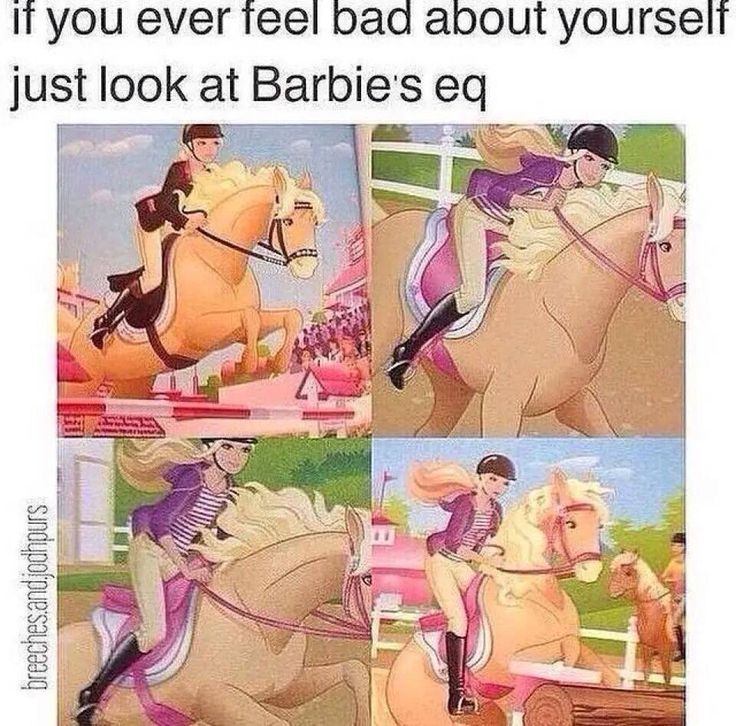 via Pinterest
In the days of my youth, there was a Barbie horse. I believe it was palomino. It had a mane and tail you could brush, but otherwise it was just a low quality plastic toy that didn't do anything. You could jam Barbie on to its back, but her legs didn't really bend in a way that was appropriate for riding a horse. I suppose she was really just meant to stand around in high heels and stare at her steed with those unblinking, heavily made-up eyes.
Today's Barbie fans won't have that problem thanks to this innovation from the good people at Mattel:
Okay, so, Barbie can do a running mount like a vaulter, if you follow the many steps to set her up correctly. But then her equitation still sucks once she's on board. What really gets me about this toy is how it does one thing. One kind of silly thing. And then what? It does the thing and then you let it walk off down the stairs, I guess. Okay, sure. You could still play with them like any other featureless Barbie and toy horse, but wouldn't you just be better off with a horse that has a real mane and a Barbie who doesn't have one deformed hand? The standard-issue versions probably cost less, too.
(No, I don't have kids. Why do you ask?)
If we're being honest, I probably would have wanted this toy if it had existed in 1988 (although I was really more of a My Little Pony kid than a Barbie kid.) On the other hand, I seem to remember NOT wanting a Barbie horse from that time period that spun its tail around like a helicopter when you pushed a button. Did that really exist? I can't find it on YouTube, which makes me question my own memory. If you remember this toy, please tell me that I didn't make this up in the comments below.
Back to The Near Side
---
Leslie Potter is Sr. Associate Web Editor of HorseChannel.com. Follow her on Twitter: @LeslieInLex.