Have you heard of The November Project? It started when a couple of friends in Boston wanted to stay motivated and improve their fitness during the very de-motivating cold, dark days of late fall in New England. They agreed to meet every morning at 6:30 to work out. They invited other people. The group grew and expanded to multiple cities. Today, the November Project exists in dozens of cities around the U.S. and Canada and runs year-round (despite the name.)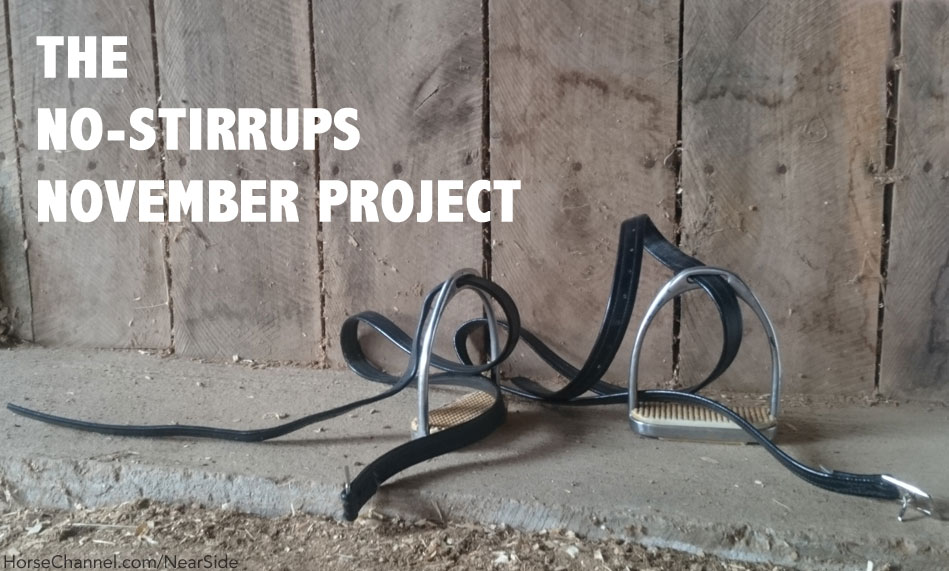 See you in December, old friends.
You probably have heard of No-Stirrups November. I've talked about it here on the blog before, and it's a popular initiative among especially sadistic motivated riding instructors. If you haven't heard of it, it's pretty much what it sounds like. Lose your stirrups for the month of November. Build your leg strength and improve your balance. By December, you're a better rider.

The November Project appeals to me as someone with an interest in physical fitness. Well, when I'm not busy binging on ice cream and Netflix I have an interest in physical fitness. I don't like early mornings and I'm not a big fan of hugging (which is part of the November Project deal, apparently) but I like the accountability of a group and I also like to have someone else plan my workout for me. If left to my own devices it's like, four seconds of plank and a push-up and then naptime. I am not a highly self-motivated individual when it comes to this stuff.
There is no November Project here in Lexington, so on any given morning at 6:30 I will still be in my jammies and definitely not doing burpees in the park. But that doesn't mean I can't use the November Project's principles of accountability along with the power of the Internet to find some motivation to become a better equestrian athlete.
So join me, won't you? Let's have our own virtual No-Stirrups November Project. All you have to do is commit to doing some no-stirrups work during every ride in November. I'm going to say that you're permitted to use your irons for part of the ride if you need to, as long as you drop them and feel the burn at some point during your ride.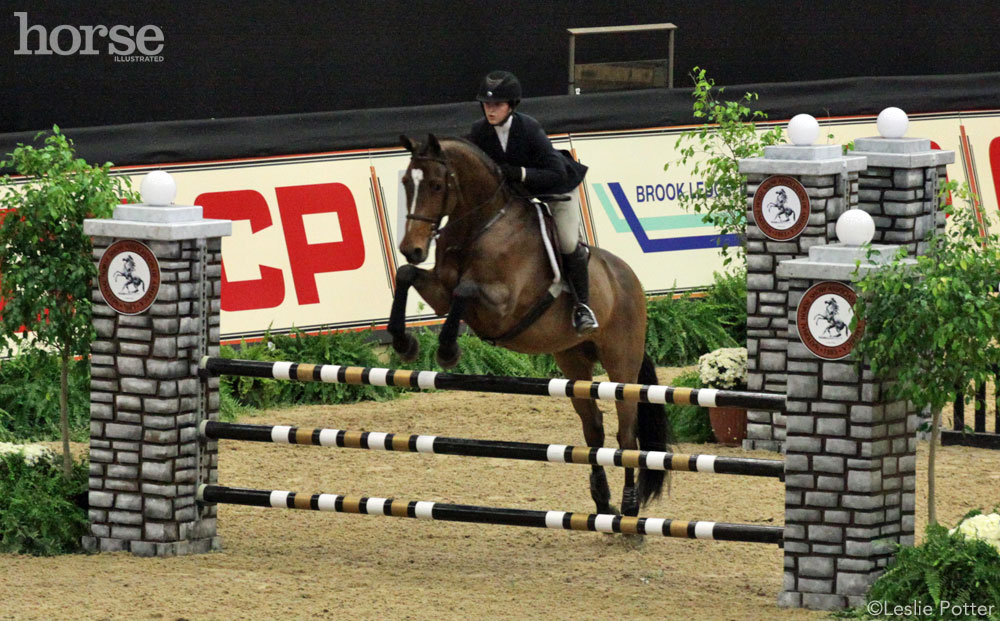 2015 Maclay Finals Champion McKayla Langmeier with Skyfall. Think she does some practicing without stirrups?
I started my No-Stirrups November yesterday. I might have been extra motivated since I went to the barn directly from the Maclay Finals. Those kids probably do hours of no-stirrups work every week, I thought. There's no reason I can't put in the work, too.
This year, I decided to go big and take the stirrups right off my saddle. Fortunately, Snoopy is short and there's an extra tall mounting block in the barn, or else my grand plans might have gotten off to a rough start. We set off for a lap around the farm, and within a few minutes of riding at the walk, my legs were starting to burn. Perhaps the Maclay for Grown-Ups (which is not a thing) is not in my future.
But you know what? That burn was valuable. It made me realize that I was gripping with my legs. So I engaged my core, dropped my heels and focused on balancing rather than gripping. The burning subsided and I felt instantly more secure.
I'm fortunate to have a very safe, quiet horse on which to practice riding without stirrups. But there is such thing as too quiet. In spite of his saddle seat roots, Snoopy presently prefers to jog with zero action or suspension, which makes sitting easy and posting quite difficult without stirrups, but that just means I get to work harder and get that much stronger, right?
By the end of a 45 minute ride—mostly walking, but with a few laps around the ring at a not-Maclay-worthy posting trot—I was pretty tired. But I feel good about it. I'm going to stick with it and I hope you will, too. Let me know in the comments if you plan to join the No-Stirrups November Project. You don't have to ride at 6:30 a.m. (unless you want to) and there will be no hugging (but you are welcome to hug your horse.) Let's all become better riders together.
Back to The Near Side
---
Leslie Potter is Sr. Associate Web Editor of HorseChannel.com. Follow her on Twitter: @LeslieInLex.