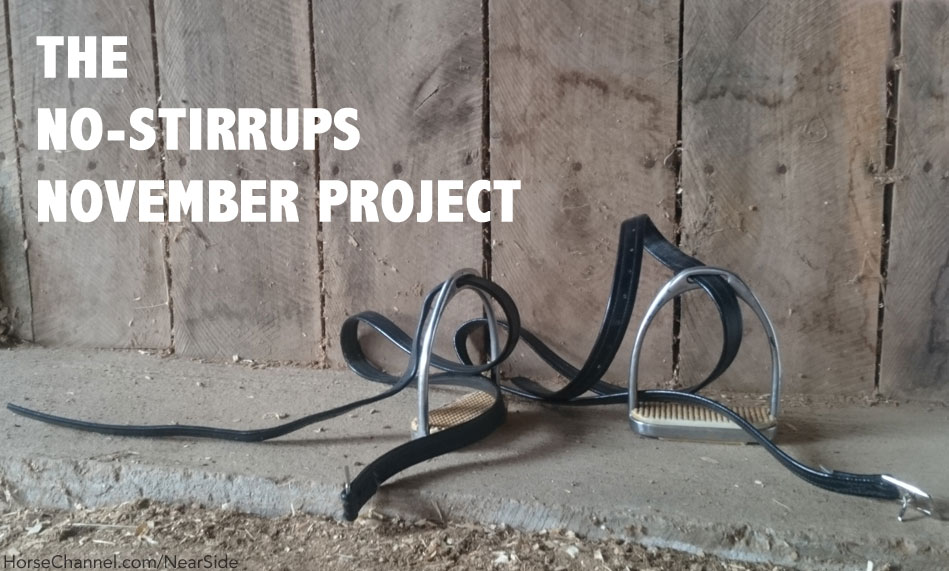 I come to you all in shame this week as my loyal adherence to no-stirrups November took a serious hit this week. It's not that I gave up and took my stirrups out of their resting place in the tack room to use them again. It's that I didn't ride at all (almost.)
The week started off with a bang. At my Monday evening lesson we did, as usual, ride with stirrups, but with good reason. We went out to do some schooling on the farm's cross-country course! My lesson cohorts are all eventers, so this was somewhat routine for them, but unless you count catching a few isolated logs and coops at various points during my riding life, this was a first for me.
I asked a lot of really thoughtful and articulate questions, like, "Wait, but so like how do I ride to a ditch?" I found the tiny, starter-height obstacles to be scary but the cantering in between them to be quite exhilarating. But mostly, I had fun and I can say I did feel balanced on my safe-and-reliable-but-narrow mount. Score one for no-stirrups November.
Again, that was Monday. The week went downhill after that, riding-wise. On Tuesday, I went to my regularly scheduled evening group run. On Wednesday, heavy wind and rain came through the area throughout the latter half of the day. On Thursday, my dog and I tackled the Southern Lights Stroll 5k at the Kentucky Horse Park. On Friday, I kept having "just one more thing" to finish at the office and didn't get out before the pitch darkness of a November evening. On Saturday, I had an early holiday party that I spent most of the day preparing for.
All of these are lame excuses, friends. If I really embraced The November Project mindset, I would have gotten out to the barn in the early morning hours on Wednesday and Friday to squeeze in a ride. But I didn't. Snoopy went a week without being ridden and I went a week without practicing no-stirrups riding.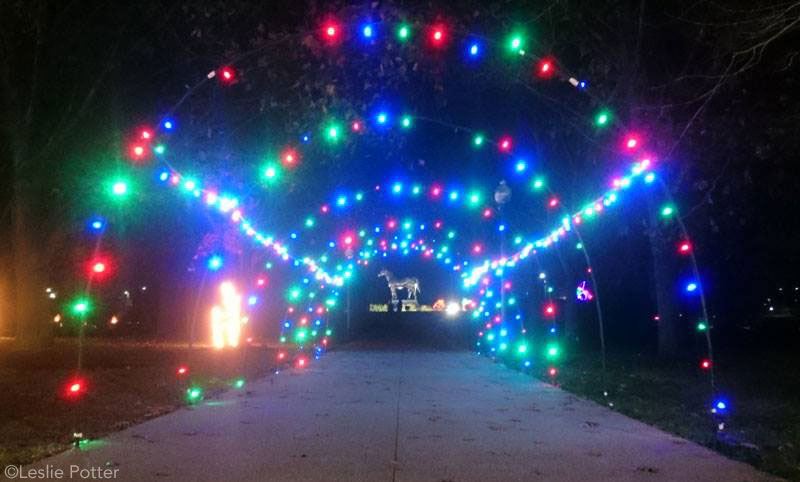 Southern Lights at the Kentucky Horse Park. One of my lame excuses (but still fun!)
Epic fail, as the kids say. Do they still say that? Probably not.
Anyway, Sunday rolled around with steel-gray skies, frigid wind and temperatures below freezing. I dug out my fleece-lined breeches and a pair of winter gloves and ended my inadvertent break. I opted for the bareback pad instead of the stirrupless saddle (heated seat!) I kept my fleece headband on under my helmet to cover my ears, which made the world sound as dull and gray as it looked. Within a few minutes of starting my ride, the exposed skin on my face started to sting in the wind.
And you know what? It was great. I felt so much better after a simple ride around the farm. I can't say I accomplished much, and I don't feel like I get as much of a benefit riding bareback as I do with a stirrupless saddle, but at least it broke the streak of not riding.
For me, Thanksgiving week is a quiet one, and our forecast here in Lexington is favorable. No excuse for not making the most of this last full week of no-stirrups November. I intend to end strong.
Let me know how your no-stirrups November is going in the comments!
Back to The Near Side
---
Leslie Potter is Sr. Associate Web Editor of HorseChannel.com. Follow her on Twitter: @LeslieInLex.