The 2016 Olympics in Rio de Janeiro are underway, and it's been interesting to see how the non-equestrian media covers—or at least acknowledges—horse sports. There are more media outlets now trying to find their own hot take on the Olympics, which leads to mixed results.
Personality Profiles
The New Yorker recently ran an extensive profile of Charlotte Dujardin, the reigning Olympic gold medalist in dressage. It's a worthwhile read as journalist Sam Knight spent time behind the scenes with Dujardin and her coach/GBR teammate, Carl Hester. Sure, it steps in the old trope of talking about how much money it costs to compete at the international level and consistently refers to the dressage arena as the "manège" (does anyone call it that?) but it puts a human face on a segment of equestrianism that is often written off.
It does contain one baffling sentence:
Dressage is one of those Olympic sports that you catch yourself watching when you walk back into the room and realize that you left the TV on.
Wait, what? Dressage would have to be on TV for something like that to ever happen. The writer bio for Sam Knight says he's based in London, so maybe that's a thing that happens over there.
The New Yorker also published a profile of U.S. eventer Lauren Kieffer. This piece is a good read, too, but the framing for this one is that Kieffer is in Rio with the hope of "beating the boys" and becoming the first female eventer to win Olympic gold. An interesting take, although I'd argue that it's misleading. The Olympics are the most public venue for eventing, but the difficulty of the world's six CCI**** events tends to be greater than that of the Olympics. Implying that because no woman has won individual gold, they haven't reached the top of the sport does a disservice to, for example, Pippa Funnell, who for 13 years was the only rider ever to win the Rolex Grand Slam of Eventing. Or current world champion from the 2014 WEG, Germany's Sandra Auffarth.
Making a Statement
Since equestrian is one of only two Olympic sports not segregated by sex (sailing is the other), the gender framing certainly isn't novel to this piece. Women's site Bustle posted an article titled "These US Olympic Equestrian Team Members are Making a Statement About Gender Equality," It's unclear from the article what that statement is, but if simply having men and women together on teams gives equestrianism feminist points, we'll take 'em.
They Ride Horses, Don't They?
So these have all been generally positive. Then there are pieces like this one from Inquisitr, which refers to equestrian and other non-major-league sports as "obscure." That one made me pause. Obscure? Is that the right word? They later call it "quaint" and "all-but-forgotten." I get that equestrian isn't a televised sport in the U.S., but just because average Inquisitr writers don't see it in their daily lives doesn't mean it's not happening. It's all about your perspective. I mean, I live in the shadow of the University of Kentucky, and the sports sections of our local news outlets are dominated by men's college basketball. If it's not college basketball season, they'll talk about potential recruits and what Coach is doing on his summer vacation. They'll allow for college football in season, but that's about it. You could live here and assume that hockey and baseball were obscure sports. Shoot, you could assume the NBA was obscure, mentioned only in the context of a place where "former Wildcats" sometimes end up.
You could assume that, but you'd be wrong.
But I digress.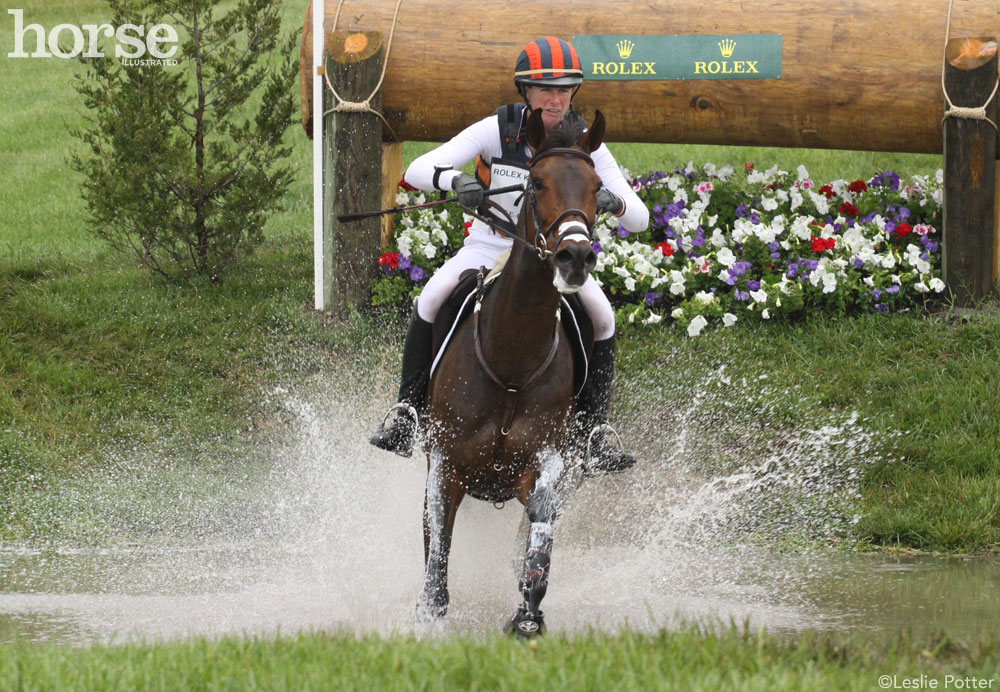 Lauren Kieffer and Veronica on the cross-country course at the Rolex Kentucky Three-Day Event.

Watch This!
I was pleasantly surprised to see an endorsement for equestrian from Wired, of all places. They include it in a list of "Nine Criminally Overlooked Sports." Criminally overlooked! That's how we feel about it, too. To be fair, they call out the cross-country phase of eventing specifically, which is just one part of one of three sports that make up Olympic equestrian, but you know what? We'll take it. And frankly, it is a wonder that cross-country doesn't get more interest. I don't think you have to know anything about horses to be impressed by it.
Cross-country is taking place today, by the way. So watch it if you can (more info on how to do that here) and enjoy our sport's little moment in the spotlight.
Back to The Near Side
---
Leslie Potter is Managing Editor of HorseChannel.com. Follow her on Twitter: @LeslieInLex.