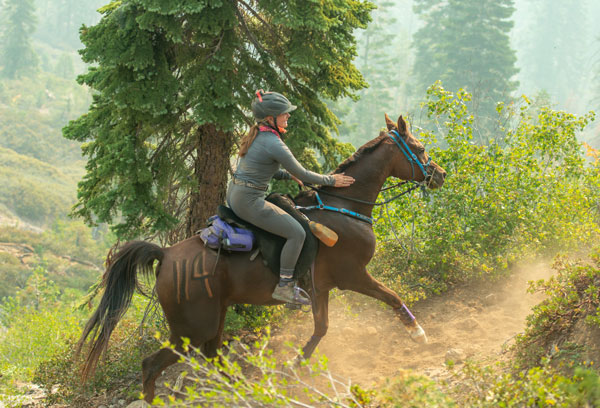 Preparing for a 100-mile horse ride is no small feat. I've trekked across Mongolia as an official for an endurance horse race, but that seems like a warm-up for The Tevis Cup, which spans across the Sierra Nevada mountains in Northern California. This is a true test of horse-and-rider athleticism and mental endurance. Recently, I attended my first Tevis, also known as the Western States Trail Ride, as a crew member for a friend's first attempt.
Held annually during a full moon in late July or early August since 1955, the longest North American trail ride starts at Robie Park in Truckee, Calif., and runs 24 hours over mountains and through canyons to finish at McCann Stadium in Auburn.
The trail winds through canyons and a popular Western States Trail, which travels through a few small towns. For example, the town of Forest Hill, which is a one-hour hold, is lined with volunteers, crew, and the locals all cheering on riders as they pass through the neighborhoods on their journey. The annual event is celebrated, and it is hard work to coordinate 100 miles of public and private lands for this adventure.
Starting in the Tevis Cup
For many, competing for The Tevis Cup buckle is a lifelong goal. Horses must be six years old to enter. A horse that is able to complete 100 miles takes years to condition and train. While some equestrians bring their own horses, others lease proven animals that have been trained for this event. Riders must have completed 300 miles in sanctioned events to apply. Once you have competed in the event, you are welcome back. However, there is a maximum number of 210 riders at the starting line, and yet only 40% of riders usually cross the finish line.
Riders start in two groups before dawn the morning of the ride in Pen One and Pen Two. The early front-runners have to maintain that distance over the long haul. But remember, this is a marathon and not a sprint, so most riders prefer to start in the middle and slowly increase speed throughout the course of the day. Riders in the back often are slowed by other horses on the single-track trails.  If there is an incidence on course like a downed rider or horse that needs assistance, this can slow the rest. Passing other horses may be difficult when the terrain is narrow or visibility is low.
The terrain is often battered by sun, and in recent years been troubled by drought, which has created dusty, dry conditions, and neighboring wildfires have affected air quality and made the footing more difficult.
"Tevis was hot, smoky, dirty, challenging, humbling and altogether awesome," says first-time Tevis Cup rider Michelle Morges, DVM, who traveled to California in 2021 all the way from New Jersey to compete, "This was the ride I had hoped for from the start but quickly ended at mile 68 when my horse was pulled for lameness. I have never been so disappointed as we both had it in us to finish but also so grateful for the opportunity to even have started the race."
Horse Health During The Tevis Cup
The horse's health is of utmost importance to riders and organizers of the event. Horses must be vetted in before the event with a lameness check, dehydration check, and more. Just because you make it to the event doesn't mean you will be at the starting line. From there, there are 19 checkpoints along the trail with water that are stationed with volunteers and veterinarians who track the health and welfare of horse-and-rider pairs. After crossing the finish line, the team must walk to the stadium and complete the final victory lap, and trot out as well.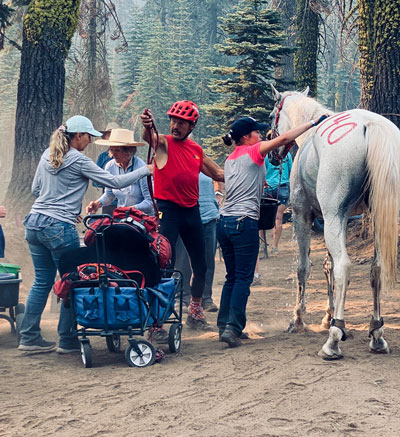 "During the various aid stations and vet checks along the trail, it is easy to lose a lot of time," says Christoph Schork, owner of Global Endurance Riding Center. "Folks are friendly, lots of snacks are offered, but again it is easy to get distracted and get tight with cut-off times. So my advice would be for all riders: never hurry, never tardy. Keep moving down the trail with intent. I also might add that electrolytes are playing a bigger role at Tevis, horses just go through more electrolytes at Tevis than other rides. So, it is advisable to administer them more generously compared to other rides of equal length."
Each rider is allowed two crew members to provide physical and emotional support at up to 9 checkpoints, including two one-hour holds at Robinson Flat and Forest Hill. The crew may strap (cooldown by sponging the horse), untack, give electrolytes, feed, and water the horse, and care for the pair along the route at designated holds. Because of the mountainous terrain, the checkpoints are difficult to access, and it is often hard to know where their rider is unless they check with an official or follow the optional GPS trackers, if an internet signal is available.
If a horse and rider are pulled, they are trailered to a hold where their crew can meet them. Some riders may choose to opt out of completing the ride for themselves or their horses, or a veterinarian may pull during a check because of lameness, dehydration, or metabolic issues (such as the horse's heart rate not lowering to an acceptable level within an expected time frame). Horse wellness is the priority at all times.
To start the Tevis Cup is an incredible feat but to complete the ride is a huge point of pride for riders and horse owners.