It's a scene riders dread: A tense, strong horse ignores your cues, moves straight ahead then begins bucking and kicking out. Your horse's body is tight and you are out of control. How can this scene be avoided for good?
"When horses buck, they aren't comfortable," says
natural horsemanship trainer Mike Brashear
. "Bucking isn't something that most horses want to do. Instead, we want them to understand that they don't have to go there. They can find release and relief by following a rider's soft cues."
Here, Brashear helps you work with your horse on the ground and from the saddle to make sure that he will soften instead of brace in preparation to buck. When your horse will willingly move his head and neck, shoulders, ribcage, and hindquarters, he will bend instead of brace. Without tension and brace, a horse won't need to buck.
Why do horses buck?
"If the horse had to become the leader, they were forced into that scenario," says Brashear. "The horse may have trauma from the past and the buck was the answer to get away from a trigger. You may not know why they buck or what caused it. The one thing I do know is that when they get to that point, the only answer is to add training that will help them relax and think."
A Horse's Confidence Can Prevent Bucking
Bucking incidents with a horse can quickly drain rider confidence. Brashear works with a Gypsy Vanner horse that once took off and bucked with his rider during a trail ride. Brashear helped the horse relax and helped the rider gain confidence to work with her horse and ride again.
The horse (pictured here) now travels with Brashear for demos and even helps to start colts. To begin the retraining, Brashear worked with horse and rider from the ground.
"A horse can feel your heartbeat from 4 feet away," he says. "If you don't have confidence, the horse can feel that. By working on the ground first, you can create confidence. You don't have to ride that horse right away, but you can do the groundwork and become confident. When you see you can move the horse's feet and place them where you want to go, you'll know you can do the same thing once you're on his back."
Disengaging from the Ground
To get your horse bending and responsive to your cues, you'll ask him to disengage his hindquarters while he walks in a circle around you as you work from the ground. Keep in mind that this isn't the fast, emergency stop use of the disengagement technique.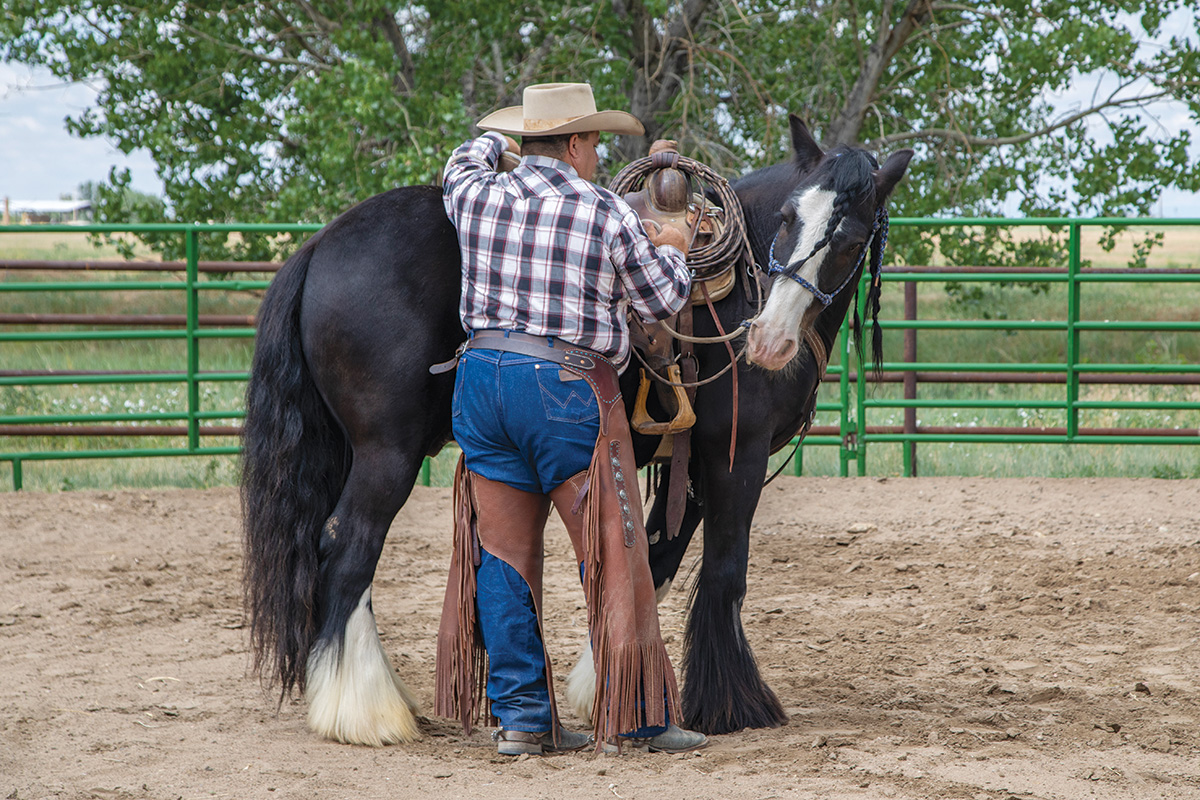 While disengaging the hindquarters can cause a horse to abruptly stop in an emergency, that move is strong and quick. What's more, that move can only work in an emergency if your horse has been taught to flex and bend on command.
Here, you'll teach your horse that he can move his body to the side, disengaging to bend and relax instead of brace.
To start, outfit your horse in a long lead and rope halter and hold a training flag. You'll send your horse away from you at a walk, tracking left.
"I'll lift my left hand and have him follow that feel to the left," says Brashear. "Then I'll ask him to move his feet by prompting him with my right hand, the tail of my lead rope, or my stick or flag. I'm 'drifting' his hindquarters to the right. I'm working on getting a soft feel through his poll, neck and ribcage and back to his hindquarters by picking up more with my left hand. When I start to bend his neck, I'm bending his head toward the stirrup. I'm encouraging the hindquarters to completely break over to the right."
The horse disengages when he moves his left hind leg forward and in front of the right hind leg. The move is to the side and blocks fast forward motion. It requires a bend throughout the horse's body.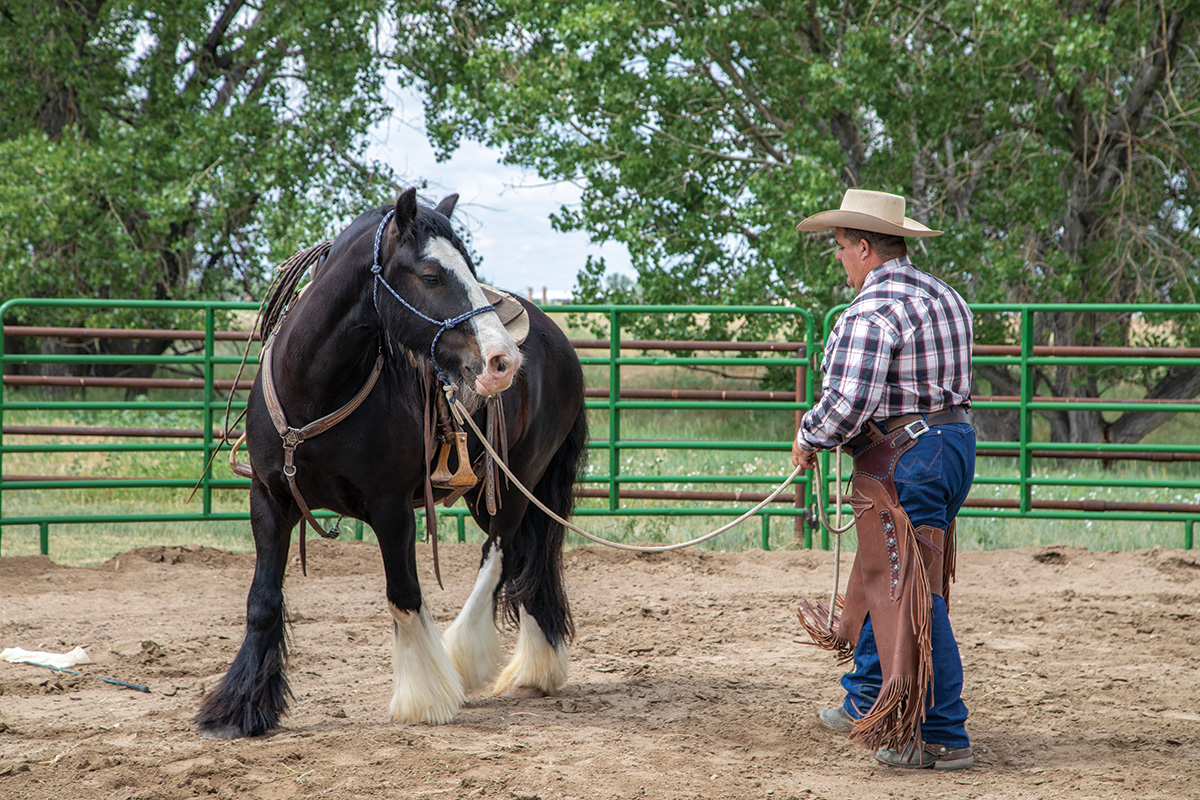 Brashear says that once the horse willingly bends and moves well to the side, he'll pause, allow the horse to relax, and change directions.
"I'm going to repeat the process of getting him round through his body, his jaw coming under his neck, and roundness through his neck, ribcage, and back to his hindquarters," he says. "His hindquarters are going to start drifting to the left while he's moving and going forward to the right."
Brashear says that the goal is to isolate each part of the horse so that you can control the placement of all four hooves while working with softness and flow.
"If a horse is prone to bucking, you must get his feet to go in the direction you want so you can help him start to think again," he explains.
Once you can move his feet, make sure your cues are soft and you're willing to release. As you're working with your horse, Brashear says to look for the moments when your horse is willing and release the pressure as he does the right thing.
Think: "Do you want to come off this pressure? Look to me, I'm trying to guide you." Horses must trust that you will allow them to relax. If a horse is bucking, he's not relaxed in any way.
In preparation for riding, move your lead line hand up over the saddle horn and get the horse to follow the disengaging cues as he feels the pressure and release in the same place where you hold the reins when riding.
When your horse looks relaxed while doing groundwork, take the same principles to the saddle. You'll be able to bend and flex him and move his feet from the ground and from the saddle. "For the worried rider, do the groundwork portion until you want to ride," Brashear adds. "If you had a serious event happen, seek out some professional help. The horse community is huge, and you don't have to do this alone."
Softness from the Saddle
When you mount up, you'll focus on asking your horse to disengage and willingly bend so you know you have control.
Brashear recounts the first time he rode the Gypsy Vanner horse after working from the ground and then returning to the scene where the horse once bucked.
"When I first got on, I checked out all my pieces and parts to match my groundwork," Brashear says. "We did a continuation of what I already did on the ground. I started moving him forward, then asked him to turn and bent his hindquarters. Then I asked him to trot and asked him to slow down. If a horse gets tight, it's usually in transitions. I want him to know that he can get comfortable in the new speed. I want him to know that if he bends and responds, he can find the same relief and comfort no matter what speed we go."
To disengage the horse's hindquarters from the saddle, start by taking a deep breath and relaxing your own body. Remember that all these cues are to be given with a soft touch. Tip your horse's nose to the right by picking up on your right rein and moving the rein toward your knee. Brashear says to imagine the horse bending around your right leg.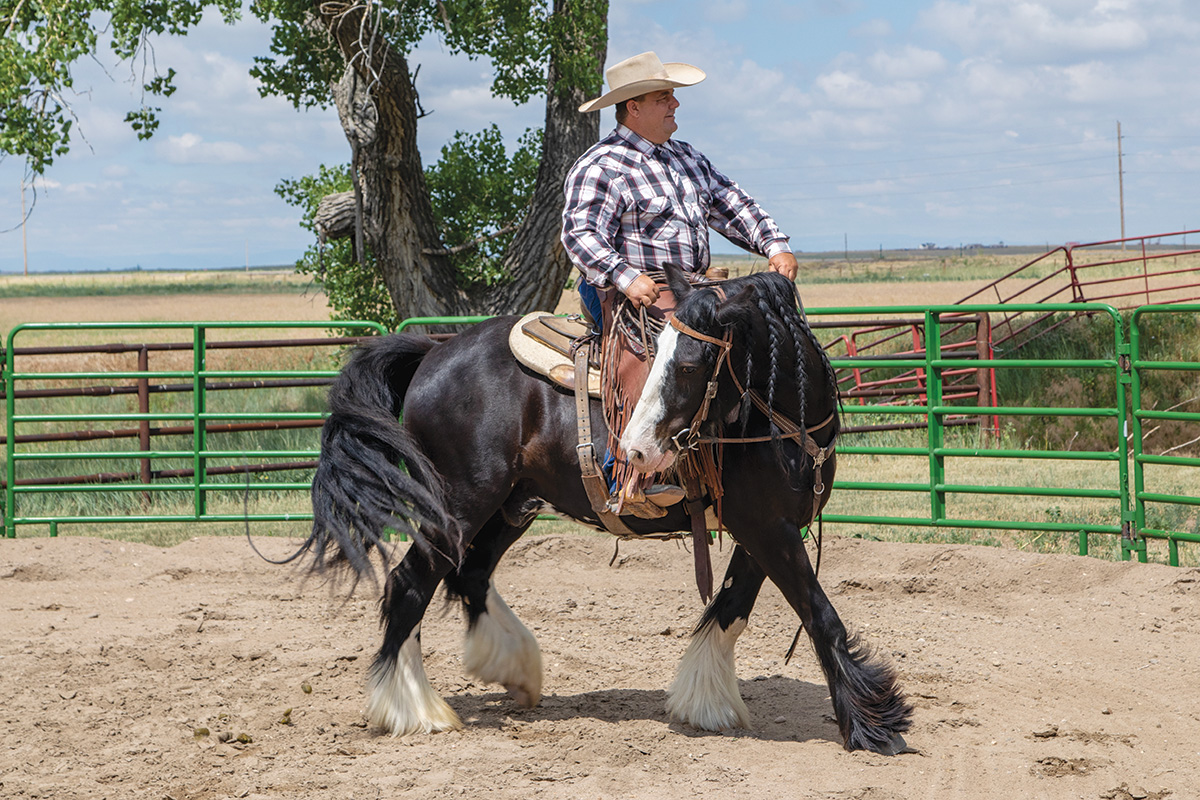 "Move your right leg with a rhythmic light bumping motion," Brashear says. "Your legs should be encouraging his right leg to move in front of his left hind leg. You want to get the horse to drift to the left. Then take him farther with his face by picking up your rein more and totally disengage his hindquarters. Here you'll stop forward motion and get the hind legs to track around the front [legs].
"Once the horse gives his hindquarters and relaxes his jaw and poll, let him move out onto a circle again," he continues. "We're trying to get him to give his hindquarters so he can relax and listen. He also needs to know that he will get to relax when he does this. When he gives you his face and is drifting the hindquarters, when you feel him relax, then you release his face. Allow him to move out onto a bigger circle—as long as he stays relaxed. Then take him the other direction."
Progressing to Go Straight Without Bucking
Brashear says to work first at the walk, then the trot and lope. Once you and your horse feel relaxed with drifting, full disengagement, and larger circles, look for more ways to bend and flex. Start circling trees and move around obstacles to help you stay focused and raise your eyes.
Brashear says to keep in mind that straight is not always wrong. You want your horse to move straight ahead when asked.
"It's when the horse is tense, braces, and goes straight that bucking can be an issue," he says. "Otherwise, I want my horses to be able to go in a straight line to get good stops, lead changes, and backs. Moving straight is not wrong, but straight with a horse that's already bracey could become a problem. It's about getting control of the feet and getting to the point where you can bend the horse willingly."
When you're riding any horse, Brashear has three rules.
"You have to breathe, then keep breathing, then have some fun." Plus, he says, take time to enjoy the ride when you feel your horse relax.
Do the same exercises on the ground and from the saddle and pay attention for when your horse willingly responds.
"It will boost your confidence to feel your horse respond to your cues,"he says. "It will boost the horse's confidence in you, too, to know that you're the leader."
Special thanks to Monica Dominguez for sharing her horse.
This article about keeping your horse from bucking appeared in the July 2022 issue of Horse Illustrated magazine. Click here to subscribe!