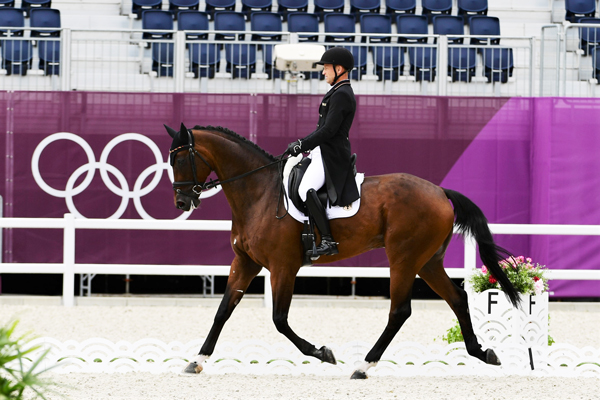 It was another hot, humid Olympic day in Tokyo, and it was time for Boyd Martin to show off his dressage skills for Team USA. But July 31 also happens to be German eventing star Michael Jung's birthday. Today he celebrated his 39th by topping the leaderboard on the final day of eventing dressage. He also received a spontaneous serenade of "Happy Birthday to You" from the press corps as he stopped in the media interview zone after his ride.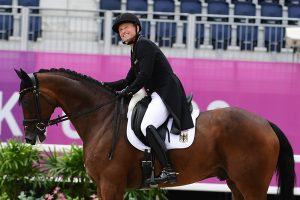 The reigning Olympic champion from the 2016 Rio de Janeiro Games, this time Jung piloted the 13-year-old Hanoverian gelding Chipmunk FRH to a score of 21.1. This moved the overnight leader Oliver Townend and Ballaghmor Class down to second and runner up China's Alex Hua Tian riding Don Geniro to third, respectively.
At the conclusion of the dressage phase in Tokyo, the U.S. riders sit in 16th (Phillip Dutton on Z), 20th (Boyd Martin on Tsetserleg) and 30th (Doug Payne on Vandiver) individually, and the U.S. Team sits in eighth out of 15 teams.
Two horses were withdrawn from the eventing competition on the second day of dressage. The first was Austrian rider Katrin Khoddam-Hazrati's horse DSP Cosma, who did not perform a dressage test due to the loss of a shoe. The second was Belgian rider Lara de Liedekerke-Meier's Alpaga d'Arville who was withdrawn after their dressage test was completed reportedly due to a "minor injury."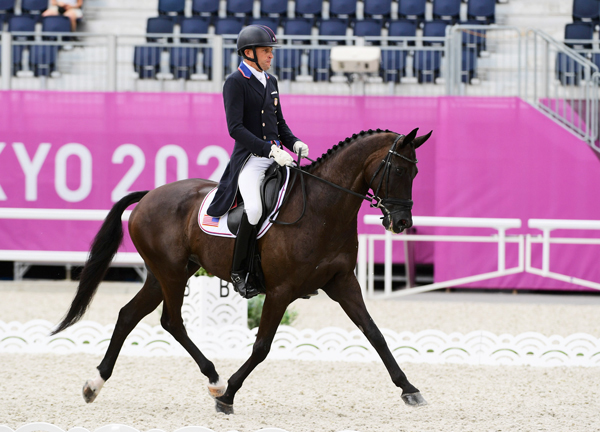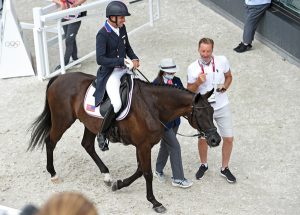 After completion of the dressage phase, the event horses and their grooms were transported to stabling at the Sea Forest venue, which is about an hour and a half to two hours by van, depending on traffic, from the main equestrian venue at Baji Koen. The horses will overnight there tonight, run cross-country tomorrow morning and then be transported back to Baji Koen tomorrow afternoon for the remainder of their stay in Tokyo.
On August 1, the 61 remaining horse-and-rider pairs will tackle Derek di Grazia's cross-country course. A beautiful and challenging course to say the least, it is situated on a man-made island in the middle of Tokyo Bay. There are 23 numbered obstacles and potentially 43 jumping efforts depending on the routes riders choose through obstacles with multiple options. The optimum time is seven minutes and 45 seconds to complete the 4,420-meter course. Many riders are predicting that the time will be tough to make.
---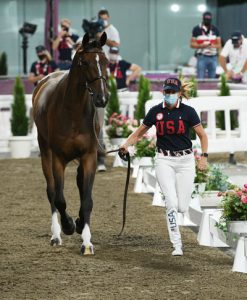 Show Jumping First Horse Inspection
Meanwhile the show jumping competitors have arrived in Tokyo, and their horses had their first horse inspection this evening. Seventy-five horses, including the reserves, were put in front of the ground jury. Two were held for re-inspection tomorrow morning, one from Argentina and one from China.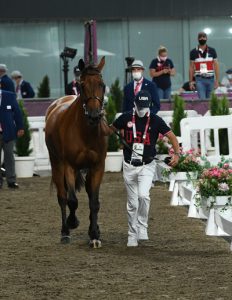 The Jumping Individual Qualifier will take place on August 3, with the top 30 combinations moving on to the next day's Jumping Individual Final. And, the Jumping Team Qualifier will be held on August 6. Finally, the Jumping Team Final will close out equestrian competition at the Tokyo 2020 Olympic Games on August 7.