Today in competition at the the Baji Koen Equestrian Park during the Tokyo Olympics, the host country of Japan hosted the first two sections of the dressage phase of eventing competition. One session was in the morning and another in the evening today. And then, a third and final session will be tomorrow morning. One horse/rider combination from each country fielding a team of three will compete per session, with riders competing as individuals interspersed into the three sections.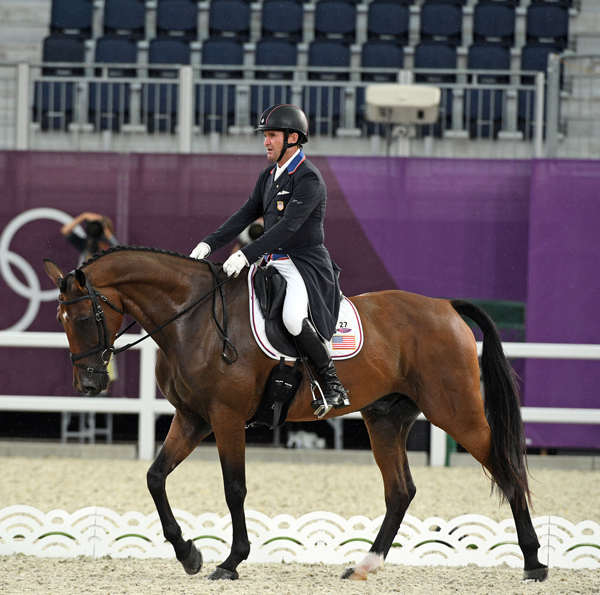 Here in Tokyo, the equestrian sports planners decided to avoid the heat of the day to help avoid heat stress in both horses and humans. No competition, training or even hand walking, grazing or longeing can take place outside between 11 a.m. and 3 p.m., which is generally when temperatures peak during the day. The venue staff actually make a sweep of the grounds to herd everyone inside with their equine charges as 11 a.m. approaches each day. There are also misting fans around the facility, and the horses are housed in air-conditioned stables to keep them cool.
The number of starters in eventing was to be 65, but with the withdrawal of Jessica Phoenix' horse Pavarotti before the horse inspection, and the Polish horse Banderas not passing the first inspection, that number has dropped by two. Fifteen nations are fielding teams for eventing with an additional 18 countries sending one or two individual riders.
At the end of today's competition, 10 horse-and-rider pairs have scores below 30 in the dressage phase of eventing. The number one horse-and-rider combination was Great Britain's Oliver Townend and the grey Irish Sport Horse gelding Ballaghmor Class, who are sitting on a score of 23.60. Townend and Ballaghmor Class won the Land Rover Kentucky Three-Day Event this spring.
Following closely behind Townend is the Chinese rider Alex Hua Tian, who laid down a beautiful test with the British Sport Horse gelding Don Geniro to earn a score of 23.90. Tian's mother is British and his father Chinese, and he grew up in China, Hong Kong and England and attended college in Great Britain. He competed as an individual in the 2016 Rio Olympics, where he placed eighth with the same horse. This time round he is a member of the first-ever eventing team for China.
In the third spot at the end of today was Germany's Julia Krajewski and the Selle Francais mare Amande de B'neville, who earned a 25.20. The U.S.A.'s Phillip Dutton sits in 12th place with the Zangersheide gelding Z, and Doug Payne is in 20th place with the Trakehner gelding Vandiver. Their third pair from the U.S.A., Boyd Martin and Tsetserleg, will compete tomorrow morning.
See the complete preliminary eventing dressage results from the Tokyo Olympics for individual riders and the eventing teams.