Welcome to Tokyo Takeaways by StreamHorseTV! In this series, StreamHorseTV will be talking Tokyo Equestrian with the lovely and knowledgeable Catie Staszak, international show jumping commentator, multimedia sports journalist, and CEO of Catie Staszak Media. We will provide discussion, insight and commentary around all the action happening on the ground during the Tokyo Olympic equestrian competitions. In this installment of StreamhorseTV's Tokyo Takeaways series, Staszak recounts the thrills of watching the dressage competition live, and comments on the impressive medal record Charlotte Dujardin now holds for Great Britain. She also explains what surprised her about Phillip Dutton's feedback on the cross-country course, as we play a clip of Dutton's Diaries.
Team USA Dressage Puts Up Their Best Finish in 73 Years
Dressage is often deemed "horse dancing" as it features rhythmic footwork, pirouettes and otherwise fancy moves that the horses display in a routine set to music in the arena. In Tokyo's final dressage round, Team USA's horses danced like nobody was watching.
The team of Adrienne Lyle on Salvino, Steffen Peters on Suppenkasper, and Sabine Schut-Kery on Sanceo rode to team silver, the best U.S. finish in 73 years.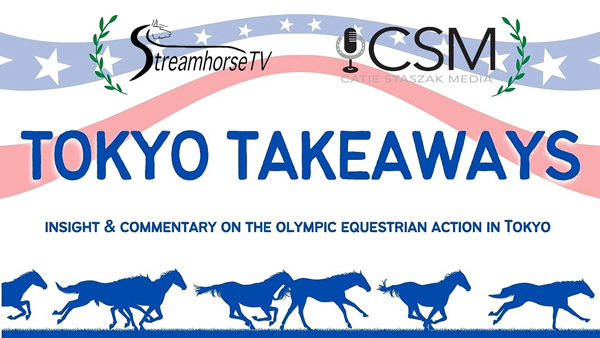 Staszak commends the ground-shattering performance of German-born U.S. rider Schut-Kery, who has been an elite dressage competitor for many years, in her first Olympics with the horse she has brought up since three years of age. She rode the test of her life, earning an 81.59%, which was a massive personal best in the finals. Staszak calls Schut-Kery, of Napa, Cali., an "American hero of these Olympic games." Staszak describes her jubilation watching this at home. "I was cheering at the screen. It was an historic moment," she adds, crediting the incredible partnership of Schut-Kery and Sanceo. "It's undeniable, really. They know each other inside and out, and that is an advantage, and they proved that.
Natalie Mayrath, StreamHorseTV's Director of Content, gushes that her favorite quote of the day was Steffen Peters saying that he "cried when I came out, gave Mopsie a big hug, and just thanked him from the bottom of my heart," referring to his not large, but giant, 18.2-hand mount Suppenkasper, affectionately known by his barn name of Mopsie.
As reported by The Chronicle of the Horse, Peters also got emotional watching Schut-Kery throw down the score of a lifetime. "For me to experience this after five Olympic Games, and witnessing the last three minutes, in sobbing tears, of Sabine's test, was an incredible moment," said Peters. "That I can still get so emotional at 57 years old shows how badly I still want this and really still enjoy it."
Germany has won every Olympic dressage team gold since 1984, except for Great Britain edging them out in 2012, which Staszak points out has everything to do with the legendary wonder horse Valegro. And they made no exceptions at these games, taking the gold home again in the team competition. Their trio of riders included Isabell Werth, Jessica von Bredow-Werndl, who set an Olympic record, and Dorothee Schneider, who was in a traumatic riding accident when her horse died underneath her just several weeks before the Olympics.
Format changes seemed a success according to Staszak. "New to the Grand Prix Special was the addition of (non-judged) music, which with no spectators in the stands, certainly helped create more atmosphere in the arena," she said on StreamhorseTV's Tokyo Takeaways #2 on dressage. "Peters, known for his choreography, rode his test to a brilliant compilation that included Coldplay's Fix You and Snow Patrol's Chasing Cars."
How Heat Is Affecting The Horses
The heat in Japan has been a major question and concern in the lead-up for the Tokyo Games, even before the year-long postponement went into effect. Mayrath comments that the dressage horses indeed looked sweaty, and Staszak explains the Tokyo officials are pulling out all the stops in keeping the horses cool, comfortable and safe. The schedules have intentionally been fashioned in the a.m. and p.m. hours in avoidance of midday heat, but we wonder how cross-country day will go as that usually fills an entire day.
Read the full story and watch the full episode of Tokyo Takeaways on the dressage competition at StreamHorseTV for more.