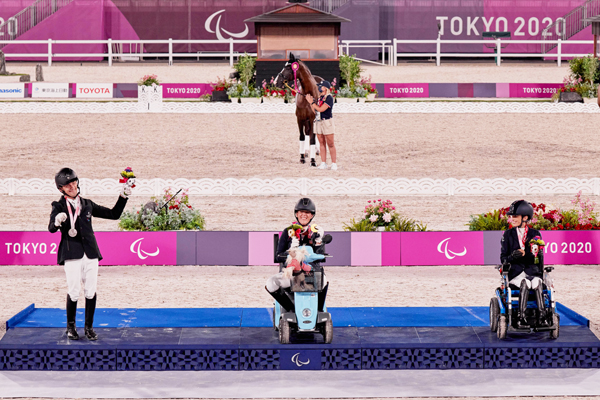 The second day of para dressage competition in Tokyo saw the remaining two Grades, I and III, battle for the individual test titles and the important qualification slots for the upcoming Freestyle To Music test, and it saw Roxanne Trunnell capturing a gold for the United States at the Tokyo Paralympics.
A twist of fate would have it that both victors were new to the top spot of the Paralympic podium, a feat which is easier said than done, given the longevity of some para equestrian careers and the experienced athletes they faced in the impressive Baji Koen arena today.
Roxanne Trunnell Rocks in Tokyo Paralympics
An imperious performance from American Roxanne Trunnell secured her first ever para dressage global title at the Tokyo 2020 Paralympics. Currently World No. 1 across all five grades, Trunnell won the Grade I individual test with a massive score of 81.464% with her mount, Dolton.
The silver medal went to Rihards Snikus (LAT), a keen DJ known as DJ Richy Rich to his friends, who was first into the arena and laid down a challenging score of 80.179% on King of the Dance. Reigning FEI World Equestrian Games champion Sara Morganti (ITA), took bronze on Royal Delight with 76.964%. It is a medal that is especially sweet for her, as her horse failed the vet inspection at the 2016 Rio Paralympic Games.
"Dolton felt like he was really with me and was really a good boy," said Trunnell after her test and medal ceremony. "He surprised me with how calm he has been. It's been wonderful at the Games. Everyone is so nice and helpful.
"This is just the tip of the iceberg for Dolton," she continued. "He's so young, and he'll be able to do so much more. It means a lot to me as well. It was very nice up there. We had our own little group of people that looked happy."
As the World No. 1, Roxanne Trunnell holds two world records, although not at the Tokyo Paralympics, for the highest scores in a freestyle test (89.522%) and in a Grade I team test (84.702%). She came to these Games with huge expectations placed on her shoulders. She remained, however, unfazed. "I don't think about pressure—that's all just noise to me," she added. "It's just me and Dolton doing our own thing. He is loving all the attention, it's fun. He's a goofy young horse, he's temperamental but also easy to get along with."
Tobias Has Golden Debut
As debut Games go, it's fair to say that Tobias Thorning Jorgensen (DEN) is having a good one. In his first ever ride in a Paralympic Games arena, he won the Grade III individual test with a score of 78.971%, on Jolene Hill.
In doing so, he dethroned two-time Grade III Paralympic Champion, Natasha Baker (GBR), who came second on Keystone Dawn Chorus, with 76.265%. Bronze went to current World Champion Rixt van der Horst (NED) on Findsley N.O.P. with 75.765%.
"It was amazing, it really was," Jorgensen said, as he beamed after his test. "I was so focused all the ride, but on the last turn, I just had this feeling it was great. I was so happy I just smiled. I knew that Rixt and Natasha would be my biggest opponents and are always coming to take the medals, but I also knew that, if I find my best, I could take the medal. I knew I had to do that.
"Jolene is a mare," he continued. "In my warm-up, I ask her 'Is this OK?' and then in the arena she is there for me. If I ask her correctly, she will go through fire for me."
Dream Teams and Teams of Dreams Up Next
Tomorrow sees the start of the team competition—run over two days—and is likely to be one of the closest in the history of para dressage at the Paralympic Games. As first in the world, the United States will want the gold to seal their meteoric rise, while Great Britain and The Netherlands will be working hard to deny them that.
Following the second day of competition and the completion of the individual test, Great Britain still tops the leaderboard, adding a silver to their tally today with one gold, two silver, and a bronze, followed by the Netherlands, Belgium, USA and Denmark, who have picked up a gold medal over the past two days.
Join the conversation and follow the FEI channels on Facebook, Instagram, Twitter, FEI-YouTube using the hashtags #paradressage #Equestrian #Tokyo2020 #paralympics #WeThe15.
About the International Equestrian Federation (Fédération Equestre Internationale, FEI)
The FEI is the world governing body for horse sport recognised by the International Olympic Committee (IOC) and was founded in 1921. Equestrian sport has been part of the Olympic movement since the 1912 Games in Stockholm.
The FEI is the sole controlling authority for all international events in the Olympic sports of jumping, dressage and eventing, as well as driving, endurance, vaulting and reining.
The FEI became one of the first international sports governing bodies to govern and regulate global para sport alongside its seven able-bodied disciplines when para dressage joined its ranks in 2006. The FEI now governs all international competitions for para dressage and para driving. For more information, please visit www.fei.org.