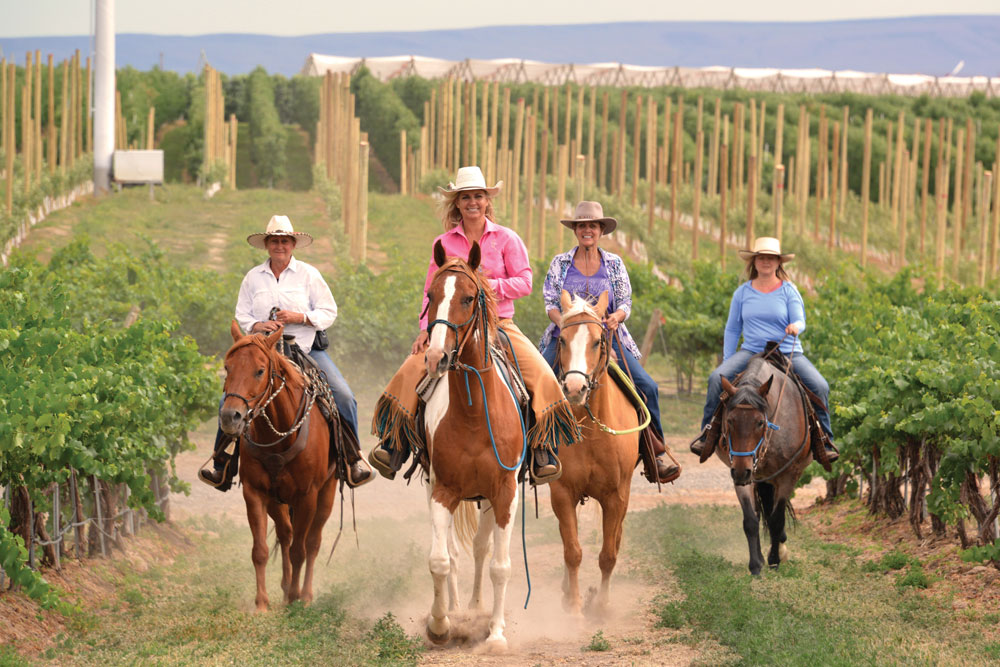 Nothing could be better than a ride through the countryside on a trusty trail horse. How about a glass of wine along the way or at the end of the day? Read on to learn more about trail riding through wine country.
From the Yakima Valley of Washington to Southern California's Temecula wine region, follow the trail through a few West Coast winery rides and taste horse-themed wines along the way.
Washington State
Ride: Cherry Wood Bed Breakfast and Barn
Mother/daughter team Pepper and Tiffany Fewel oversee the riding part of their family bed and breakfast near Yakima, an area with merlot, cabernet sauvignon and chardonnay grapes being widely planted.
When you take Cherry Wood's Saturday morning winery ride, you'll meander through several vineyards, eat a full lunch and enjoy wine tasting at two wineries. Many of their trail horses are rescued from slaughter yards then rehabilitated with a whole-horse approach. When you take a ride through Washington wine country, you're helping support Cherry Wood's horse rehabilitation and rehoming program in addition to enjoying the region's good wines. www.cherrywoodbbandb.com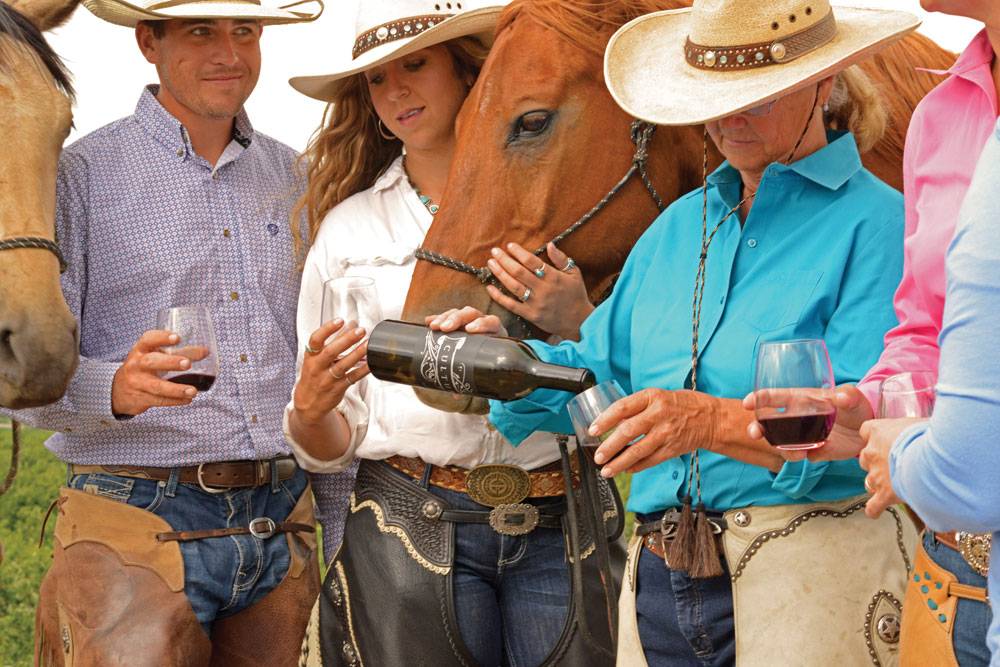 Sip: 14 Hands Winery
Started in 2005 at the edge of the Horse Heaven Hills region of eastern Washington, 14 Hands Winery began creating wines inspired by the once-roaming bands of wild horses near the Columbia River. Free and untamed, these horses will always symbolize the pioneer spirit of the American West.
Today, 14 Hands Winery creates chardonnay, merlot, cabernet sauvignon and other single-varietal wines and blends, all bottled with labels featuring captivating artwork of the region's wild horses. Their tasting room displays reclaimed barn wood and the stories behind the historic farms of the area.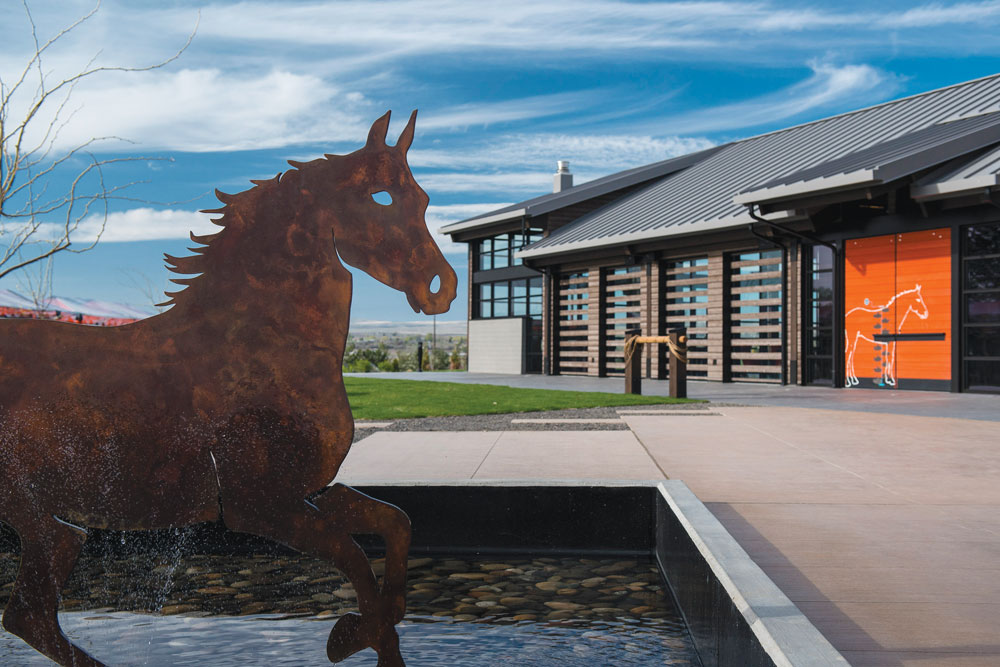 Oregon
Ride: Equestrian Wine Tours
Jake and Shirley Price started their horseback wine tour company about 10 years ago in the Red Hills area of Dundee, southwest of Portland. The couple shares a passion for Tennessee Walking Horses, so you'll explore area vineyards while enjoying the soft gaits of the Price's trail horses, several of which are rescue horses finding a better life in the Willamette Valley wine country.
During the two-and-a-half-hour ride, you'll stop at three wineries for tastings in an area known for cool-climate-loving pinot noir. They also offer carriage rides for special occasions. www.equestrianwinetours.com
Sip: Firesteed Cellars
Located about an hour southwest of Portland, Firesteed Cellars began crafting wines in 1993. Based in the Willamette Valley, Firesteed focuses on the world-class pinot noir the area is known for, as well other cool-climate grapes like pinot grigio and riesling. www.firesteed.com
Northern California (Napa Area)
Ride: Jamieson Ranch Vineyards
Although not a ride, Jamieson Ranch Vineyards offers a family-friendly equine experience. Mini Moments gives you 30 minutes with Whinnie the Pooh, Sweet Jane, and Molly, the three Miniature Horses who call the ranch home.
Offered most weekends June through December, Mini Moments is followed by a seated tasting of five Jamieson Ranch wines. When they're not mingling with guests at the winery, Brandy Lipsey and her Minis work as an equine therapy team, aiding with autism and memory care. www.jamiesonranchvineyards.com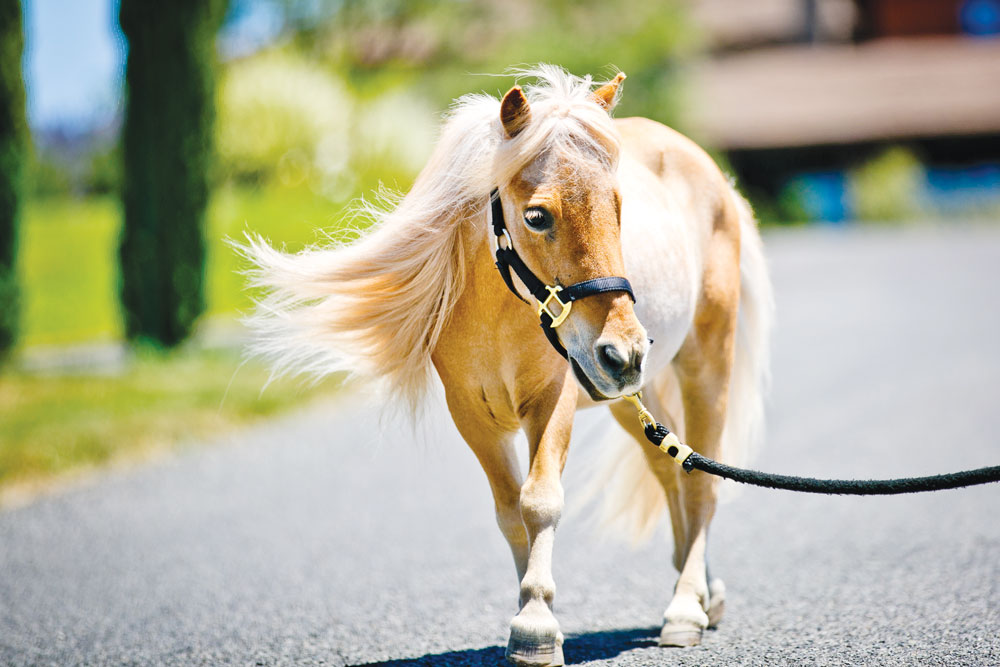 Sip: Tamber Bey
In 1999, vintner Barry Waitte bought the property for what would become Tamber Bey Winery, named to honor Tamborina and Bayamo, his first two Arabians. The winery is in Calistoga, near Napa Valley, and produces primarily chardonnay, cabernet sauvignon, merlot and pinot noir at its Sundance Ranch, which houses the winery and Barry and Jennifer Waitte's equestrian facility.
At the winery, with Mount St. Helena in the background, guests can enjoy wine tasting and mingle with the Waitte's Arabian endurance horses that live in the 16-stall barn that surrounds the winery courtyard. www.tamberbey.com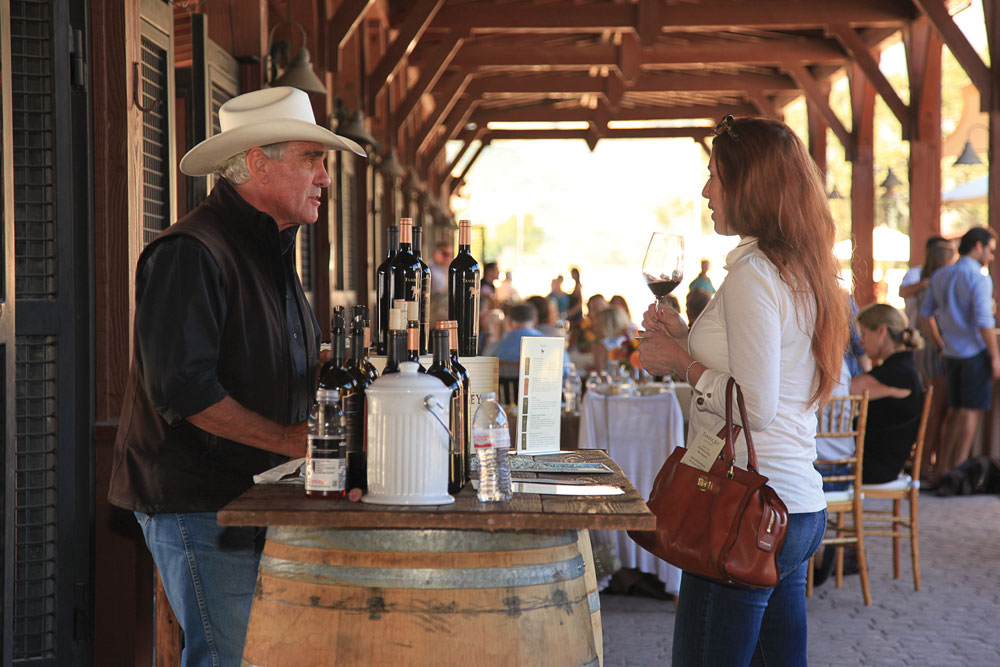 California (Central Coast)
Ride: Central Coast Trail Rides
Crystal Hallett, owner and lead guide, takes you on a one-hour ride through the private 150-acre Creston Ranch. As your horse climbs the rolling hills, you'll be rewarded with horizon-to-horizon views overlooking vineyards and a lake.
After your ride, you can relax while wine tasting at a Creston winery in an area that produces primarily cabernet sauvignon, syrah, zinfandel, merlot and petite sirah. You can also go on a beach ride if waves are more intriguing than wine. www.centralcoasttrailrides.com
Ride: Vino Vaqueros Rides
Peter Ganibi, a former professional polo player, and his wife, Jaye, have created a unique horseback wine tour company in Santa Ynez, a wine-growing region of Santa Barbara County.
Santa Ynez is known for its rich Vaquero history, including the upcoming 34th Annual Vaquero Show and Sale in November, as well as its diverse viticulture, with everything from cabernet sauvignon to pinot noir, as well as Rhône and Italian varietals.
Vino Vaqueros leads private rides through some of the most picturesque vineyards in the area, including Estelle Vineyards. After the ride, relax at the barn while enjoying the views and sampling local wines. www.vinovaqueros.com
Sip: Tantara Winery
Bill Cates, founding partner of Tantara Winery in Santa Maria, knew it was time to retire his dear mare. When Tantara was retired to pasture, many expected her to pass quickly to greener pastures. She defied all predictions and lived to a ripe old age. Her spirit, grace, elegance and power are all qualities Tantara Winery embraces in its wines. Call ahead to arrange a tasting at the winery, which makes its wines on-site. www.tantarawines.com
Southern California
Ride: Wine Country Trails by Horseback
Lifelong horsewoman Diana Lefort combined her love of horses and passion for the Temecula Valley wine country into guiding guests on rides through area vineyards and sharing the fruits of local wineries.
But the rides go beyond an enjoyable outing. Over the years, she has rescued and rehabilitated more than 50 horses, some of which have become guest horses for winery rides, and others that have found homes with carefully selected new owners.
Morning and afternoon rides explore the Maurice Car'rie Winery, followed by a tasting of five wines, from sparkling to the rich red tempranillo, zinfandel and syrah. www.winecountrytrailsbyhorseback.com
Sip: Carter Estate Winery & Resort
While this Temecula winery and resort focuses primarily on warm-climate grape varietals, including malbec, sangiovese, syrah, and cabernet sauvignon, it produces the valley's only sparkling wine using the méthode champenoise—the traditional method used in the Champagne region of France. www.carterestatewinery.com
---
This article about trail riding through wine country originally appeared in the September 2018 issue of Horse Illustrated magazine. Click here to subscribe!