The day you've always dreamed of has arrived: your child (or niece, nephew, or grandkid) is finally old enough to ride by themselves! At this point, it's only natural to start thinking about leaving the safety of your home arena for an adventure in the great outdoors. But if you're not prepared, even a short trip trail riding with children can turn into a disaster.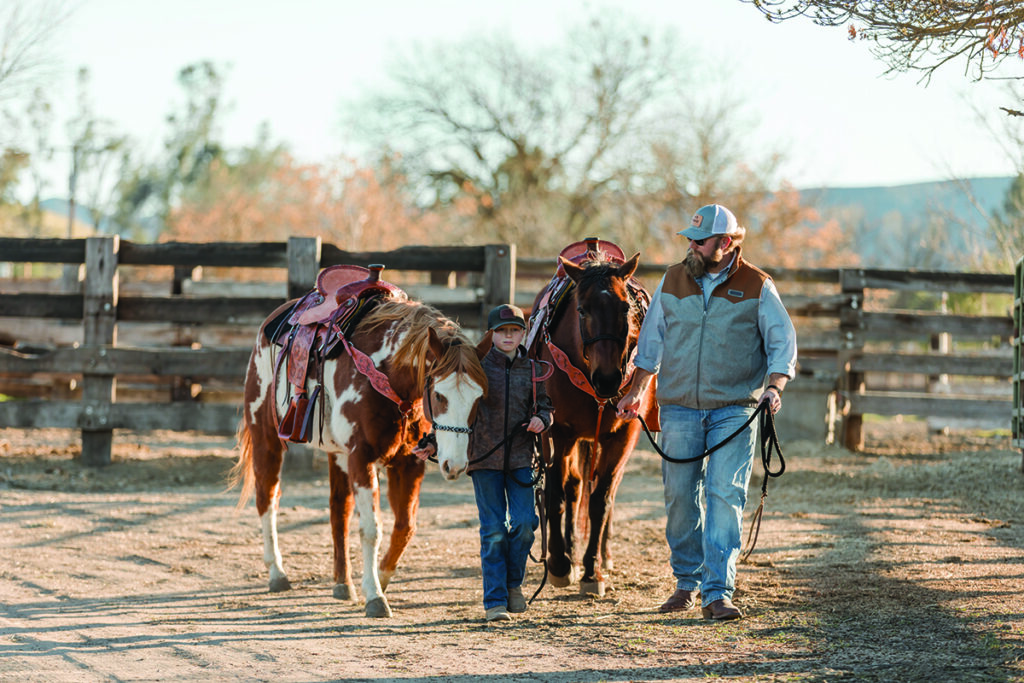 Plan Before Trail Riding with Children
It's crucial to plan your trip from start to finish, whether it's your first outing riding as a family or your fifteenth. In addition to keeping everyone safe and sound, developing a plan for your next riding adventure can maximize your family's enjoyment of the trip and help everything go off without a hitch.
Of course, before leaving the arena, children should always be taught to ride independently in an enclosed arena until they are confident and competent to control the speed and direction of a horse appropriate to their level. And if you are riding with a family member that is not your own child, be sure to secure permission from their parent or guardian.
Lifelong equestrian Amber Wighton of Arroyo Grande, Calif., has been taking her two children, Abby, 11, and Beau, 10, on family riding adventures since they were 4 and 5 years old. Together, the trio has made some incredible memories, from galloping down a nearby horse-friendly beach to participating in cattle drives at a friend's working cattle ranch. Along with the support of her husband, Blake, Amber curates these riding adventures to help her children become smart, independent equestrians who can handle just about anything they encounter on the trails.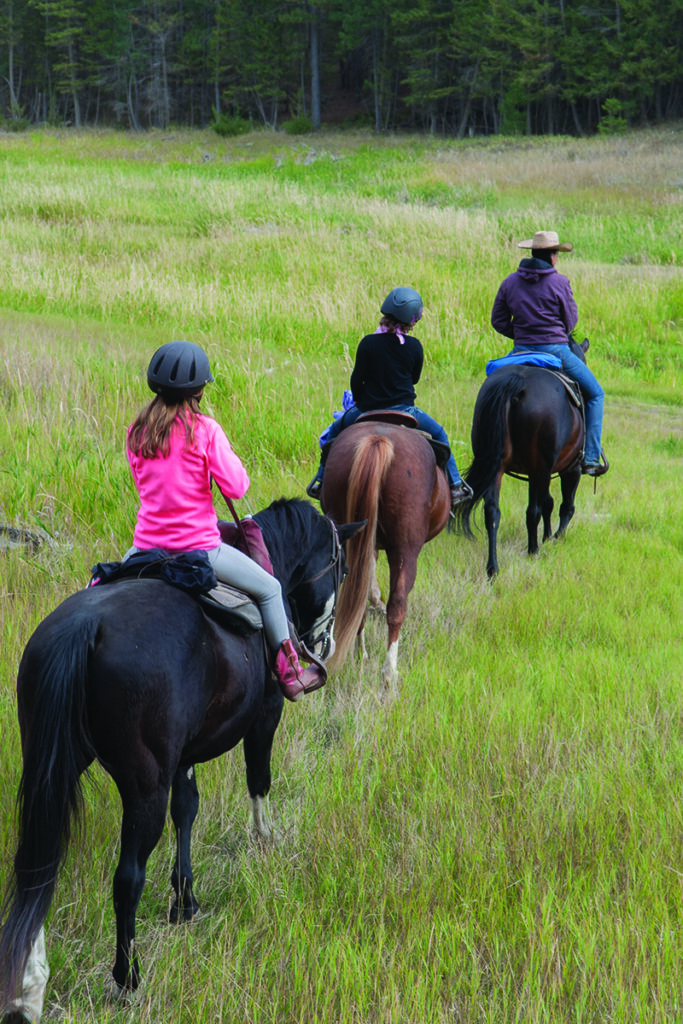 Whether you want to take the family on a riding day trip or start small by hitting the trails for an afternoon, here are Amber's tried-and-true tips for making horse riding with kids as fun and carefree as possible.
1. Keep Expectations Realistic
Check your expectations at the tack room door. Taking kids on a day-long hose ride isn't always easy, even for an experienced equestrian. Remembering that is half the battle, says Amber.
"I think all [people] get this idyllic vision from time to time about outings with kids," she says. "I've literally envisioned Sound of Music-style grassy knolls with my kids' hands in the air while the wind blows through their hair and their horses are in a perfect canter. Then I remember that I have two elementary-aged kids, plus horses. Both are incredibly unpredictable. You have to expect some tears, insecurities and frustration. That's completely normal."
Even though you might encounter difficulties on your first few trips, don't let that hold you back.
"Every challenge is an opportunity to teach kids how to conduct themselves on a trail," Amber says. "A lot of people put off this kind of trip because they want to wait until the kids are a certain age or they've got a different horse, but you've got to work with what you have. There's always going to be a reason not to go. Push through it!" (Within reason, of course.)
2. Plan With Care
Get familiar with the trail system or destination that you're planning to visit. Make sure you know where horses are allowed, where you can park your rig and what facilities are available. When choosing a trail, be honest with yourself about the kids' riding abilities.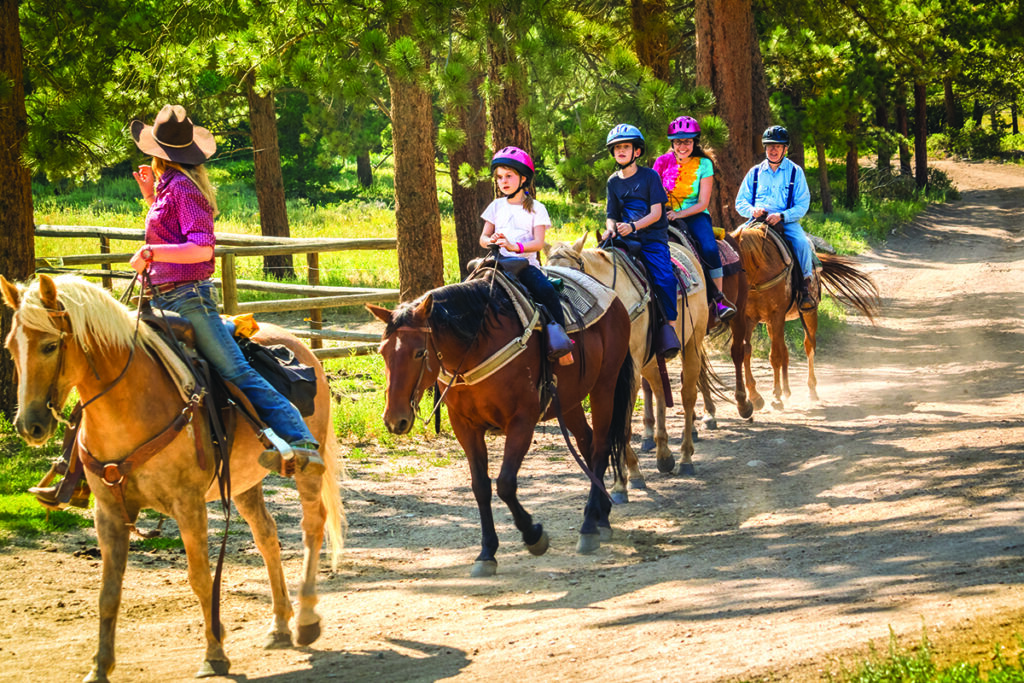 Amber also likes to choose locations where it's easy to take a fun break, like trails that go past swimming holes and rope swings or that lead to restaurants with hitching rails.
"It's so much nicer to have buy-in from the kids," says Amber. "I want them to be excited about where we're going, and I want it to be a bonding experience for all of us. It's easier to stay home or ride in the arena, but when we go on trips like these, we have these great recaps of how we galloped through the water or crossed this stream that we didn't think we could cross."
3. Put Safety First
Accidents can happen any time you combine kids with horses—that includes experienced kids on their own horses. Children should always wear a properly fitting riding helmet that is less than five years old.
Before you go horse riding with kids, make sure everyone's cell phones are fully charged, that you will be in a service area for phone reception, and take a portable power bank with you.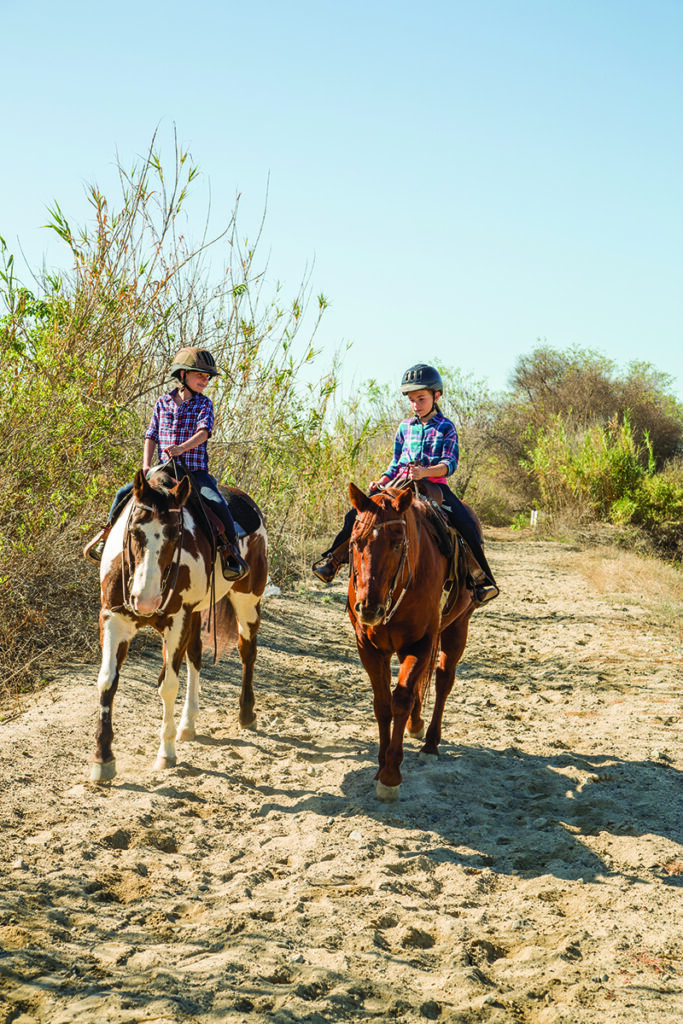 "Knowing where we have cell service is important," Amber says. "When I know I've got good service, I tell the kids. Then if something happens to me, they can get the phone out of my backpack and call someone. We also make sure we tell someone where we're going and how long we're going to be gone."
Abby, Amber's daughter, says that as a kid, part of keeping yourself safe on the trails is knowing your horse.
"I think it's important to know what you need to do to help keep your horse safe," Abby says. "If you know he doesn't like crossing water, for example, don't push him through it unless you have to. You should also know what your skill levels are, so if you don't feel safe jumping over something, go around it."
4. Pack Smart
Be careful in packing so you don't forget a piece of tack or equipment. Ideally, every rider should have a small first-aid kit on their person, such as in a jacket pocket or backpack. Keep every kit stocked with Band-Aids, acetaminophen, gauze and alcohol wipes. If space allows, the lead rider should carry a full-sized first-aid kit in a backpack. If not, make sure there's one for both horses and humans stashed in your trailer.
The Wightons like to carry water and snacks, as well as hoof picks, baling twine, small pocketknives and rubber bands.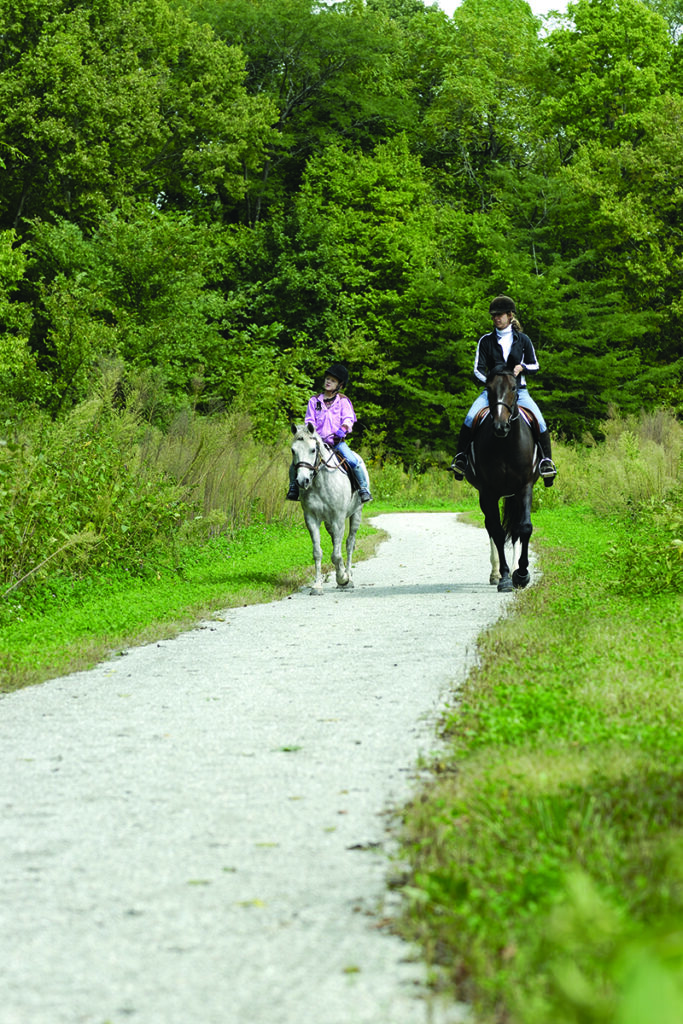 "A little while ago, we were on a trail ride and my headstall broke," Abby recalls. "I had a big rubber band with me, so I was able to put it back together to finish the ride. Now we carry baling twine in our pockets just in case something like that breaks."
Always tack up after you get to your destination before trail riding with children; it can be dangerous to trailer tacked horses, who can snag a stirrup or bridle on a trailer divider or latch and panic, possibly injuring themselves or causing the other horse(s) in the trailer to panic, too.
Horses should be comfortable standing tied to the trailer or hitching rails at the trail head, but bring extra halters in case one breaks.
5. Celebrate the Small Victories
While it's important to make sure your kids are riding safely and effectively on the trail, a trail ride or day trip is not the time to school children on the quality of their equitation. Save those critiques for the arena. Instead, focus on building a child's confidence on the trail and acknowledge what they're doing right, Amber suggests.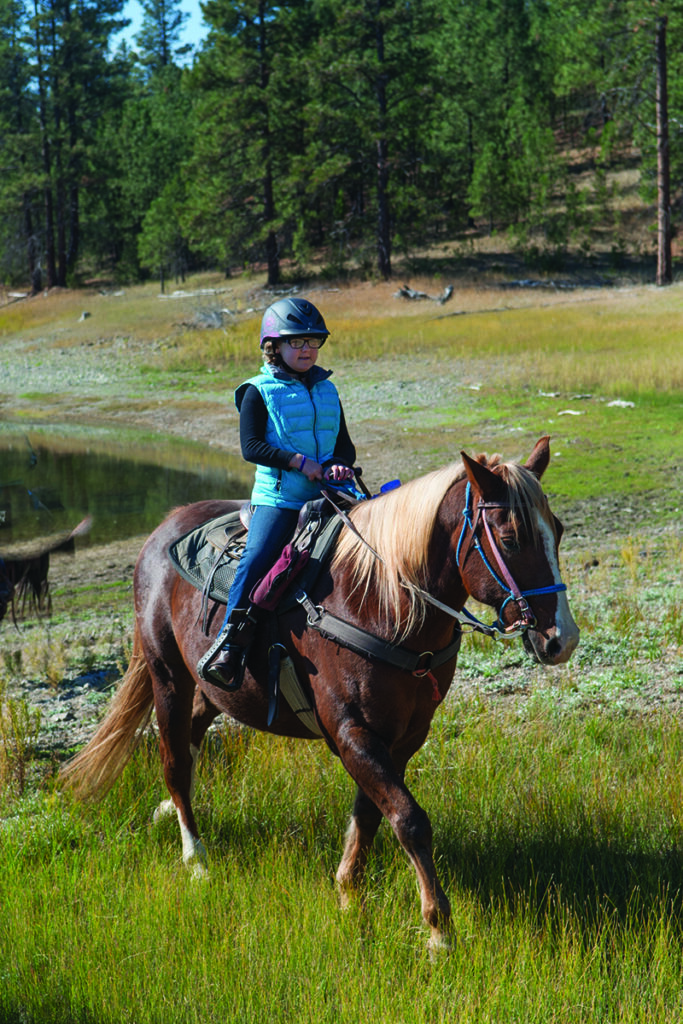 "I like to acknowledge the little wins," she says. "For example, if they couldn't cross a stream last time, but they do it this time, I like to remind them that it's a new personal best."
6. Remember to Have Fun
Trail riding with children is an opportunity to make valuable memories. Amber and her kids love to create playlists for the ride, engage in visual scavenger hunts or find little games to play on the trail with each other.
As the kids grow older and become more advanced in their riding skills, start scouting out trails or locations that challenge their abilities and help them learn how to navigate new obstacles on the trail. Above all, remember that the goal of every riding adventure is to have fun!
The Family Business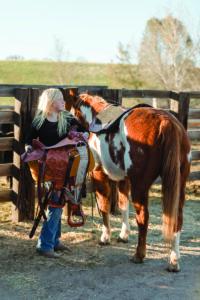 When the Wightons aren't going on equestrian adventures as a family, they're designing lightweight, kid-friendly tack for their company, Riding Free Tack. Amber and Abby started the company in 2018—when Abby was just 8 years old—as part of an effort to foster independence in horse-crazy kids. By designing fiberglass tree saddles that weigh just a fraction of traditional leather tack, they help kids develop the ability to saddle up their horses all by themselves.
"We started Riding Free Tack because we wanted all kids to feel like they can go out and do things, like saddle up and ride, without needing their parents or older siblings to help them," Abby explains. "Solving that problem and making the family business has helped motivate all of us to be independent and work hard all the time."
Although she's only 11, Abby participates in all aspects of the business, such as creating and implementing designs for the tack and helping with marketing ideas.
"The business started as Abby's idea to help kids, but it has flourished into something that we're hoping to market and reach the entire family," says Amber. "We're marketing the lightweight tack we started with for kids, but we're also moving into traditional all-leather tack with unique designs. It's been really fun to get into as a whole family."
This article about trail riding with children originally appeared in the August 2021 issue of Horse Illustrated magazine. Click here to subscribe!