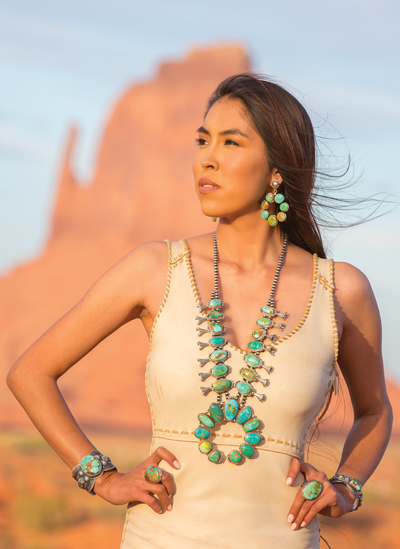 When it comes to turquoise, it's not all created equal. Prices for this valuable
stone vary due to the demand, mining process and hours the artist puts into each piece. Whether you want to splurge or save, you can find just the right turquoise jewelry accessory to fit your style.
Royston Squash Blossom Necklace
This statement necklace is an investment piece guaranteed to get compliments every time you take it out. Beautiful Royston turquoise is often sought after for its stunning, deep shades of green and blue. The mining process to retrieve this turquoise is very dangerous, making it rare and expensive. The natural hardness of the rock makes it ideal for jewelry artists. $2,498.00–$5,498.00;
www.britwest.net
---
Squash Blossom Stretch Bracelet
This beautiful sterling silver and turquoise stretch bracelet can be a staple accessory. It's perfect for wearing solo or layering to create the perfect arm party. Jewelry designer Laura Ingalls uses a stretch bracelet to help keep the piece more affordable. $99.00; www.lauraingallsdesigns.com
---
Free Bird Ring
The winged accents of the Free Bird ring along the center stone can be turned in toward the hand or pointed outward. Matching earrings also available. $158.00;
www.christina-greene.com
---
Chandelier Dance Earrings
A stunning pair of dangling earrings crafted by Peyote Bird Designs are made from sterling silver and turquoise. These intricate earrings have detailed silversmith work throughout. The natural turquoise veins make each earring its own work of art. $350.00; www.doubledranch.com
---
Arizona Hills Necklace
This stunning necklace features a 38.5 ct. stone set in sterling silver. The
additional materials paired with a piece of turquoise affect the cost. Sterling
silver prices fluctuate daily and are priced by the ounce. Sellers must consider this when putting a final price on a piece. $620.00; www.lauraingallsdesigns.com
---
Work Bench Artisan Cuff
A large piece of turquoise is hand-soldered and set into a beaded setting on a brass cuff, creating the perfect touch of rustic, bohemian style. Priced at under $100, this cuff won't break the bank. $96.00; www.gypsyville.com
---
Horse Beads
These beads are perfect for someone who wants to make their own jewelry: they have been reconstituted, which is an economical way to own real turquoise. Reconstituted turquoise is composed of groundup turquoise bits and mixed with resin and other materials, then cut up into shapes. Starting at $6.75;
www.etsy.com/shop/creatingunkamen
This article about turquoise jewelry appeared in the July 2020 issue of Horse Illustrated magazine. Click here to subscribe!