Read on to learn more about the U.S. Show Jumping Team being currenlty in second place at 2018 World Equestrian Games in Tryon, NC.
Thursday was another marathon day for show jumping, vaulting, and para-dressage at the FEI World Equestrian Games Tryon 2018. No medals were awarded in jumping or para-dressage, but vaulting awarded its medals for the pas de deux competition after the pairs performed their second round of freestyles.
Silvia Stopazzini and Lorenzo Lupacchini of Italy earned the top score tonight after placing second to Jasmin Lindner and Lukas Wacha in the first round on Wednesday. Their combined average of 9.027 was just enough to squeak past the Austrian pair, who had a final score of 9.013. The German duo of Janika Derks and Johannes Kay took the bronze.
Two American pairs competed in the pas de deux freestyles. Daniel Janes and Haley Smith vaulted on Diva 506 for a final score of 8.244. Kathryn Keville and Florence Rubinger finished ninth. U.S. teammate Mary McCormick was their lunger, holding the line for Revlon.
USA = U So Amazing ????

Beautiful from @USequestrian's Daniel Janes & Haley Smith ?#Vaulting #Tryon2018 #BeOne pic.twitter.com/LWhnXRjvEU

— The FEI (@FEI_Global) September 20, 2018
Narrowing the Field
The second day of show jumping narrows the field that started with 124 horse-and-rider pairs yesterday at 2018 WEG. After today's round, only the top ten teams will move on in the team competition and some riders competing as individuals will continue on, for a total of 62 pairs scheduled for the next round on Friday.
Penalties from today's round were added to yesterday's to calculate the current rankings. After a double clear round today at 2018 WEG, Italy's Lorenzo de Luca took the top spot on the leaderboard. De Luca rides Irenice Horta, a Belgian Warmblood mare by Vigo d'Arsouilles Stx, the stallion ridden to a 2010 WEG gold medal by Philippe Le Jeune.
McLain Ward of the U.S. had just one time penalty with Clinta, putting him in second place at the end of today's round. 2016 Olympic silver medalist Peder Fredricson of Sweden is in third with H&M Christian K.
The other members of the U.S. team fared well in today's round at 2018 WEG. Adrienne Sternlicht rode Christalline to a clear round with just one time fault to move into 12th place individually. Devin Ryan and Eddie Blue knocked a rail for four faults and a 20th place standing. Veteran WEG rider Laura Kraut had two knockdowns with Zeremonie and is now 26th.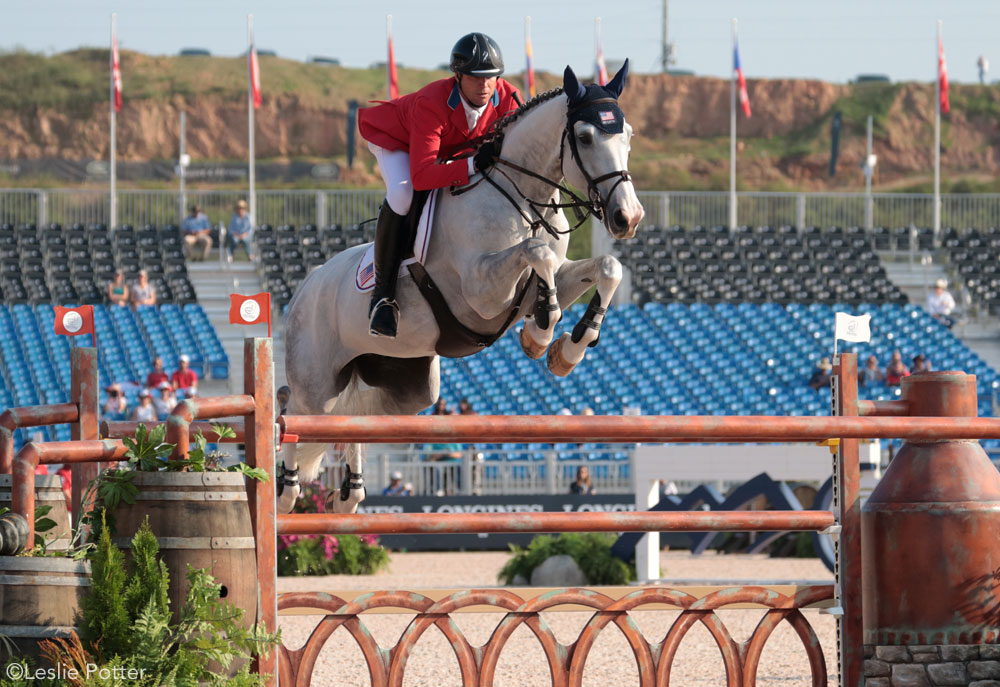 The results were good enough to keep the U.S. in second place competition heading into the final day of team competition at 2018 WEG. Switzerland currently holds the lead by less than a point and Germany is in third. Team competition is especially important as the top six countries will earn their qualification for a spot in the 2020 Olympic show jumping competition.
Big Start for Dutch Para-Dressage at 2018 WEG
Team competition started today for the para-dressage division with riders from grades II, IV, and V performing their tests. Because of the structure of para-dressage at WEG where nations' teams consist of varying mixes of different grades, the standings aren't straightforward. Some teams have only had one rider perform their test, while others have had two or three. So far, only France has had all four riders complete their test.
However, with one rider left to go, the team from the Netherlands is looking strong in the standings. Grade V rider Frank Hosmar rode Alphaville N.O.P. to a 73.488, the second best score in the class. Sanne Voets repeated her success from the individual competition, earning the top score of 76.550% with Demantur N.O.P. in the grade IV. In grade II, Nicole den Dulk finished in second place with Wallace N.O.P. with a score of 72.939 at 2018 WEG.
Great Britain's team had a banner day as well, with two accomplished riders taking their turns in the team arena. Sophie Wells rode C Fatal Attraction to a big score of 77.233 in the grade V. Lee Pearson finished in third in the grade II with a score of 71.606% on his nine-year-old mare, Styletta.
Two of the U.S. team riders went today, both in grade IV. Kate Shoemaker and her Hanoverian stallion, Solitaer, scored a 69.800%, which was good enough for fifth place. Angie Peavy and Rebecca Reno's Oldenburg mare, Royal Dark Chocolate, posted a 67.075 to finish in seventh place at 2018 WEG.
Grades I and III will perform their tests tomorrow, including America's Roxanne Trunnell and Dolton in the grade I and Rebecca Hart and El Corona Texel in the grade III.
Coming Up
Combined driving begins tomorrow with the dressage competition from 8:30 a.m. until noon EDT. Para-dressage runs throughout the day with grade III at 9:30 a.m. and grade I at 1:30 p.m. The next round of show jumping competition begins at 1:30 p.m. Vaulting takes a day off before the final freestyles on Saturday.
Show jumping is scheduled to air live on Olympic Channel at 1:30 p.m. on Friday, September 21. Show jumping team medals will air on NBCSN at 11:30 p.m.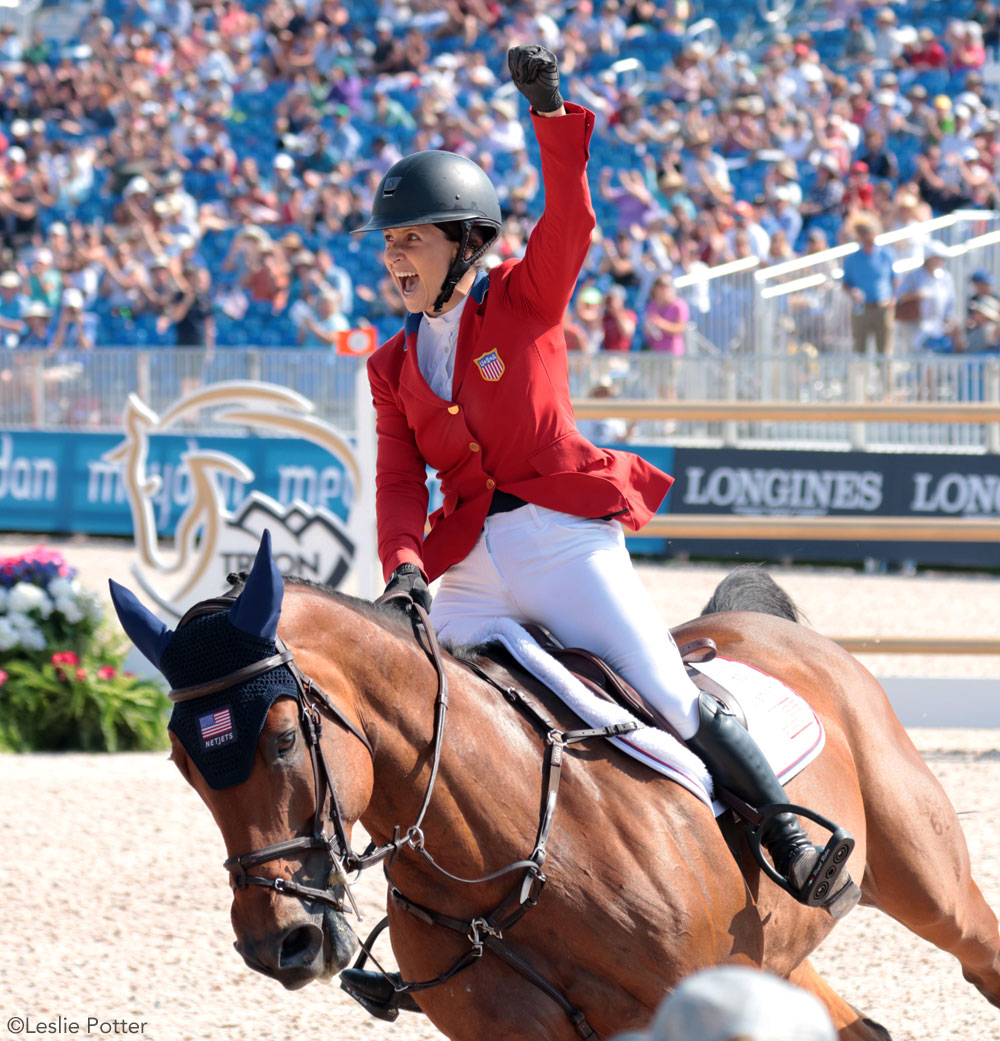 Tryon 2018 WEG Moment of the Day
Your WEG Moment of the Day for Thursday, September 20: US rider Adrienne Sternlicht gives a triumphant fist pump after her clear round with Christalline in the second round of show jumping at the FEI World Equestrian Games Tryon 2018. The U.S. team currently stands in 2nd place at 2018 WEG.