Read more about how the U.S. Show Jumping Team wins gold at the 2018 World Equestrian Games in Tryon, NC and other events such as driving.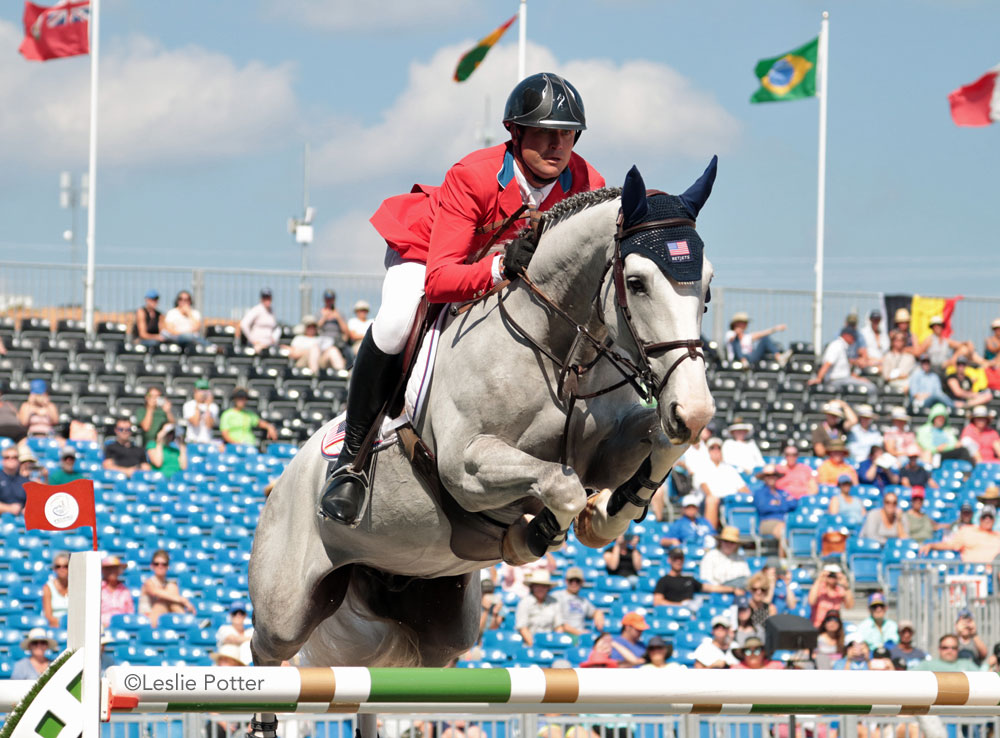 In a competition where scores were calculated down to a thousandth of a point, a tie seems unlikely. But that's exactly what happened today in the team jumping final at the FEI World Equestrian Games 2018 Tryon.
The top ten nations returned today for the last round of team competition. The Swiss team was the overnight leader, but after one of their riders was eliminated due to two refusals on course and the remaining three racked up 17 penalties, they opened the door for new medal contenders.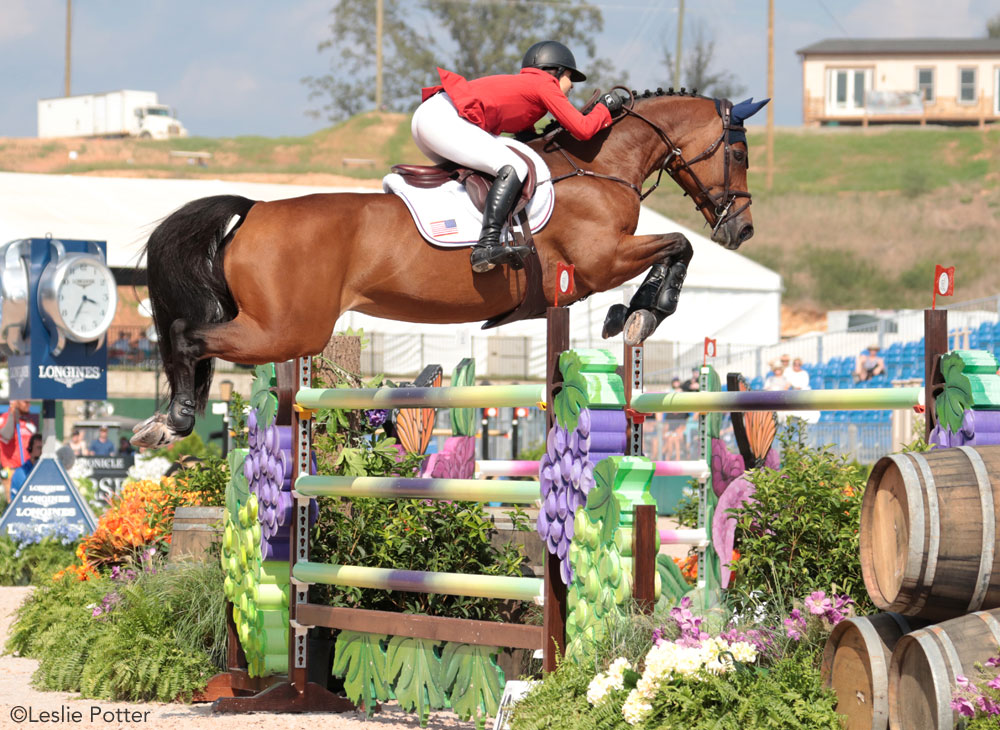 With two clear rounds and only four faults in the remaining counted score (each team's lowest score is dropped), Germany moved into bronze medal position. Sweden had a near-perfect day, with no faults in its three counted scores, while the U.S. had a total of eight faults added to its total, creating a tie between the two nations at 2018 WEG.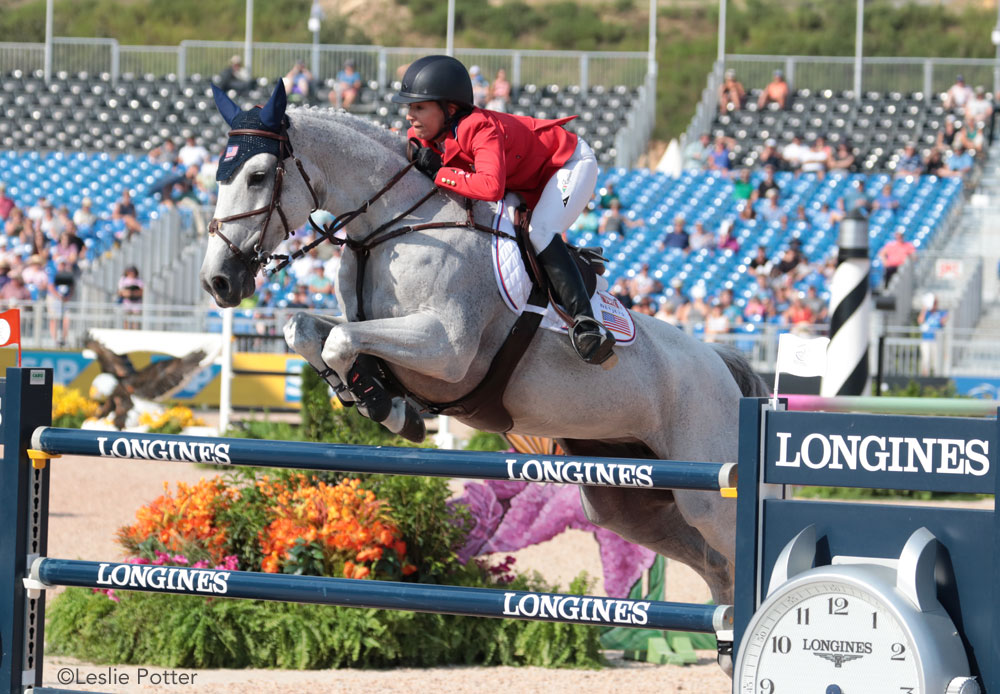 All four riders from each team returned for a shortened version of the original course for a jump-off. In those four rounds, both teams had a single rail each. The tie breaker came down to which team had the fastest total time in the jump-off at 2018 WEG.
It was the U.S., by 2.06 seconds.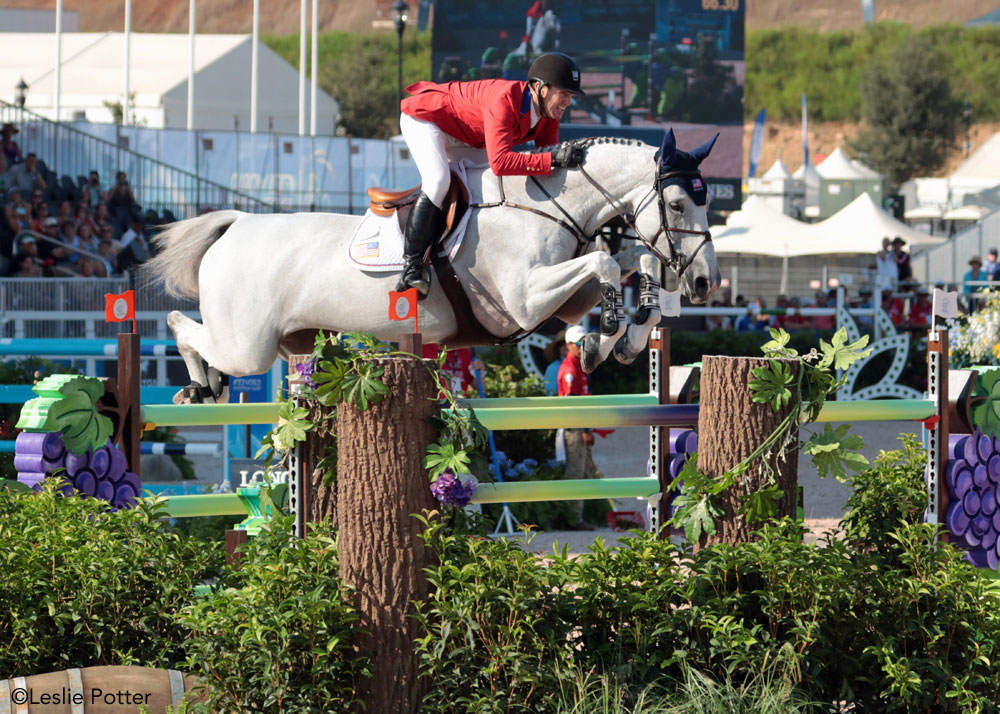 2018 marks the first time the U.S. has won team gold in a World Equestrian Games show jumping competition. Team members Laura Kraut and McLain Ward have both been part of WEG teams in the past while Devin Ryan and Adrienne Sternlicht both made their debut in Tryon. Three of the four U.S. horses are mares (Ryan's Eddie Blue is a gelding.) All four riders are expected to return to the ring on Sunday for the final round of individual show jumping competition at 2018 WEG.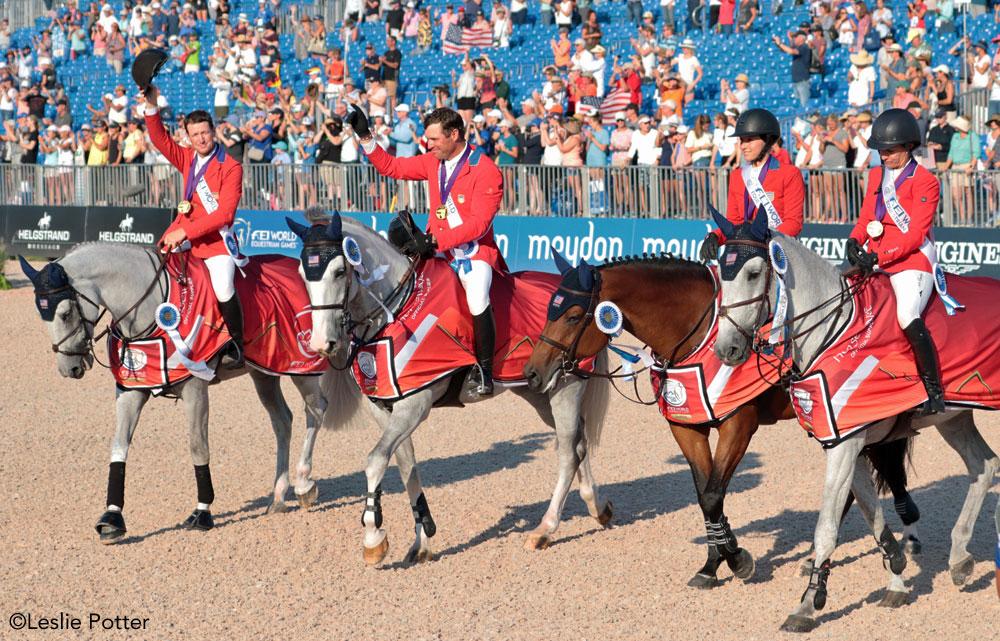 Driving Begins
The last of the eight WEG disciplines to take place is combined driving, which started today with the dressage phase. Nineteen drivers are competing at Tryon in this four-in-hand competition.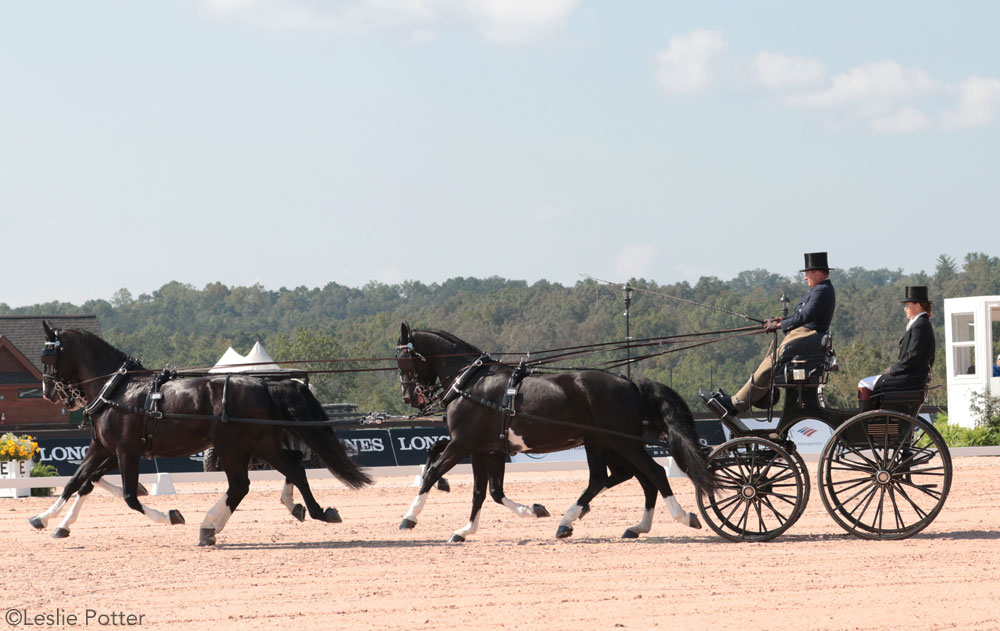 Australia's Boyd Exell has long been the dominant competitor at the top level of this sport, and he showed why again today, earning the top score of 31.68 penalties. His American counterpart, Chester Weber, is close behind in second place with 35.10 at 2018 WEG.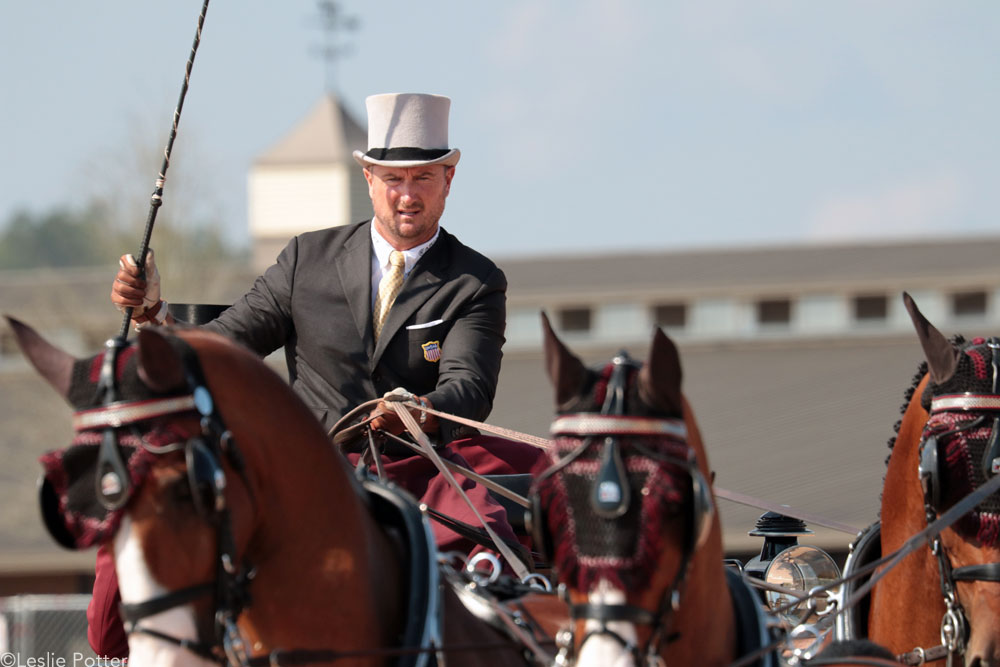 The U.S. team is off to a strong start. Misdee Wrigley Miller currently sits in fourth place while James Fairclough is 11th. Overall, the team is in first place ahead of the second-placed Dutch team. France is currently in third.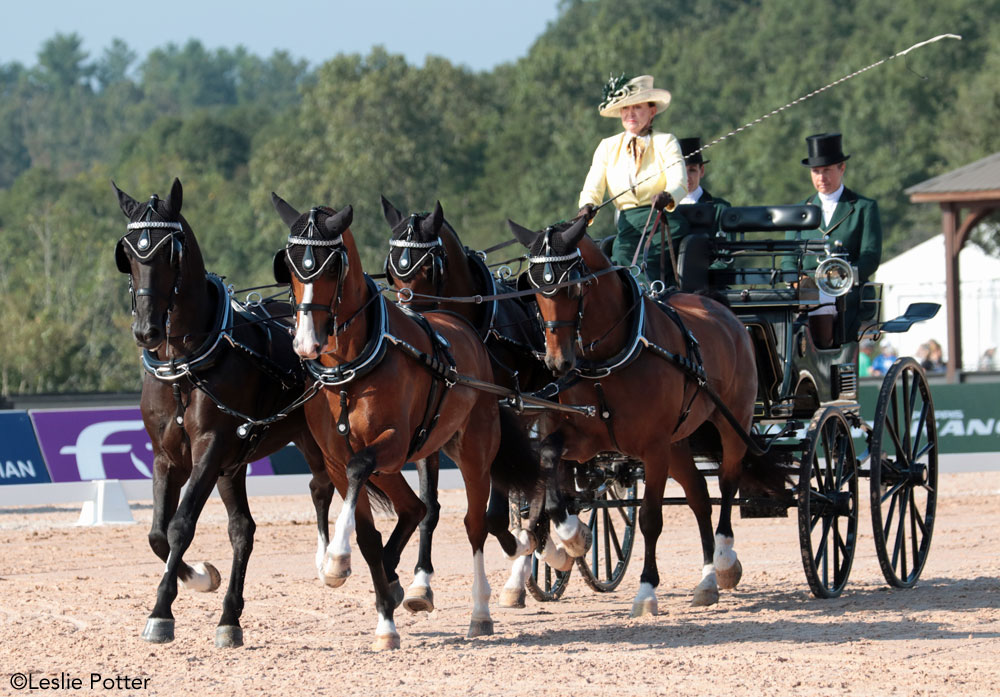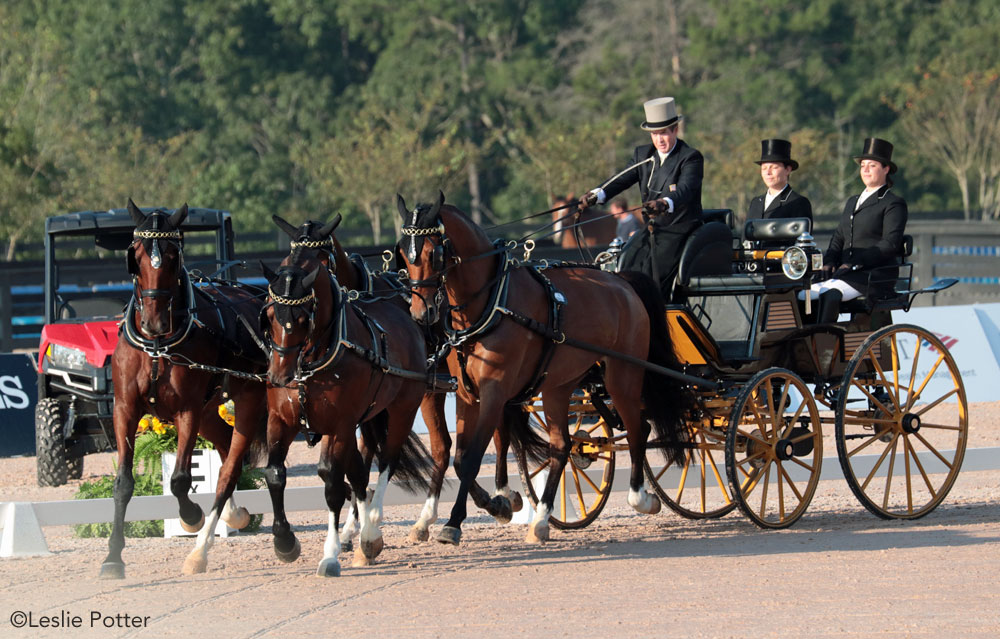 Driving will continue tomorrow with the marathon phase. Be sure to check out the results here: 2018 WEG U.S. Driving Results
Tryon 2018 WEG Moment of the Day
Your WEG Moment of the Day for Friday Sept. 21: Pui Ting Natasha Tse of Hong Kong rides out of the arena on Baxo after successfully completing their Grade I Para-Dressage test. With them is Baxo's equine friend. FEI rules allow for a companion to accompany para-equestrian horses to the stadium for moral support if needed to keep the horse calm and working at his best in the sometimes electrifying atmosphere of competition.