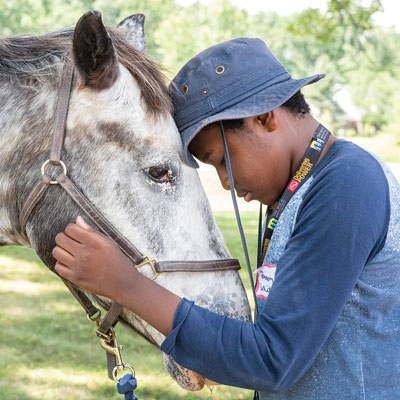 When her daughter Maya came home from school with a flier describing the summer day camp at the Detroit Horse Power urban riding program, Danielle Harling had no idea how large an impact the program would have on her family.
"Being from Detroit, seeing the blight, knowing the daily struggles of [families], I really had no idea back then that a program like this even existed," Harling recalls. "I had no idea how horses could help children and their families."
With Maya (now 13) and son Tariq (age 15) both involved in Detroit Horse Power Programs, there's no longer any doubt in Harling's mind.
"The horses are vessels for teaching," she says. "And [parents] see that their children have pride, confidence, empathy toward others, knowledge of how to use self-control, and how to persevere through tough situations."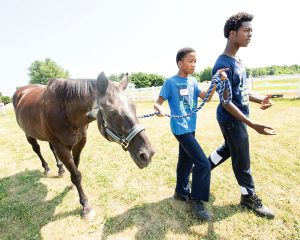 Reaching Kids
Detroit Horse Power is one of several urban riding programs around the country that uses horses to help young people living in cities skirt urban drug and crime cultures and recognize their own potential beyond their neighborhoods.
That's exactly what founder David Silver had in mind when he launched the program four years ago. A former competitor in the hunter/jumper and eventing disciplines, Silver arrived in Detroit as an elementary school teacher in the Teach for America program. It wasn't long before he recognized that horses could help kids learn beyond the classroom.
"I realized that the values of compassion and empathy that I was trying to teach my students were connected to my experiences with horses," Silver recalls. "In 2015, we started the first summer camps in June and August with 18 kids; in 2018, we had 108 kids."
Via partnerships with volunteers and staff from local boarding barns, including Heavenly Horse Stables in nearby Pinckney, Mich., Detroit Horse Power has grown to include two barn trips every month and weekly meetings to encourage the kids' continued learning.
"We have three sessions going on at once: one where the kids learn to ride, one where they learn to take care of the horses they ride, and year-round classes [without horses] where kids learn about core emotional traits of perseverance, empathy, responsible risk-taking, confidence and self-control."
Young people who reside in high-crime or minority neighborhoods are recruited to take part in Detroit Horse Power through the program's partnerships with area schools and other non-profits.
"We have a very broad definition of 'at risk,'" says Silver. "About 81 percent of the kids in Detroit are African-American, the crime rate is high, and lots of kids don't graduate from high school or go on to college. We asked, how can we motivate a kid to a different result?"
Positive Outcomes
The program's impact on the children who participate is obvious and nearly immediate, Harling says.
"Some start out shy and withdrawn, while others are sort of hyper and intimidated by the size of the horses," says Harling, who also serves as the child advocate on the organization's board of directors. "By Friday, they're all confident and calm and sure of themselves and the things they learned that week. [The children] also benefit by having that amazing experience with the horses, and most importantly, they have received a socio-emotional education that they can use daily."
The families of participating children benefit, too.
"The children return home confident, with wonderful stories of their accomplishments, photos, positive affirmations, and a blue ribbon just to start," says Harling. "[Families] see an improvement in their children's behavior as well, which is always a plus."

Patricia Kelly wanted to see a change, too, when she started Ebony Horsewomen in 1984 as a cultural and social enrichment group for women of color in Hartford, Conn. It wasn't long before it became apparent that the group could play a similar role for women raising kids in African-American and Latino neighborhoods.
"The first time we rode into a neighborhood, a kid came up to me and asked, 'Is that a real horse?" remembers Kelly, a Cowgirl Hall of Famer and a veteran of the U.S. Marine Corps. "I realized that the child had never seen a horse before, and that we could make a difference."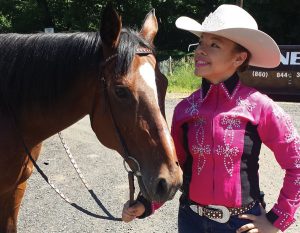 By 1987, members of Ebony Horsewomen were riding into neighborhoods distributing anti-drug materials and connecting urban mothers with fundamental resources.
"In those days the phrase was 'Just Say No,'" she says. "We would ride into the neighborhoods and talk to the women and hand out pamphlets; later, we would have a doctor with us."
Today, the organization serves 30 youngsters ranging from 5 to 18 years old by teaching them to ride and take responsibility for the 17 horses at the organization's Equestrian and Agricultural Center, located in Hartford's 693-acre Keney Park.
They also tend the Center's garden and care for the menagerie of other animals residing there.
"Some kids never have the opportunity to get out into the fresh air," says Kelly. "Some are inside playing computer games, but for other kids,
it's not safe for them to be outside.
The kids come [to the Center] seven days a week and they want to work; they want to participate and they want to learn."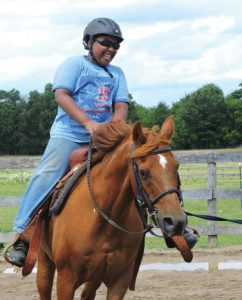 Putting Horse Skills Into Practice in Urban Riding Programs
Ebony Horsewomen also offers the Young Ladies Dressage Team and Leadership Academy, a comprehensive initiative that provides a range of leadership, educational, cultural and developmental support geared toward independent thinking and problem solving.
Dressage team members compete in classes at local horse shows. Likewise, the organization's Junior Mounted Patrol provides boys with equestrian training, promotes leadership skills, and puts both to work as mounted rangers in Hartford's Keney Park.
"There are bikes in the park, runners, dogs—they never know what they're going to meet—so the horses have to know that they can trust the boys and the boys have to know that they can trust the horses," Kelly explains. "When you're out there on patrol, it's just you and the horse."
Kelly believes that urban horseback riding programs are successful because they show kids ways to tap into their best selves. In Chicago, Murdock hopes to do the same for young people there through the Broken Arrow Riding Club.
Learning to ride in Chicago's Washington Park sparked Murdock's dream of making a living as a member of a mounted police unit. But when he returned to the city after a stint in the military, horseback riding opportunities for both kids and adults were scarce.
As a result, for the past several years Murdock has been petitioning the Chicago Park District to develop a venue where inner-city kids can learn to ride, participate in horse-focused demonstrations and workshops, and watch farriers at work. He believes that the experiences can change kids' lives.
"As a kid, I knew that I could be one of the Three Stooges, a circus boy, or someone who worked with horses," he says. "I had a dream in my heart to work with horses, and it made a difference."
While a facility specifically for the Broken Arrow Riding Club remains under consideration, the group sponsors a pair of events intended to call attention to Chicago's urban equestrian community.
The Broken Arrow Rodeo and Horse Show at the South Side Cultural Center draws 40 riders and attracts 300 spectators every June. In July, 75 horses are riders are expected to take part in the High Noon Picnic and ride to Washington Park.
"We're in our 30th year this year, and I think that's significant," Murdock says.
In the meantime, urban riding programs that exist right now are making the difference in youngsters' lives every day.
"We tell kids they can be farriers, veterinarians, trainers," says Harling. "We tell them to pay attention because the skills they get from the program will help them get into college."
The message is not lost, according to recent poll of kids in involved in the Detroit Horse Power program.
"Some kids tell us that they are interested in jobs that work directly with horses, others have a goal of going to college to be in professions that will allow them to afford to own and care for horses," says Silver.
"Either way, they can see that alternatives exist—it works."
This article on urban riding programs originally appeared in the July 2019 issue of Horse Illustrated magazine. Click here to subscribe!