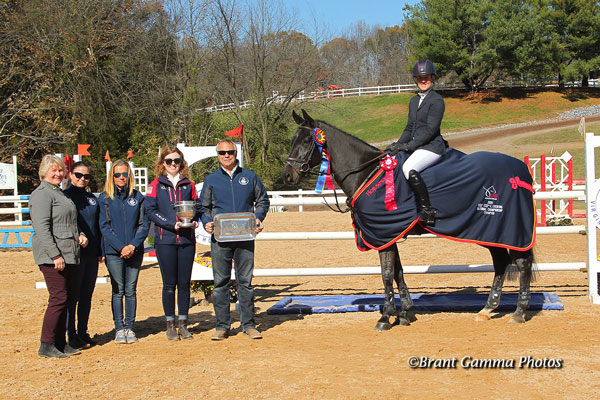 As the highest-placed American in the CCI2*-LA division, Allison Springer, of Upperville, Va., and Crystal Crescent Moon took home the USEF CCI2*-L Eventing National Championship and the Richard Collins Trophy in style, finishing on their dressage score of 30.0 to secure this year's coveted honors.
"He's my little brown unicorn," said Springer. "He's really fast and trainable. I think he's going to do great things."
The six-year-old Connemara cross is owned by his breeder, Nancy Winter, and Springer has known Crystal Crescent Moon since he was a foal. Started under saddle by Cathy Wieschhoff to begin his career, he was partnered with Springer shortly thereafter early in his four-year-old year.
"It means a lot to me and it means a lot to Nancy because it's so fun watching them come up and do their thing," said Springer.
She described her ride in the USEF CCI2*-L Eventing National Championship. "He was perfect in dressage. He's like a little dirt bike cross-country, and he put in a great show-jump round. He's very careful and scopey and just a fun horse to ride."
The Reserve Champion title for the USEF CCI2*-L Eventing National Championship went to Jan Byyny and Unbridled Numbers, a nine-year-old Thoroughbred owned by Kaylin Dines. They scored 30.1 in dressage and were double clear in both cross country and show jumping.
Jane Jennings, of Unionville, Penn., and her own Kontessa M led the CCI2*-LA division for both the dressage and cross-country phases of competition on a score of 29.5, but added four faults in their show-jumping round to ultimately finish the weekend in sixth place.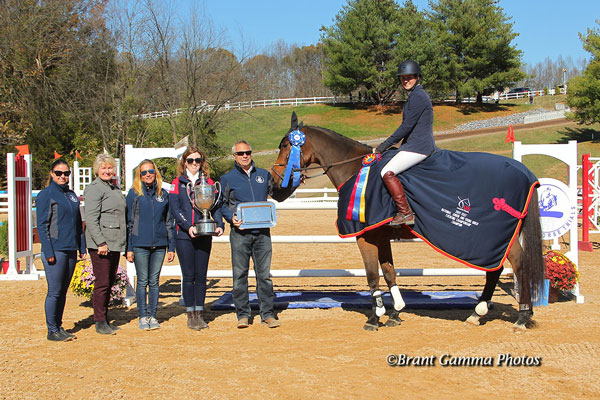 USEF CCI2* Junior/Young Rider Eventing National Championship
Francesca Spoltore and her 10-year-old Irish Sport Horse Millstreet Mitch won the CCI2*-LB division, which served as the USEF CCI2* Junior/Young Rider Eventing National Championship. They were presented with the Harry T. Peters Trophy.
Leading the way after dressage on a score of 31.4, they dropped to second place after adding four time penalties over the cross-country course. In the final phase, the pair clinched the win and reclaimed their top placing with a double-clear show-jumping effort.
"He was amazing jumping in there. He didn't feel tired at all. He helped me out a little in one of the lines, and he was so good today," Spoltore said. "My plan when we bought him was to take him to the three-star short at NAYC next year. Hopefully we will bring him out at Preliminary next year, move up to Intermediate and get my qualifiers for Young Riders."
Spoltore has only been partnered with Mitch for four months, and the pair is still getting to know each other. "He was amazing this weekend," she added. "It was the best he's been…the best we've been together. For only four months, it was a good finish."
Jackie LeMastus and Lup the Loop, an 11-year-old Irish Sport Horse owned by James LeMastus, moved up from seventh after dressage to finish second and take home the Reserve Champion title in the Junior/Young Rider Championship division.
Cross-country proved to be an influential phase in the divisional standings, with course design led by Carsten Meyer, who utilized the rolling hills of the Virginia Horse Center to ensure horse-and-rider fitness would play a role in the standings heading into the final day of competition. The show-jumping phase of competition also saw changes in the top ten placings for each division, respectively.
"That concludes another incredible week at Virginia Horse Trials," VHT Organizer Andy Bowles said. "Thanks to everyone for coming and enjoying this beautiful venue. We hope to see you back in the spring."
Live Results
Find out more about the Virginia Horse Trials
Stay up to date on U.S. Eventing by following USA Eventing on Facebook and US Equestrian on Twitter and Instagram. Use #USAEventing.
The USEF International High Performance Programs are generously supported by the USET Foundation, USOC, and USEF Sponsors and Members.