The final day of the 2023 Omaha FEI World Cup Finals, was full of suspense waiting to see who would take home top honors in both vaulting in the afternoon and show jumping in the evening. In both sports a cumulative score from all days of competition was tallied to determine the overall winners. 
In addition to Native American performances which opened each competition session, there was shopping in the trade fair and plenty of fun and educational presentations in the demonstration ring. Lots of activities kept the kids entertained, too. It was all a fitting way to wrap a week of international competition hosted by the welcoming and capable folks in this intriguing and delightful Midwestern city. 
As things come to a close yesterday evening in Omaha, Omaha Equestrian Foundation Chair Lisa Roskens reflected on hosting the FEI World Cup Finals twice, "It's impossible not to think about 2017 because so much a part of what we are doing is a reflective of that experience. In fact, in many ways it's a bit of a reunion this year. Obviously, many of the challenges of 2017 we worked to resolve and improve upon. Nothing is perfect, you always have little blips, but our goal is to always be responsible to our athletes and the grooms and say to them, 'What can we do to make it your best experience?'"
She praised the people involved with making both years hosting the FEI World Cup a success, "I really feel like our team has come together. We've stuck to our plan, but pivoted where necessary. I'm very, very proud to be associated with this and all of these wonderful people."
Vaulting Finals
On the second and final day of the FEI Burlington Capital World Cup Vaulting Finals, individual females competed first, then individual males and finally, the pas-de-deux pairs. The start list for each class Saturday was in reverse order of placing from the first day of competition. The final overall results in each group were determined by averaging the scores from Thursday and Saturday.
Roskens, who is also CEO of Burlington Capital, explained why the company chose to sponsor the World Cup Vaulting Finals this year, "For us, it was a very logical thing. Our job as an investment management firm is to help elevate, whether it is a business that needs capital raised or whether it's our investors who come with us on adventures. Our job is to lift people up and we thought vaulting was a great analogy. And, we wanted to support something new. That's part of what we do at Burlington."
Individual Female 
In the Individual Female Freestyle vaulting test first of the eight to compete was Averill Saunders from Canada, then fourth from last to go was the USA's Kimberly Palmer.  Next to last was Switzerland's Danielle Bürgi (who was a close second in the technical test on Thursday), and the final competitor was the leader from Thursday, Kathrin Meyer from Germany. 
Saunders, 19, Sundre, Alberta, vaulted on Max lunged by Sarah Krauss of Germany. She improved on her Thursday score earning 7.327 for an overall average of 6.858 good enough for 7th place. 
Vaulting on Romeo lunged by Christoph Lensing, Palmer (25, Half Moon Bay, California) also bettered her Thursday score garnering 7.983 for an overall average of 7.736 and ultimately 4th place. Palmer noted that she had never competed on Romeo before, so it took time to get to know the gelding and she had to adjust some of the choreography due to the tempo of Romeo's canter. This meant omitting some of her more technically difficult elements; had she done them she could have potentially scored higher. 
Palmer commented on her Freestyle test, "I think it went pretty good. It started off pretty strong and I was happy with my performance. I skipped a couple of my harder moves just to ensure that I would keep the performance rolling. It is what it is. It is hard to make choices within the one minute, 10 seconds that you have to do your routine in front of everybody. I'm okay. I'm happy with it."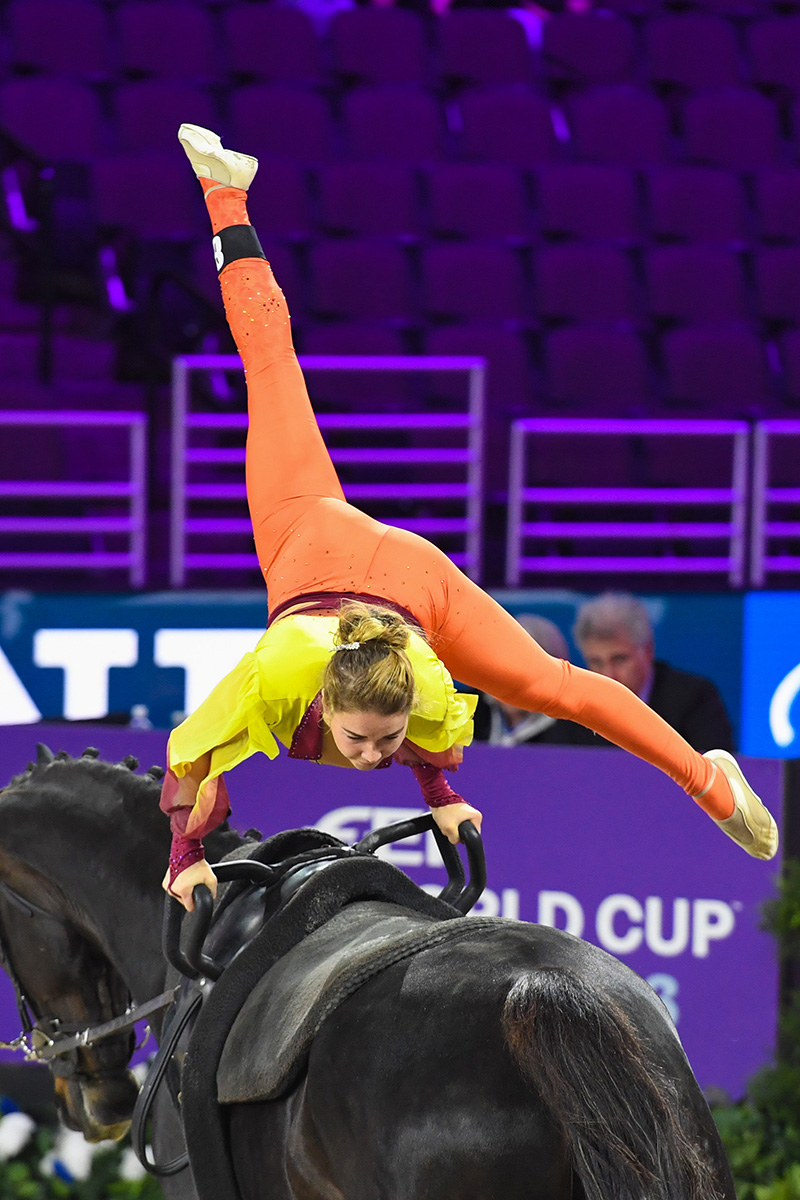 Bürgi's performance put pressure on Meyer for the lead where she actually scored better in the Freestyle than Meyer (Freestyle score for Bürgi was 8.599 and for Meyer 8.556). In the end, however, Meyer's average for the two days was higher (8.428) for the overall win which included a trophy and her piece of the total $10,100 offered by sponsor Burlington Capital Foundation for vaulting ($3,050). 
Meyer spoke about her win during the vaulting press conference, "It's always a bit hard to tell after the winter training how the others will be. Of course, I hoped I would win this, but you never know. We have a great female vaulter field, so I was hoping to show what I'm able to do and that worked pretty well. It was the first time for us three [Meyer and her horse San Classico S and her mother Sonja who was her longeur] at such a great competition, and I'm really happy we did such a good job."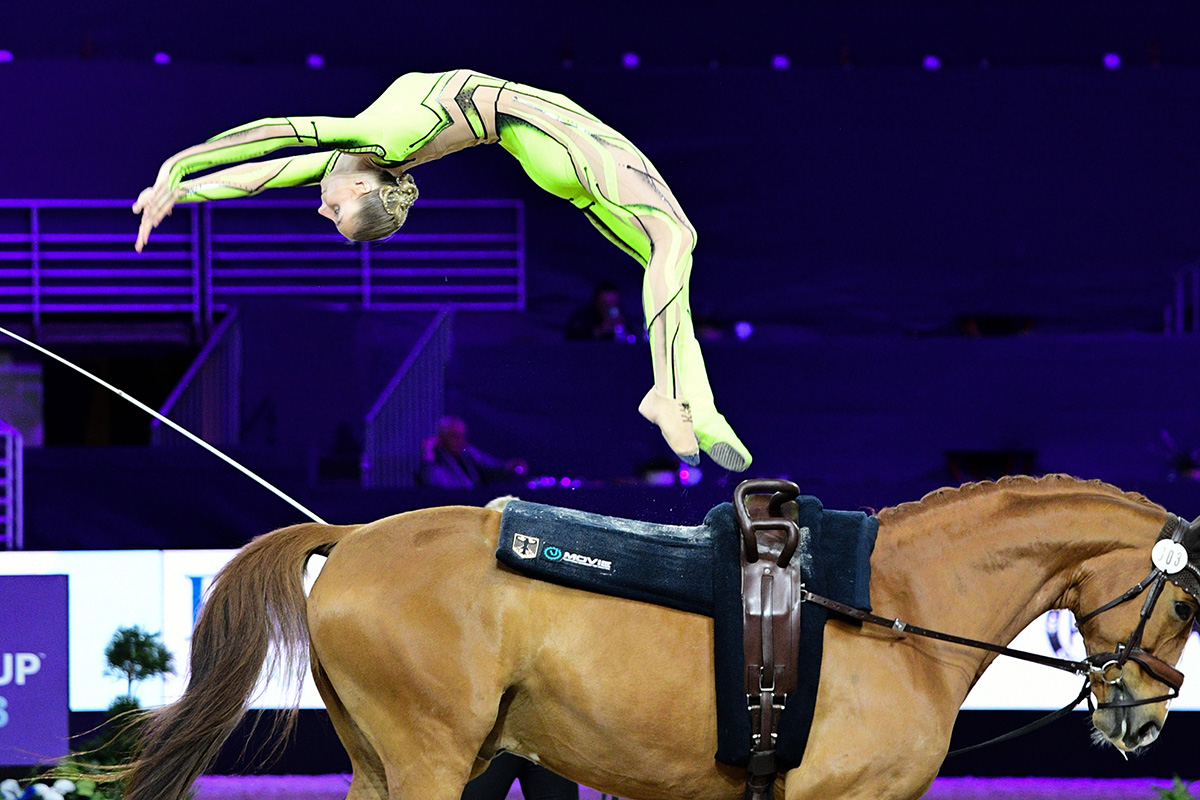 Check out the results for the World Cup Finals Individual Female Vaulting.
Individual Male 
The USA's Daniel Janes (27, Moss Beach, California) was first of six to vault in the Individual Male Freestyle test Saturday. Although an experienced vaulter who has competed as an individual and a member of pas-de-deux pairs and squads before, this was Janes' first World Cup Finals in the Individual Male division. He noted earlier in the week that freestyle was his specialty and he showed it in his score Saturday earning 8.299, the second-best score of any of the Men's Freestyle tests. However, the overall standings were a combination of both days' scores, so his combined score of 7.190 put him in 6th overall at the end of the day.
Janes talked about his great freestyle performance and his horse after their round, "That is exactly what I was hoping for—a round like that. Nothing is ever perfect, but this was close to perfect for me on my progression with Romeo. It is really awesome. There were several moves that we really hit to the full extension, even better than in practice. The mount, the flying ground jumps—those were even better Saturday than normal. That was even a little bit of a surprise for me in a way. He [Romeo lunged by Christoph Lensing] was calm and collected and was really nice to vault with. That was really fun to wave at my family in the crowd and a lot of friends and people I know in the US vaulting world."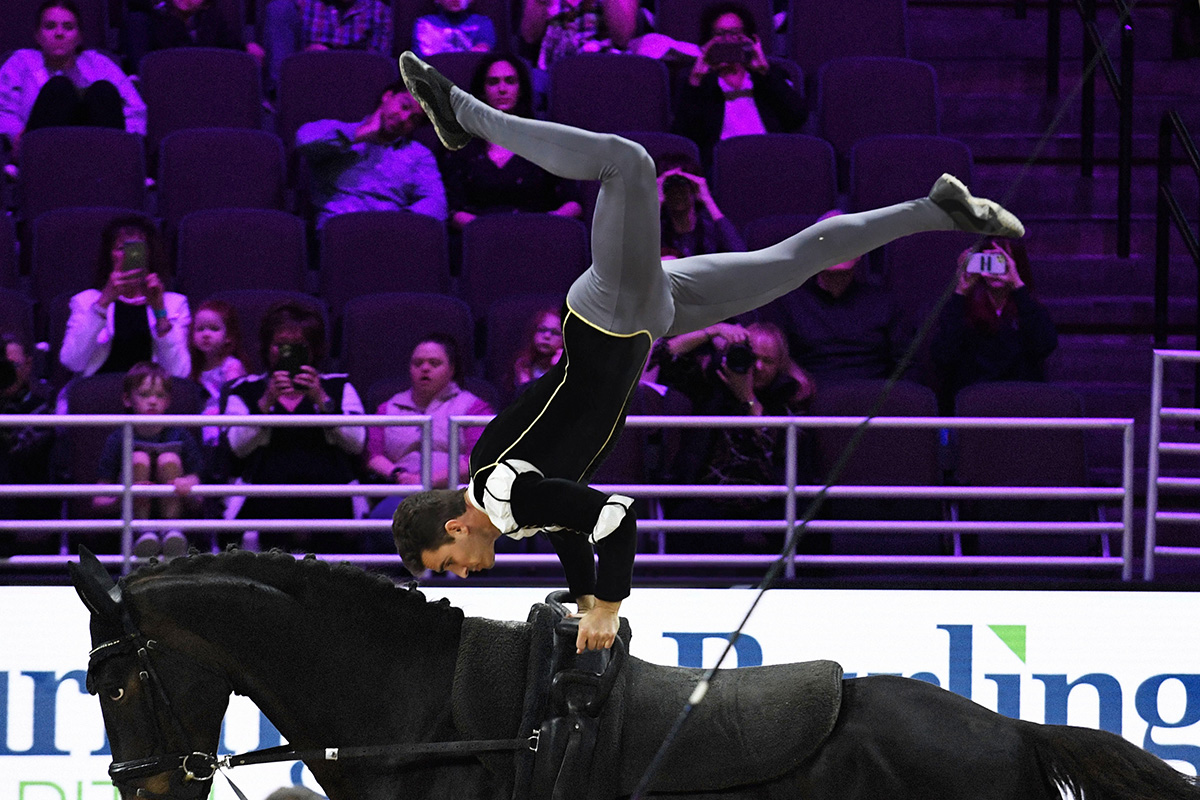 Jannik Heiland from Germany vaulting on San Classico S (lunged by Sonja Meyer) continued his dominance of the division earning 8.666 for his freestyle and an overall final score of 8.551 for the win over the Netherlands' Sam dos Santos vaulting atop the German horse Max lunged by Krauss in second (8.0520). The victory earned him a trophy and $3,050 from Burlington Capital. 
"The arena is just awesome," said Heiland after his freestyle, "To win a World Cup Final, it was a big wish for me to get this title in my life. The whole event was really great. There were even more viewers compared to Thursday. It's a massive arena and it was a very great feeling. It was an honor for me to be here."
He explained his freestyle, "The theme was bionic. When people look for very specific things which happen in nature and they try to adapt it and they try to copy it―try to copy it with modern technologies. That's the mixture of nature, animals, humans and technology."
Find complete results for the Individual Male Vaulting.
Pas-de-Deux
The last competition of the 2023 Burlington Capital World Cup Vaulting Finals was the Pas-De-Deux division. Four pairs, 2 from Germany and one each from Austria and Denmark took turns showing their second Freestyle test Saturday to the delight of the audience.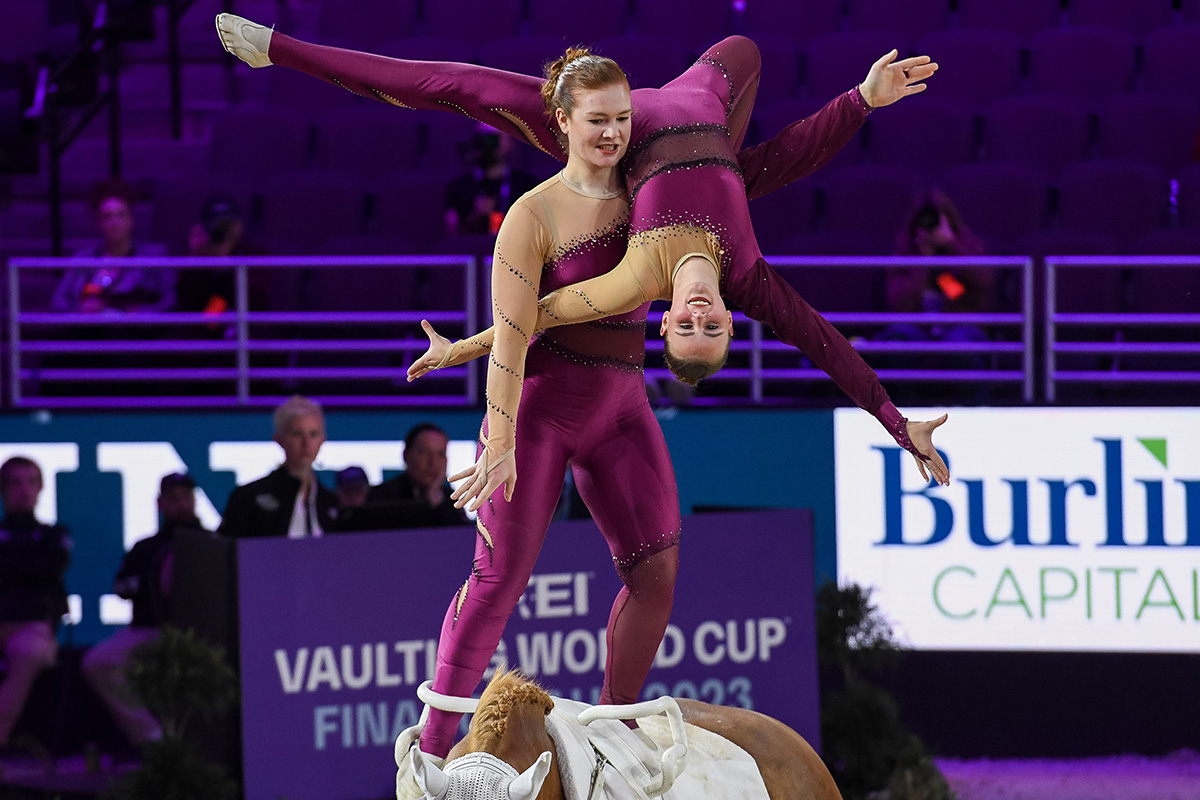 In the end, the two German pairs topped the division with Chiara Congia and Justin van Gerven who vaulted on German horse Max (longed by Alexandra Knauf) taking the title (overall score 8.341) with Diana Harwardt and Peter Kunne on DSP Sir Laulau lunged by Hendrik Falk in second place (overall score 7.876). Congia and van Gerven took home a trophy and $4,000 in prize money provided by Burlington Capital. 
Congia and van Gerven, who announced that this World Cup was their last competition together, had the top score on day one and the overall best average for the win. But, the big story of the pas-de-deux competition Saturday was the amazing comeback of Harwardt and Kunne. Harwardt had a fall during their first test on Thursday leaving them in last place that day, but a lovely performance earned them the top score Saturday (8.516) bringing their average score up to finish in 2nd.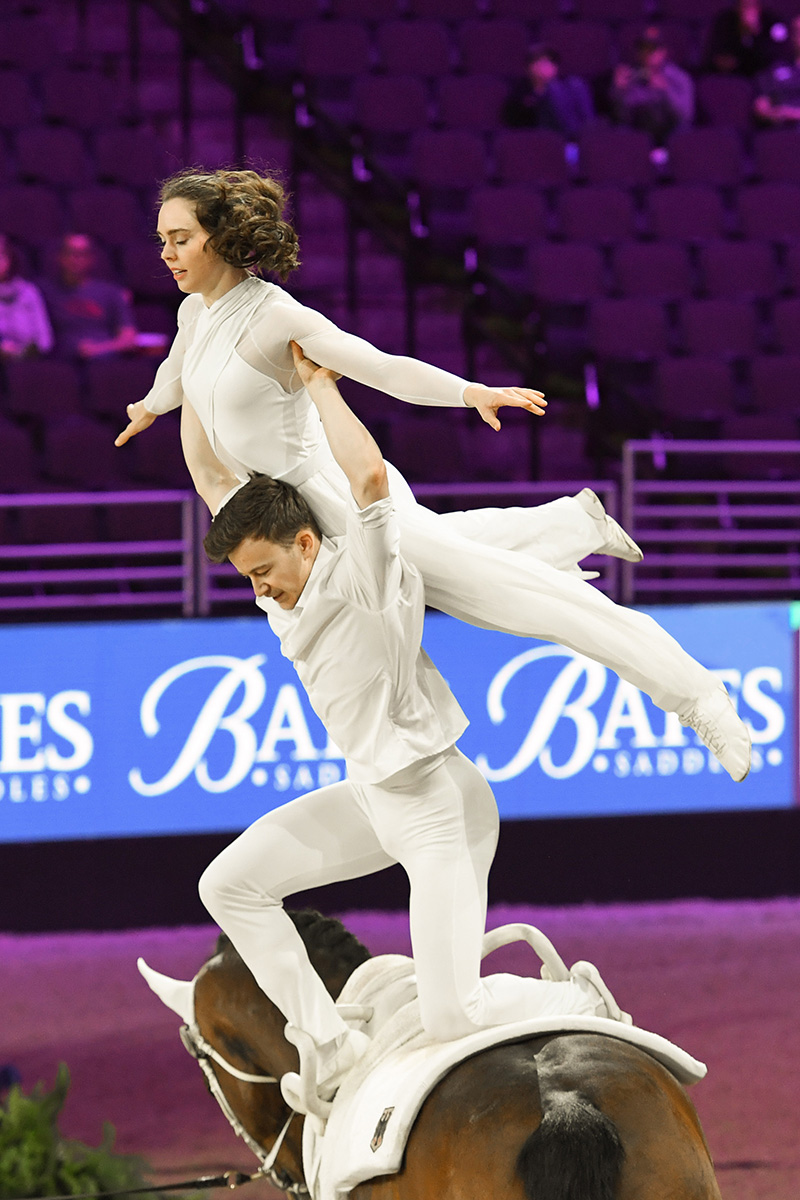 Another notable fact was that Congia and van Gerven had to borrow the horse Max when their regular horse (Highlight FRH) went lame at the last minute after the horse inspection but before their first test. The crowd-pleasing signature move of Congia and van Gerven was something to behold. In that maneuver Congia balanced on her stomach with arms outstretched on the back of van Gerven's shoulders without either of them holding onto the other (see photo). 
Congia talked about how that felt and their round in the press conference, "I feel like I am flying. We did a lot of work; we trained the whole last season. I'm really happy that this time we could win, even if it was bit different from what we planned."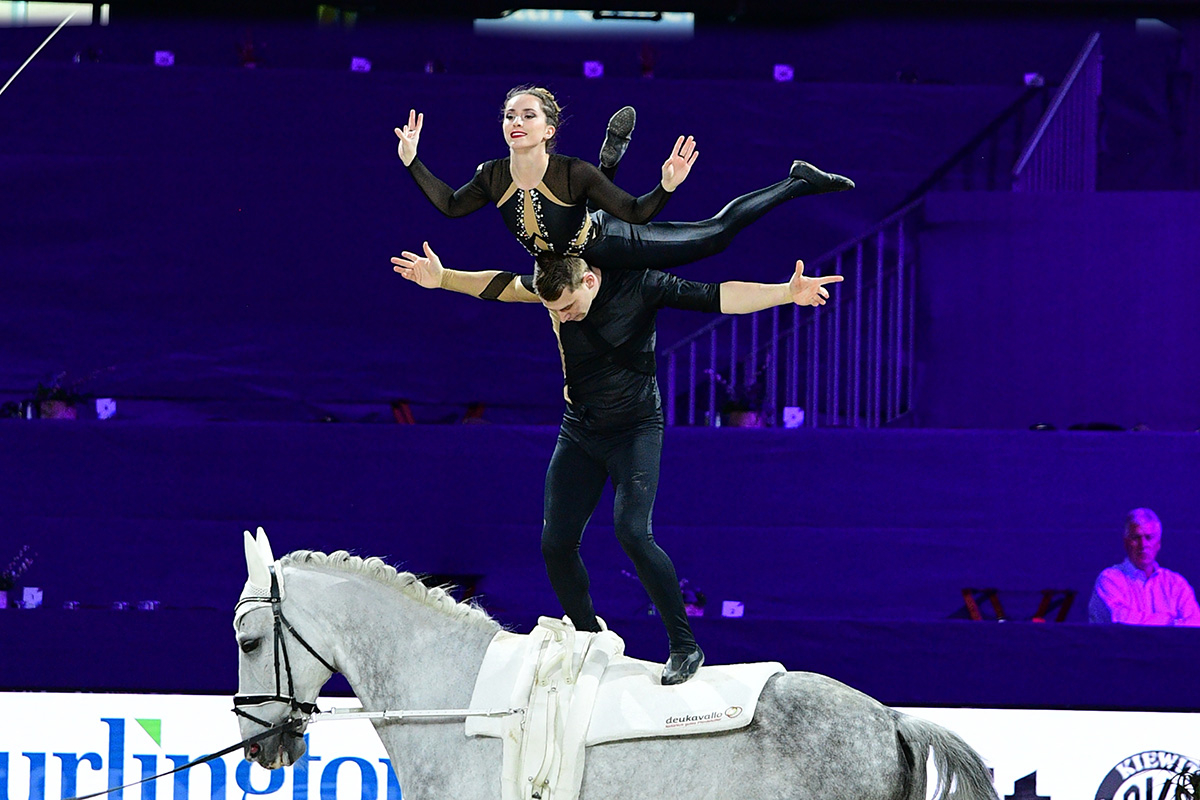 Find the full results of the Pas-De-Deux Vaulting.
Show Jumping Winner Crowned
The final event of the 2023 Omaha FEI World Cup was the Longines Jumping Finals Saturday evening. Earlier in the week the jumpers had begun competition with a speed class on Wednesday tackled by 40 competitors and then a Table A with jump-off class with 39 starters on Thursday. 
Tonight the competitors jumped over two courses, A and B rounds, designed by Bernardo Costa Cabral (POR). Points were cumulative over the three days and four courses of competition.
Thirty horse and rider combinations, competing in reverse order of the standings, tackled course A, a Table A with no jump off, 1.60-meter track that included 12 numbered obstacles and 15 jumping efforts. Then, there was a break and course reset with the top 20 coming back for round B, a Table A with jump-off, 1.60-meter challenge, again with 12 numbered obstacles and 15 jumping efforts, and 6 obstacles in the jump-off, which in the end was not needed.  
The evening's competition started with only 10 penalty points separating the leading 11 horse and rider pairs as Round A began.  Andreas Schou (DEN) riding Darc de Lux and Pius Schwizer (SUI) riding Vancouver de Lanlore were tied at 0 penalties at the beginning of the night, with Henrik Eckermnn (SWE) and King Edward sitting on 1 and Richard Vogel (GER) and United Touch S with 2 penalties. 
The USA's Hunter Holloway and Pepita Con Spita also carried three points into Round A from the previous rounds, as did Brazil's Yuri Mansur and Vitiki. Other Americans competing in Round A were Nicholas Dello Joio and Cornet's Cambridge, McLain Ward and Callas, Aaron Vale and Prescott, and Devin Ryan and Eddie Blue. 
Three competitors jumped cleanly to add nothing to their previous totals in Round A, Dennis Lynch (IRE) on Brooklyn Heights, Martin Fuchs (SUI) on Leone Jei and Harrie Smolders (NED) on Monaco N.O.P. When the top six going all had rails down, the standings shifted again.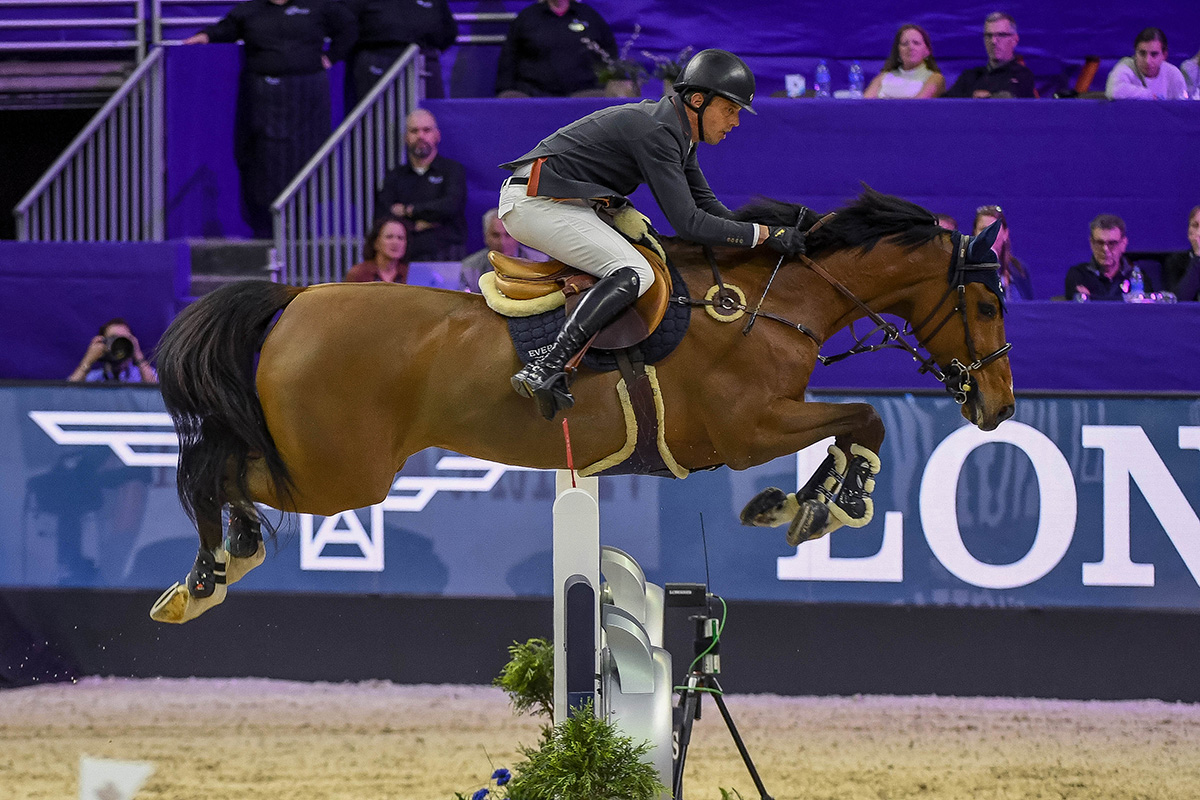 Starting Round B, less than two rails (8 points) separated the top 6 horse and rider combinations. American rider Holloway was one of those, tied for 5th with Mansur. US riders Ryan and Dello Joio were further down in the standings, but competed in Round B as well. The top four in the standings and thus the last four to go were Harry Charles (GBR) on Balou du Reventon, then Smolders, von Eckermann and Schwizer.
Riders who went clear in Round B were Kevin Staut (FRA) on Visconti du Telman, Lynch and Brooklyn Heights, Schou and Darc de Lux, Mansur and Vitiki, Holloway and Pepita Con Spita and finally von Eckermann and King Edward. But, since it was cumulative, it depended on how many points they carried from previous rounds to determine the overall winner and it was exciting down to the last before anyone knew for sure who had won. 
When Smolders dropped one rail, and Charles and Schwizer each dropped two rails, Eckermann and King Edward, who jumped next to last, clenched the championship. For the title they received a ribbon and trophy and their portion of the 300,000 Euros provided for Saturday's competition by Longines (172,500 Euro or about $189,594.75 US). Ribbons and prize money were given to the top 16 Saturday. 
Eckermann said in the final press conference after the win that King Edward felt better than ever tonight and he only jumped three jumps to warm up before the second round. "It was a fantastic feeling jumping around there. What makes him very, very special―he's like a dog at home, he's so easy and so relaxed. He's a very small horse, but when he comes in the ring it feels like he's growing 5 centimeters or more and that makes the difference. Some horses they come in and they get a bit shy, but with him you can feel how it's like starting an engine."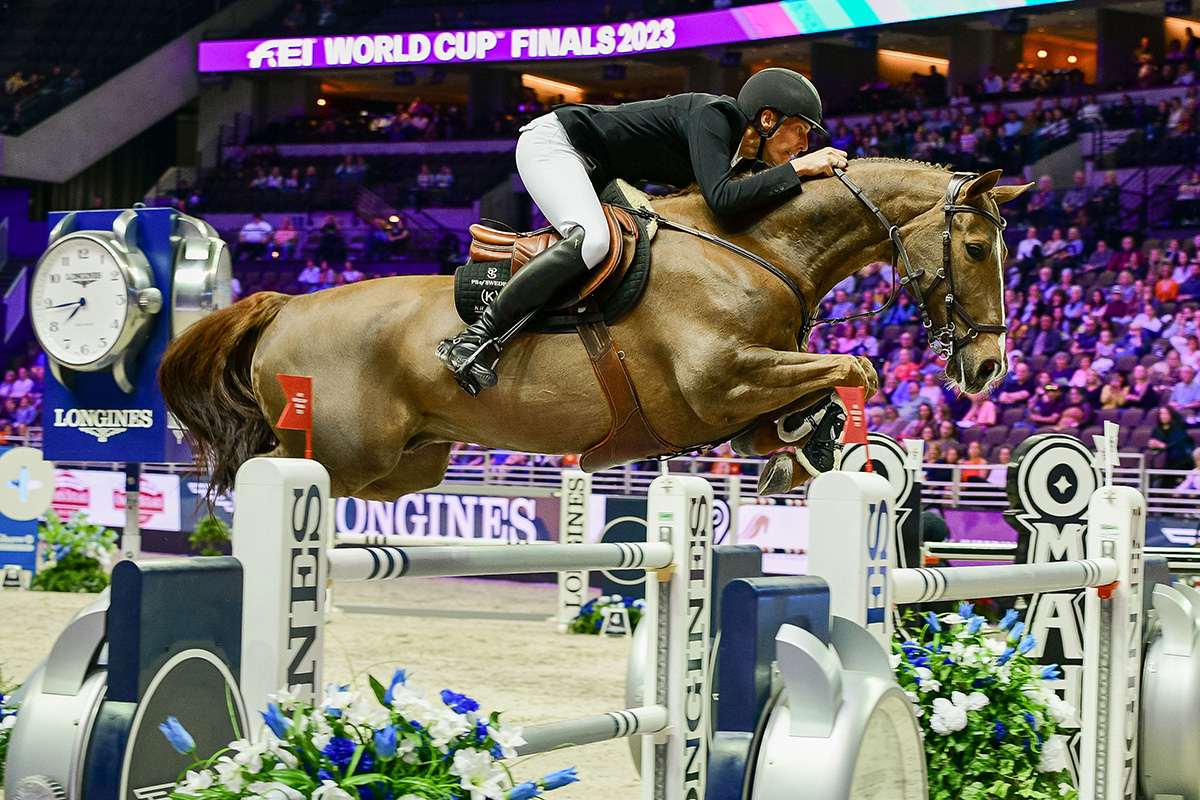 Smolders and Monaco N.O.P. finished second and Holloway and Pepita Con Spita took third edging out Mansur and Vitiki since they had a faster time in the final round. Holloway was joyful to finish on the podium in her second-ever World Cup Finals and in front of the home crowd (her Kansas farm is only two hours from Omaha). She won 78,750 Euros (about $86,554.13 US), a trophy and ribbon.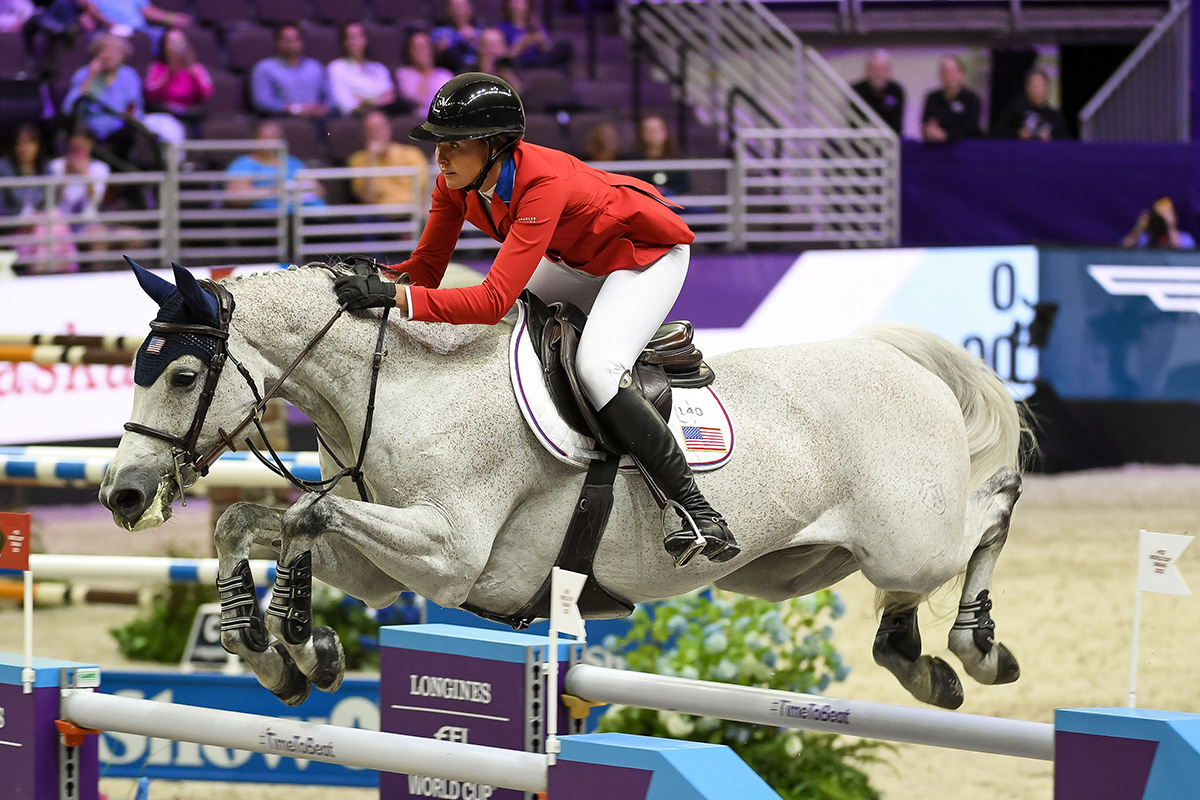 "I think I've always had pretty big goals, and this has always been a big goal of mine," she explained in the press conference, "To be sitting with riders such as this, it's obviously a great honor. I'm very excited to be here, thrilled. I think my horse performed great all week. My relationship with her has been great; it's only getting stronger and building. I feel like we're just getting started. I'm very excited for the future with her."
Ryan and Eddie Blue finished 13th and Dello Joio and Cornet's Cambridge 20th. US Jumping Chef d'Equipe Robert Ridland commented on the week for the USA, "Obviously, Hunter's podium finish was fantastic. She was so focused all week long. This wasn't just the two rounds Saturday; this was all four. She absolutely deserved to be there. I'm very happy with Nick's and Devin's horses. [Eddie Blue] is back and jumping in great form at this level, and Nick and Cornet's Cambridge are on an upward trajectory. Overall, Omaha was a very positive week."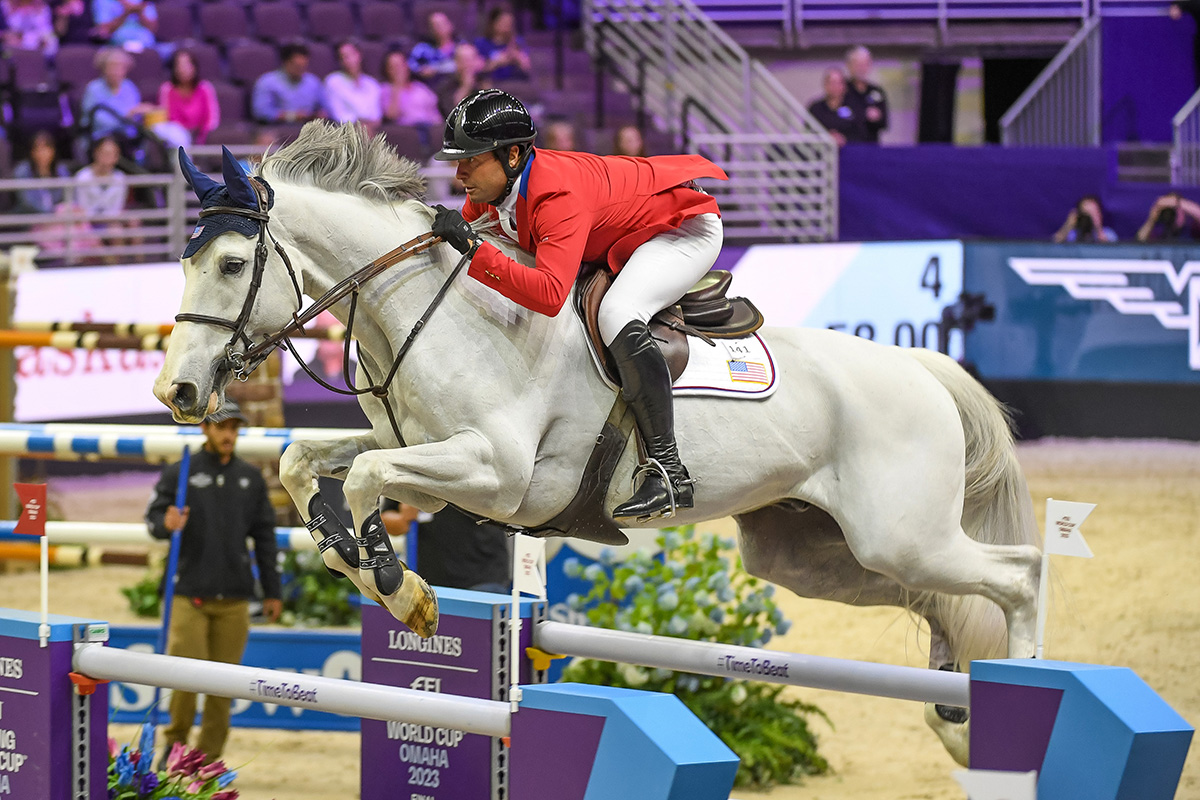 Check out the final results from the 2023 Longines World Cup Jumping Finals in Omaha.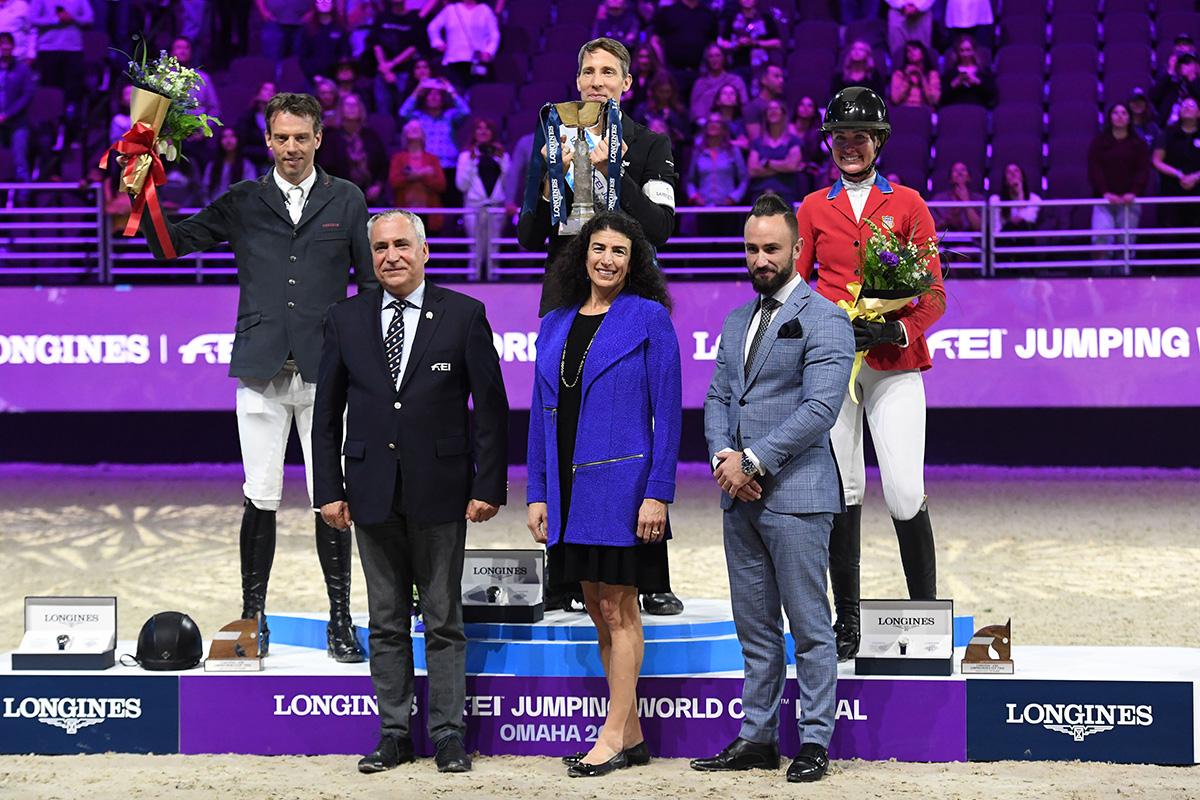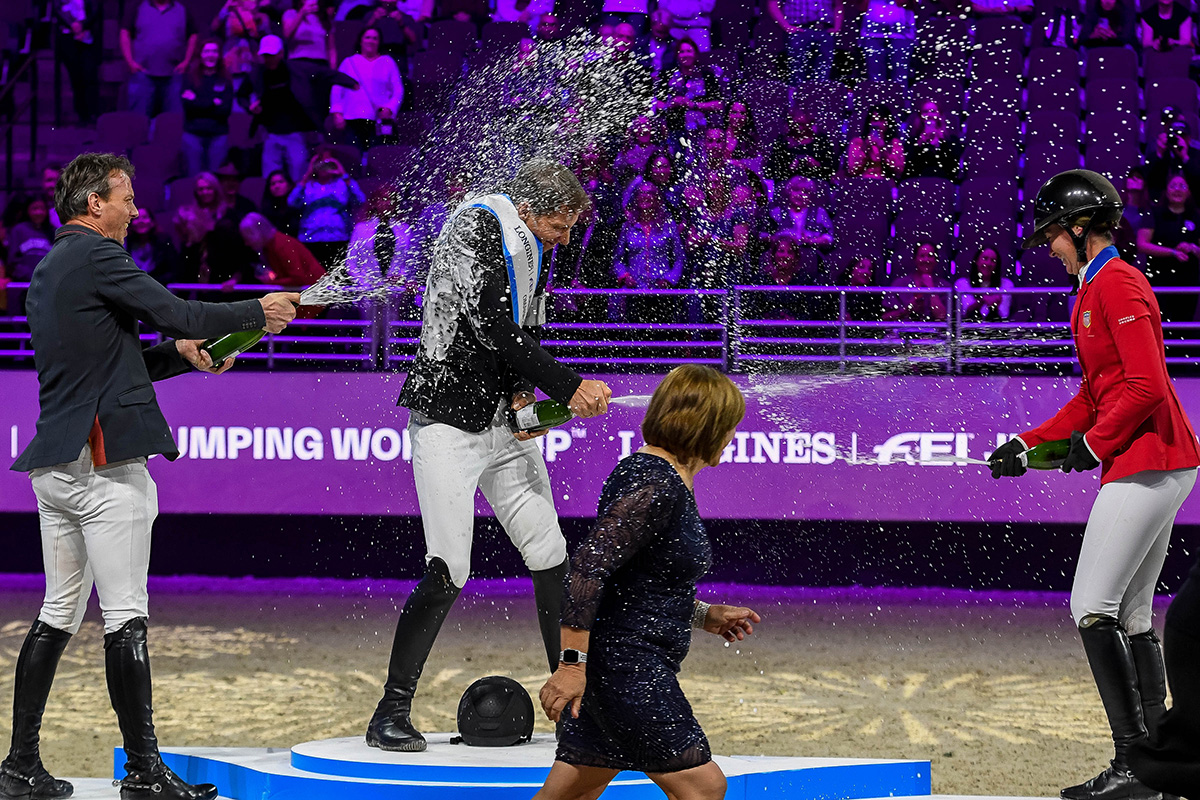 Demo Ring & Trade Fair
In the demonstration ring there were presentations on barrel racing, hay steaming, horsemanship, reining, sidesaddle riding and Western dressage. The North Hills Hunt Club and the Omaha Mounted Patrol also made appearances and the Fjord, Paint and Saddlebred breeds were showcased. 
The good work of the equine charity Brooke USA was highlighted. And, the week-long "David versus Goliath" competition between a 19.3-hand Percheron gelding named Luke and a pinto Miniature Horse called Killer concluded. 
Many families attended and kids lined up to take their turn leaping over the mini-jump course and to find out how to braid tails, wrap horse legs and more. They also had the opportunity to meet a number of horse breeds in the stabling area. 
The Native American area, presented by the local Bluebird Cultural Initiative, was busy with history presentations, music and dance, and Native American-made products were offered for sale. Throngs of people trooped through the trade fair purchasing everything from equestrian-themed art and home décor, to tack and riding clothes, books and magazines, feed and horse care items, and home improvement and beauty products. 
Final World Cup Wows
There have been so many wonderful "wow" moments over the last week. Witnessing the continued brilliance of Germany's Jessica von Bredow-Werndl and the elegant Trakehner mare TSF Dalera BB earn a second-consecutive FEI World Cup Dressage Finals Championship, on top of their gold-medal performance at the Tokyo Olympics in 2021, was certainly a big one. (Perhaps next year in Paris, we'll get to see a faceoff between this fabulous pair and the 2022 World Champions Charlotte "Lottie" Fry (GBR) and the attractive black stallion Glamourdale who opted to sit out this World Cup.)
Then, there was the quietly consistent jumping of Sweden's unassuming super horse, King Edward ridden by Henrik von Eckermann. Von Eckermann and the diminutive chestnut gelding captured the 2023 Longines World Cup title here to add to their 2022 World Championship win and their Tokyo Olympic team gold, with King Edward performing barefoot all the while―who needs shoes!
Adding the elegant and daring sport of vaulting to the roster was another "wow" bonus for this World Cup Finals. The exciting combination of horsemanship and gymnastics was new to many of the spectators and they thoroughly enjoyed watching, enthusiastically applauding all of the competitors after their rounds. 
In addition to Longines' continued support of show jumping, Havensafe Farm and Burlington Capital stepped up to sponsor dressage and vaulting, respectively, which is also to be celebrated! Without sponsors large sporting events would not happen; it is that simple. So, a huge thank you to all three businesses! Please remember them as you shop and invest. 
The last, and equally important, "wow" to acknowledge from the 2023 Omaha World Cup is the people. From the event organizers and volunteers to our media center commissary crew to the shop keepers and restaurateurs around the city, people in Omaha are just plain nice, as well as very proficient. With two World Cup Finals under their belts, they have much to be proud of. All riders praised the venue and organizers with good reason. Thank you, Omaha. We will be back. 
World Cup Finals 2024-2026
The 2024 FEI World Cup Finals will be held next April in Riyadh, Saudi Arabia, the first time that a Middle Eastern country has hosted.
Then, the 2025 FEI World Cup Finals will be held in Basel, Switzerland, and in 2026 the Finals return to the USA when Fort Worth, Texas, will stage this FEI event for the first time. 
The organizers for both Riyadh and Fort Worth were in attendance in Omaha observing. After the finish of the jumping yesterday evening, there was a ceremony "handing over the reins" of the World Cup Finals to Riyadh 2024. 
Roskens said she'll be in attendance at these upcoming World Cup Finals. She said she is thrilled to see the Finals coming back to the US in 2026 and that the Omaha Equestrian Foundation (OEF) will offer to support the other organizers in any way possible. When asked if the OEF will consider bidding on another Finals in the future, she didn't rule it out, but said the group needs time to rest and regroup first. 
She commented on how Fort Worth 2026 will build on what they started in Omaha, "One of our goals was to grow the sport. Well, if somebody is bidding [for FEI competition here in the USA] and winning the bid, that's great for us. So, we want to make sure that whatever we do next is a collaborative thing that doesn't conflict with what they are trying to do. We want to take the time to be supportive of their preparations and have offered help however we can."
Relive the Action
Fans can see all of the action by replaying competition sessions from the 2023 Omaha FEI World Cup Finals on FEI TV via the Clip My Horse service. A paid subscription is required; sign up here.
For daily news briefs and more information about the 2023 Omaha FEI World Cup Finals see their website.
View full results from the 2023 Omaha FEI World Cup Finals by going to the Longines Timing website.
If you didn't get the chance to go to Omaha this time for all of the equestrian competition and tourism opportunities, the Omaha Equestrian Foundation (OEF) stages a large, USEF-rated show in the CHI Health Arena each spring called The International Omaha. For more information about that show, visit the OEF's website. For more information about fun things to do and see in Omaha, check out Visit Omaha.
April 12, 2023:  Update on Dressage Horse Torveslettens Titanium RS2
Dutch rider Marieke van der Putten announced on her Facebook page on April 9 that her Omaha World Cup Finals horse Torveslettens Titanium RS2, who she had to pull from competition before the Freestyle due to a case of colic, had undergone successful surgery at Iowa State University's Large Animal Hospital. "Tito" is recovering at the hospital and his groom Sanne Vondel has stayed in the USA to help care for him until he can fly home to the Netherlands. 
Van der Putten, who has returned home to Groesbeek, the Netherlands, issued this statement:  "[The] most important thing is that he is doing fine now! Nothing is more important than for him being healthy and happy. Of course he has a long way to go, but Tito is the biggest little, pretty fighter on this planet, so I am sure he will be back strong and healthy as ever! A big thank you to Edwin Enzerink, who is our team vet and stayed with him the whole time and did an amazing job. And Sanne Vondel you are the best. During his stay in Iowa to recover from surgery Sanne gives him a lot of cuddles, all the love he needs and more."
Torveslettens Titanium RS2 and van der Putten finished 8th (70.776) in the World Cup Finals Grand Prix dressage class on April 5. He is an 11-year-old Danish Warmblood gelding (Totilas—Toerveslettens Stamina, Stedinger) owned by Jacques Lemmens and Saskia Lemmens-Reijnen. Best wishes to him for a speedy recovery and a long, successful career!
For the complete coverage of the 2023 FEI World Cup in Omaha, click here.
This article about the 2023 Omaha FEI World Cup Finalsappeared is a web exclusive for Horse Illustrated magazine. Click here to subscribe!